The PREVIEWSworld SDCC 2015 Journal
Jul 07, 2015
See what was announced at Comic-Con International: San Diego with news and photos from publishers you'll find each month in the PREVIEWS catalog and on PREVIEWSworld.com!
---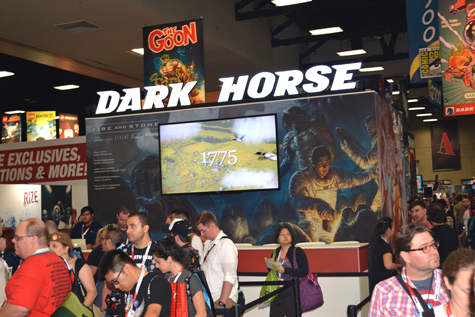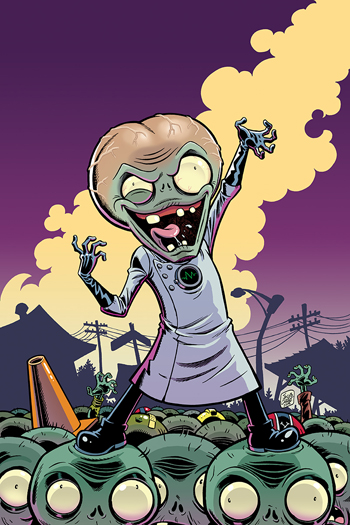 The wickedly popular Plants Vs. Zombies game franchise is getting an all-new, ongoing comic series with Plants Vs. Zombies: Garden Warfare #1. This story (exclusive to the comic format) will explore how Dr. Zomboss took control of Suburbia before green-thumbed zombie hunters get to work eradicating the undead evil genius and his cohorts in the upcoming Plants Vs. Zombies: Garden Warfare 2 game. The series will launch October 28th with Paul Tobin once again taking the reigns for the script and Jacob Chabot handling interior artwork.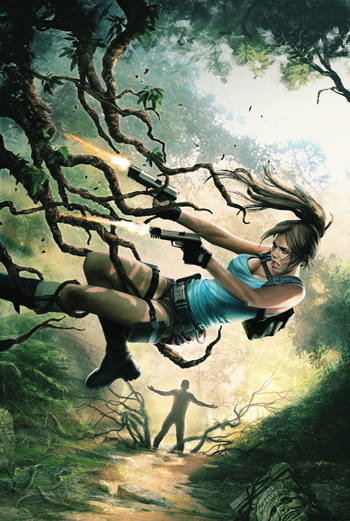 Lara Croft is back with guns blazing and freshly-pressed khakis in Lara Croft and the Frozen Omen. Frozen Omen will see the fan favorite video game heroine go toe-to-toe with cultists hellbent on destroying the world, and at the center of the conflict is an artifact that could either save mankind or bring about its doom. The new five part mini-series will be written by Corinna Beckho and illustrated by Randy Green, and fans can look forward to the first issueOctober 7th.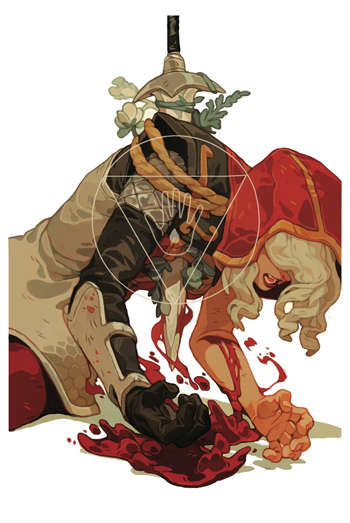 Hungry for more adventure in the world of Thedas? Get ready to head to Tevinter in Dragon Age: Magekiller, a new ongoing series from creators Greg Rucka and Carmen Carnero that explores new stories set in the world of the hit Dragon Age game franchise. Readers will be introduced to Marius and Tessa, a two-man merc team who have taken it upon themselves to eradicate all blood mages. The first issue will hit stands in November, and fans can learn more about the upcoming series in Polygon's interview with Rucka.
The Old West will get a little more wild in Kingsway West, a new ongoing series from writer Greg Pak, artist Mirko Colak, and colorist Wil Quintana. The new action fantasy series will follow Kingsway Law, a Chinese gunslinger who's searching for his missing wife after an extended stint in the slammer. Law will have to contend with the elements, the frontier's less-than-accepting residents, and dangerous magic in order to track her down. Readers can look forward to Kingsway West #1 in shops November 11. Be sure to check out CBR's interview with Greg Pak to learn more about the upcoming title.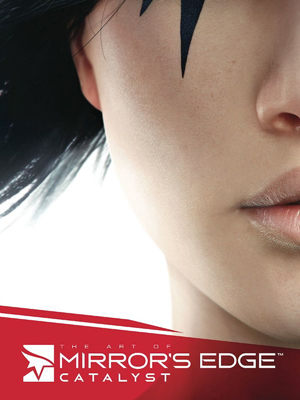 In conjunction with the upcoming release of the Mirror's Edge Catalyst, Dark Horse is giving fans The Art of Mirror's Edge Catalyst. This comprehensive artbook will give players a chance to explore the world of Mirror's Edge in even greater detail, with character designs, never-before-seen concept artwork, and production commentary from the creative team. Fans can grab the book on the same day the game comes out—February 23, 2016.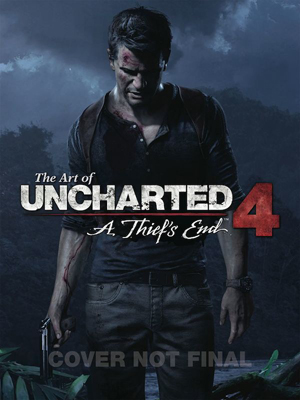 To celebrate the upcoming release of the next installment of the hit Uncharted game franchise, Dark Horse will publish The Art of Uncharted 4: A Thief's End. The artbook will provide fan's with a deeper look at Nathan Drake's latest adventure with concept art and designs, as well as commentary from the developers at Naughty Dog. More details about the book are forthcoming, but fans can take a sneak peek at some of the interior spreads over at Polygon in the meantime.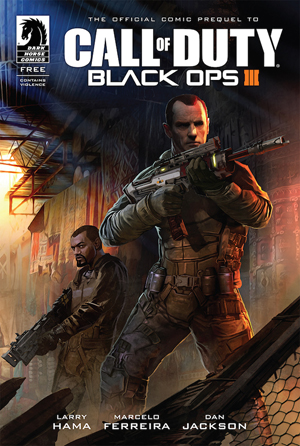 Dark Horse has announced a new comic prequel to the next installment of the hit Call of Duty game franchise with Call of Duty: Black Ops III. Featuring writing by Larry Hama and interior artwork by Marcelo Ferreira, this new series follows an elite squadron of cybernetically-enhanced soldiers as they wage war in a battlefield rife with treachery and forever transformed by incredible technology. Fans can look forward to Call of Duty: Black Ops III #1 on November 4, and be sure to check out IGN's interview with series' writer Larry Hama.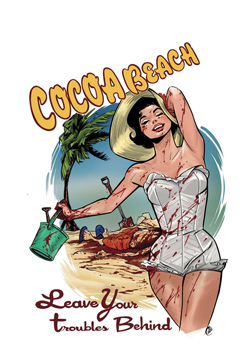 Josie Schuller is heading to Florida and packing all of the summer essentials: sunscreen, stylish sandals, and extra sharp knives. Dark Horse has announced that the Lady Killers comic series will return for a second arc with creator Joëlle Jones handling both writing and interior illustration duties. Fans can look forward to the enw series in March 2016.
Dark Horse expanded upon the publishing schedule for a number of its upcoming manga titles. The slate includes: Kentarou Miura's Giganto Maxia (with the single volume series due out February 2016), Kengo Hanazawa's I Am A Hero (to be published as 2-in-1 omnibuses starting April 2016), CLAMP's RG Veda (to be released as a three-in-one omnibuses starting in August 2016 with an all-new translation), Spike Chunsoft and Takashi Tsukimi's Danganronpa: The Animation (with the first of four volumes due in March 2016), and Shinjirō's Fate/Zero manga adaptation (with the first volume hitting shops February 10, 2016). Hiroaki Samura's Blade of The Immortal series will also be getting a new three-in-one omnibus edition, but a date for publication is still undetermined.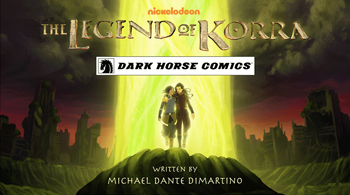 Dark Horse has announced a new Legend of Korra graphic novel series based on the animated series. While more in-depth details about the new project are forthcoming, the first book will be entitled Legend of Korra: Smoke and Shadow, Part One, and Avatar: The Last Airbender and Korra co-creator Michael Dante DiMartino is currently set to write for the comic.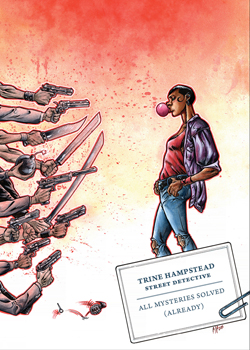 Dark Horse has announced a new ongoing series that has all the answers. From writer Paul Tobin and artist Alberto Albuquerque comes Mystery Girl, a story that follows a woman who knows the answer to any question.

As a woman in the know, Trine Hampstead puts her talent to use as a detective, but there is one mystery she can't quite figure out—her entire past. More details about the project are forthcoming.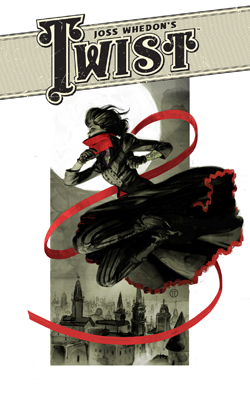 Joss Whedon has announced a new series he's writing for Dark Horse Comics called Twist. Twist is being billed as a Victorian thriller which follows a young working class woman who is consumed by an unspeakable horror, miraculously survives the ordeal, and gains dark, unimaginable powers in the aftermath. The comic is currently planned as a six-part series and more details about the creative team and release schedule are forthcoming.
Click here to return to the top navigation!
---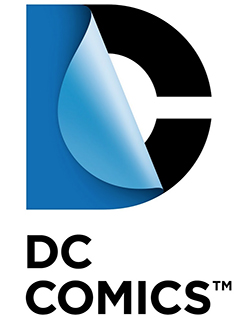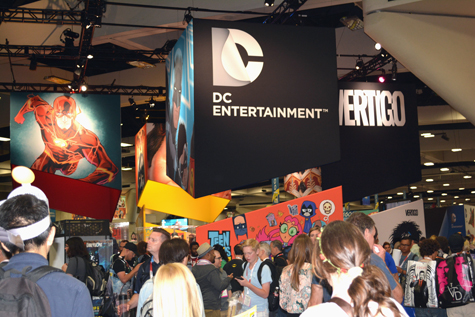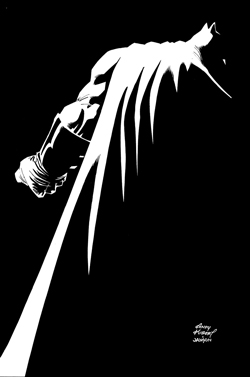 DC Comics has announced that artists Andy Kubert and Klaus Janson have joined the creative team of the upcoming Dark Knight III: The Master Race. Frank Miller and Brian Azzarello were previously set to cowrite the series which is due out this Fall. In addition, it was announced that all eight issues of the series will contain a 16-page "Dark Knight Universe" mini-comic attached to the center of the issue (itself 32 pages) that will further expand on the Dark Knight universe.
DC Collectibles has released two new teaser videos highlighting their upcoming action figures and statues for 2016 and new entires into the Batman: The Animated Series lineup.
DC Comics has announced two new series featuring the boy wonder (and friends!). Batman & Robin Eternal is a new weekly series that will begin in October and is projected to run for 6 months. The creative team will include Scott Snyder, Jason Tynion IV, Tim Seeley, Genevieve Valentine, Steve Orlando, Ed Brisson, Jackson Lanzing, and Colin Kelly on writing duties and Tony S. Daniel, Paul Pelletier, and Scot Eaton handling interior artwork. Robin War is a cross-over series with Robin: Son of Batman, We Are Robin

and

Gotham Academy and is set to run for five weeks beginning this December. The series will span the December issues of the aforementioned series and also have one-shot intro and outroissues written by Tom King. Khary Randolph is currently the only announced artist for Robin War.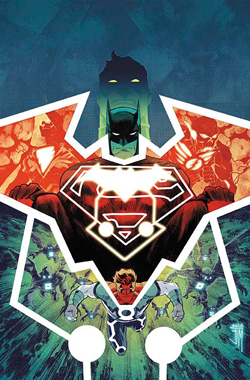 DC Comics has announced a new series of special one-shot issues as a tie-in to the "Darkseid War"event currently happening in Justice League. Justice League: Gods and Men will be overseen by Geoff Johns and consist of six issues that each focus on a key player of the event. Full creative teams for each issue are to be announced, and fans can look forward to the issues in October.
Via a CBR exclusive - DC Comics has announced a line-up of monster-themed variant covers for a number of its release this October. CBR has posted a number of first looks at some of the covers ghouls and boos can look forward to.
DC Comics has announced a new Superman series from creator Neal Adams titled The Coming of Superman. The new series follows the Man of Steel as he faces off against foes from Jack Kirby's Fourth World. However, Superman finds himself in need of a helping hand and must recruit a small army from the

Bottle City of Kandor.

Adams will both script and illustrate the new six issue series, which launches this November.
DC Comics has announced a new seven-issue Superman special titled Superman: Alien American. Screenwriter Max Landis will helm the project which will explore single-issue vignettes of Clark Kent's life. Interior artists for Alien American include Jock, Nick Dragotta, Tommy Lee Edwards, Jöelle Jones, Jae Lee, Francis Manapul, and Jonathan Case, with Ryan Sook providing covers for each issue. Fans can look forward to the first issue this November.
DC Comics and Milestone Media have announced the creation of Earth-M, a new initiative that will introduce Milestone Media's 1993 "Dakota" universe of characters as well a new roster into the DC Comics fold. Current plans for Earth-M include two hardcover graphic novels released annually, a number of mini-series and ones-shots, as well as re-releasing Milestone content in collected editions, both in print and digitally. Reginald Hudlin, Denys Cowan, Jim Lee, and Geoff Johns are slated to work on the new line-up of original graphic novels. Be sure to check out the full press release for more information on Earth-M.
Bats and turtles eating pizza together?! It's a world gone mad—mad, I tell you! DC Comics and IDW Publishing are teaming up to serve up fans some crazy comics goodness with the announced Batman/Teenage Mutant Ninja Turtles cross-over special. This new limited series finds the Turtles and Shredder transported to Gotham after General Krang tries to get rid of them for good. The Dark Knight intervenes to try and help them get home, but they'll have to take on the worst of what Gotham has to offer to do so. The creative team for the project includes creators James Tynion IV (on writing) and Freddie E. Williams II (handling both interior artwork and cover illustrations), and TMNT creator Kevin Eastman will also be contributing variant covers along with a to-be-announced lineup of guest artists. Fans can look forward to the first issue of the six-part monthly series this November.
DC Comics announced that three of the Convergence limited series have been promoted to ongoing titles. The series include: Superman: Lois & Clark from writer Dan Jurgens and artist Lee Weeks (with issue #1 in shops October 14), Telos from writer Jeff King and artists Carlo Pagulayan and Jason Paz (with issue #1 in shops October 7), and Titans Hunt from writer Dan Abnett and artist Paulo Siqueira (with issue #1 in shops October 21).
Creator Grant Morrison revealed a number of DC Comics projects he currently has in the works at his "Multiversity and Beyond" panel. Morrison announced Multiversity Too, a series of graphic novels based on his monthly titles from The Multiversity as well as the Multiversity Guidebook. The line will launch in 2016 with Multiversity Too: The Flash. The Batman: Black & White graphic novel series was also unveiled, wth Morrison contributing original stories to the continuing anthology and a rotating lineup of artists contributing interior artwork.
DC Comics announced a number of new comic projects: Aquaman: Earth One from creator Francis Manapul, Flash: Earth One from creator J. Michael Straczynski, and a cross-over of Batman '66 and IDW Publishing's Steed & Peel (based on The Avengers British tv series).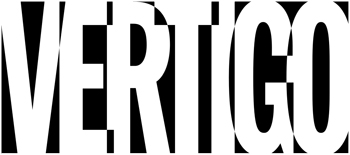 The Vertigo Comics imprint has announced a whopping 12 new titles to debut throughtout the Fall. The first wave of new #1's begins in October with The Twilight Children (from creators Gilbert Hernandez and Darwyn Cooke), Survivor's Club (from creators Lauren Beukes, Dale Halvorsen, and Ryan Kelly), Clean Room (from creators Gail Simone and Jon Davis-Hunt), and Art Ops (from creators Shaun Simon and Michael Allred). November will kick off Unfollow (from creators Rob Williams and Mike Dowling), Slash and Burn (from creators Si Spencer, Max Dunbar, and Ande Parks), Red Thorn (from creators David Baillie and Meghan Hetrick), and Jacked (from creators Eric Kripke and John Higgins). The final wave of new titles will begin in December with Sheriff of Baghdad (from creators Tom King and Mitch Gerads), New Romancer (from creators Peter Milligan and Brett Parson), Lucifer (from creators Holly Black and Lee Garbett), and Last Gang in Town (from creators Simon Oliver and Rufus Dayglo).
---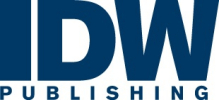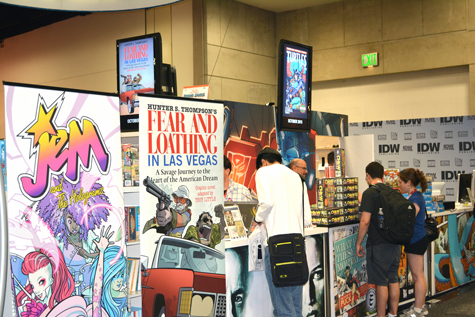 IDW Publishing announced the next great property to come to comics is none other than Back to the Future! The original movie's creator/screenwriter Bob Gale is on board and the untold adventures are headed Back to (and from) the Future! Joining Gale in these tales through alternate timelines are two familiar IDW writers: John Barber and Erik Burnham, who together break down the issue into two separate stories that build upon the iconic characters and time periods from the films. The artistic team will also be split between Brent Schoonover and Burnham's long-time collaborator, Dan Schoening. Each subsequent issue will feature rotating artistic teams, who will add more fun stories to this rich universe.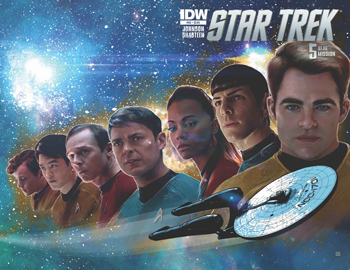 To mark the release of the 50th issue of the long-running Start Trek ongoing series, IDW is celebrating the occasion with a special oversized issue packed with bonus material. The anniversary issue will feature a special wraparound cover by Tony Shasteen, introduce the classic "Mirror/Mirror" storyline to the new film-based comic universe, and provide fans with a behind-the-scenes look at the series 50-issue run. Fans can look forward to this issue in October.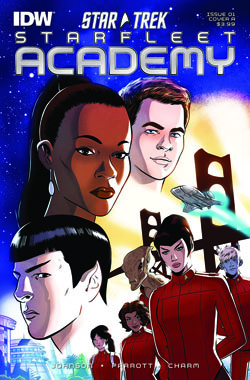 IDW is bringing a new Star Trek miniseries into the mix this December with Start Trek: Starfleet Academy. Written by Mike Johnson

and

Ryan Parrot and illustrated by Derek Charm, this new series will follow Kirk, Spock, and Uhura during their time spent training at Starfleet (prior to the events of the 2009 film) and will also introduce the new "current day" class of cadets. Mysterious circumstances will bring the two timelines together, and fans won't want to miss out on this lore-expanding event series.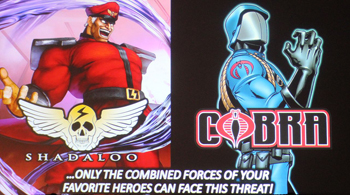 Via CBR - Capcom announced a new cross-over comic with IDW Publishing during its Street Fighter panel that will combine the world of the popular fighting game series with another franchise near and dear to comic lovers' hearts. Street Fighter X G.I. Joe will be a new six-issue mini-series due out in 2016.
IDW Publishing has announced the start of something sinister with G.I. Joe: Cobra World Order - Prelude. This new eight-part, bi-weekly series is being helmed by long-time G.I. Joe scribe Larry Hama and illsutarted by S.L. Gallant, and Prelude will kick off in issues #219 and #220 of G.I. Joe: A Real American Hero. Fans can look forward to the first issue this October, and to mark the occasion there will be a number of variant covers from creators such as Paul Pope, Francesco Francavilla, and Phil Jimenez, a special Artist's Edtition Month cover by Stephen Mooney, and a blank sketch cover.
---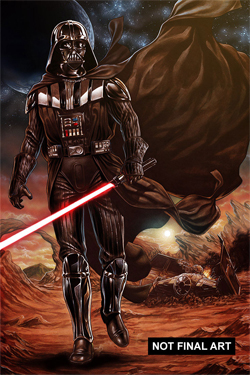 Marvel announced the new crossover Star Wars: Vader Down, written by Kieron Gillen and Jason Aaron with art by Mike Deodato and Salvador Larroca. The six-issue story will start in the Vader Down one-shot in November and continue in issues of the ongoing series of Star Wars and Darth Vader.
| | |
| --- | --- |
| | |
| Sam Wilson: Captain America #1 | Guardians of the Galaxy #1 |
| | |
| Illuminati #1 | Secret Wars #8 |
| | |
| All-New Wolverine #1 | Spidey #1 |
Marvel gave PREVIEWSworld a first look at these new covers that are going to be available in the August PREVIEWS catalog for product shipping in October. In addition to the #1 issues bolting out of the gates, Secret Wars continues to heat up with issue #8, and we learn that Spidey had a life before he was amazing! Teenge Peter Parker is about to get his due with Spidey #1, and more details are said to be coming soon from the House of Ideas!
RAAAAAAAUUUUUGGGGhhhhhhhuuuuaaaawwwwwwwwwwggggg! (Translation: Marvel has announced a new Chewbacca limited series from writer Gerry Duggan and artist Phil Noto. Fans can learn about the wuvable wookie's new comic outing via MTV News' exclusive interview with Duggan.)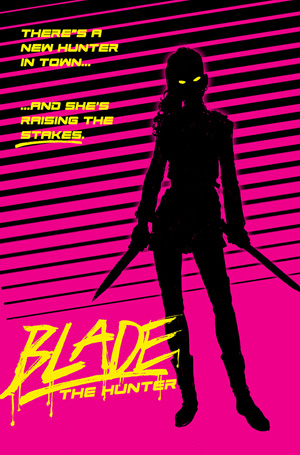 Marvel has announced a new ongoing Blade series with creators Tim Seeley (on writing duties) and Logan Faerber (illustrating interiors). Blade gains a new ally and monster-slaying sidekick, as his daughter Fallon Grey joins the fray, and the two must combat the evils that lurk in her home of rural Oregan. Fans will be able take a bite out of this new series when issue #1 debuts this October.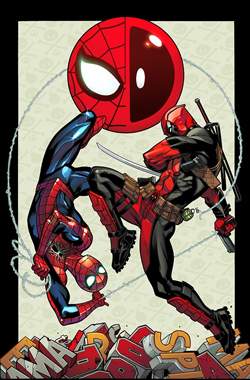 Marvel Comics has annonced a super team-up between two fan favorite heroes and creators. Joe Kelly and Ed McGuinness will reunite once more in the pages of Spider-Man/Deadpool. More details about the project are forthcoming, but fans can get their fix early with a sneak peek at the interior pencils of issue one on Comics Alliance.
---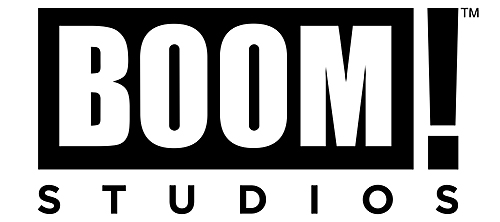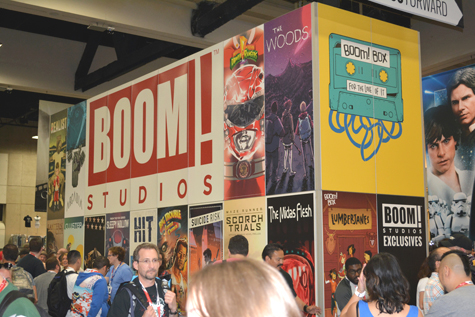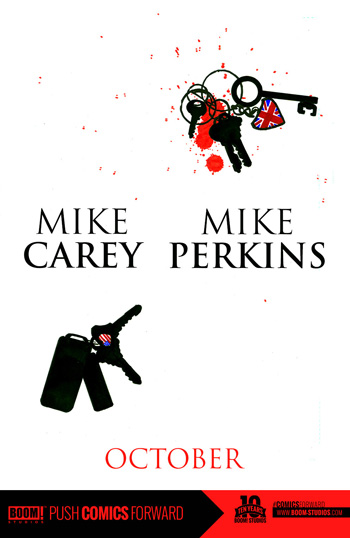 Creators Mike Carey and Mike Perkins have released a teaser image (shown above) for a new original project due out this October. More details are forthcoming!
The team behind Memetic is reuniting once more with James Tynion IV and Eryk Donovan's Cognetic. This new apocalyptic adventure tells the tale of an incredibly powerful psychic entity who has emerged in the modern era to once again exert control over the world after previously enthralling over one-third of population. However, one young woman holds the key to freeing the masses from the hivemind, but salvation may come at a terrible cost. The oversized first issue (clocking in at 48 pages) of this new three-part mini-series will hit shops in October.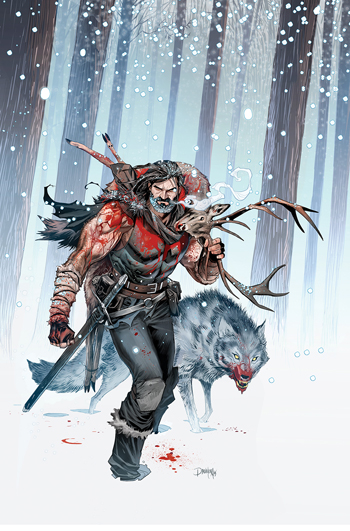 Comic creator Grant Morrison has announced his newest project, Klaus. The upcoming all-ages fantasy adventure follows the younger years of a certain world-famous figure before his signature white beard/red suit look. Artist Dan Mora will provide interiort artwork and main cover illustrations, and readers can look forward to the first issue in November.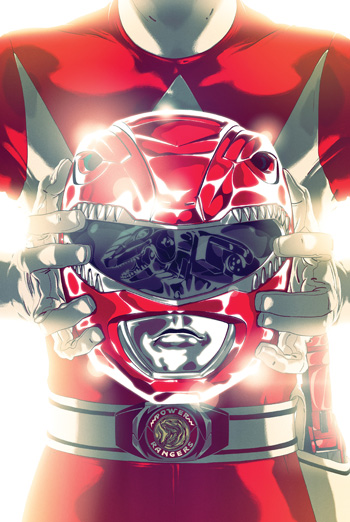 We hope you haven't been letting that Zord collect dust because it's time to get Morphin' once more. BOOM! Studios is partnering with Saban Brands to produce a new comic series based on the 1993 Mighty Morphin Power Rangers tv series. More details about the planned project are forthcoming and Rita Repulsa had "no comment" on the revival.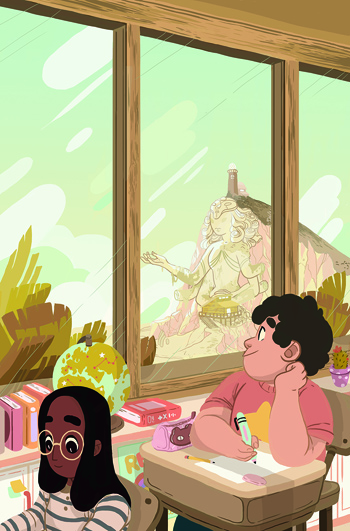 KaBOOM! is turning in some extra credit with Steven Universe: Too Cool for School, the first original graphic novel based on the hit animated series. Ian Jones-Quarterly, supervising director for tv show, will join SU comic series regulars Jeremy Sorese and Coleman Engle as part of the creative team for the all-new adventure. Fans can look forward to the book in December.
Comic creator Ollie Masters has released a video teaser for his upcoming project with BOOM! Studios.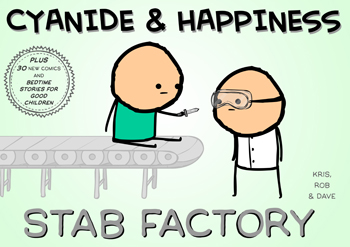 BOOM! Box has announced Cyanide & Happiness: Stab Factory, the second print colletion of the hit web comic. From creators Kris Wilson, Rob DenBleyker

,

and

Dave McElfatrick, Stab Factory contains a curated selection of comics from the website, the short Bedtime Stories for Good Children, and 30 all-new, never-before-seen strips. Fans can look forward to the book this November.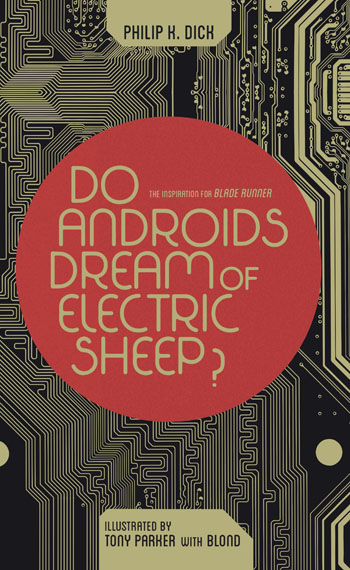 BOOM! Studios and Electric Shepherd Productions will collect the entire Eisner Award-nominated run of Tony Parker's comic adaptation of Philip K. Dick's Do Androids Dream of Electric Sheep? in a softcover omnibus edition. BOOM! originally published the series between 2009-2011, and this new edition will include a new cover by Jay Shaw and several supplementary essays from some of the most creators working in the comic industry today.
Click here to return to the top navigation!
---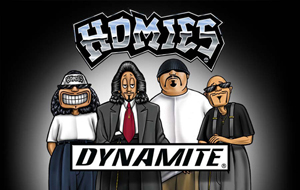 Dynamite announced an agreement with Surge Licensing, Inc. and Homieshop, LLC to create the first ever officially licensed Homies publications. The deal includes rights for a "History of the Homies" comprehensive retrospective hardcover art book, which will feature all of the toys ever released, along with behind the scenes art, info, and photos on the development of the characters, brand, and merchandise, including interviews with its creator, David Gonzales, and the story of how the Homies blew up! In addition, the deal includes the right to create original comics and graphic novels in all sizes, as well as reprint existing comic material.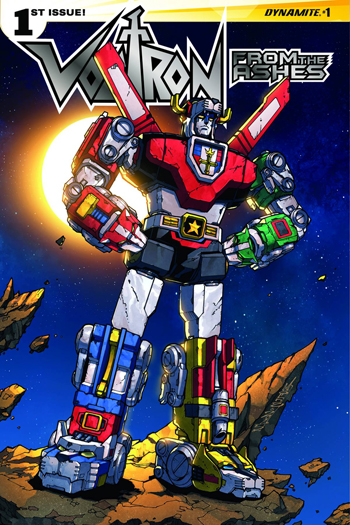 The Voltron Force will return in the pages of

Voltron: From the Ashes, an all-new six-issue miniseries written by Cullen Bunn and illustrated by Blacky Shepherd

. Set two hundred years after the events of Dynamite's previous

Voltron series, the miniseries will introduce a new team to pilot the five lions that form the Defender of the Universe. The debut issue will launch in September 2015 and feature cover artwork from acclaimed Transformers artist Alex Milne.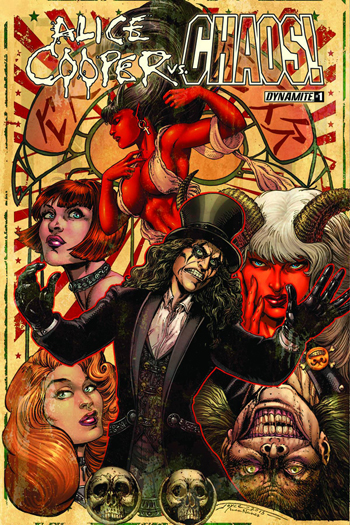 Dynamite unveiled the upcoming September launch of Alice Cooper vs. Chaos!, a five-issue mini-series pitting the world-renowned rock'n'roll icon against the comic book industry's premiere horror franchise. Tim Seeley and Jim Terry share writing duties for the event series, with Terry performing double-duty as the series artist. Joyce Chin

will provide covers for the entirety of the series.

Alice Cooper vs. Chaos! follows upon the success of Dynamite's 2014 Alice Cooper, a mini-series that reimagined the rock legend as the supernatural Lord of Nightmares, responsible for visiting the vilest men and women of the world with nocturnal horrors. In comics, no one is more vile than Evil Ernie, Chastity, and Purgatori... the fiends of the Chaos! Comics universe. Plagued by bizarre nightmares, these terrifying undead monsters put aside their personal differences and join the teen monsters known as The Chosen to hunt down the one-and-only Alice Cooper.
| | |
| --- | --- |
| | |
Dynamite Entertainment, in response to the public's overwhelmingly positive reaction to Gail Simone's Swords of Sorrow cross-over event, is proud to build upon the enthusiasm with an all-new one-shot special entitled Swords of Sorrow: Miss Fury/Lady Rawhide

, bringing together two iconic comic book heroines. Dynamite also announced that a special cover variant of

Swords of Sorrow #3 has been created to celebrate the cosplay phenomenon, featuring four cosplayers in a reenactment of J. Scott Campbell's cover from issue #1.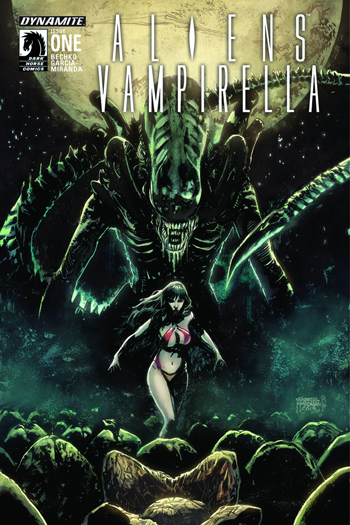 Dynamite announced the full creative team for Aliens/Vampirella, the upcoming horror crossover between their classic comic book heroine and the Xenomorph monsters from Dark Horse Comics' long-running comic book, based on the acclaimed film franchise. Corinna Bechko will steer the series with her scripts, while artist Javier García-Miranda will provide the atmophere and action. In addition, artist Gabriel Hardman will illustrate the distinctive covers worthy of the tradition of horror excellence that both long-standing terror icons represent.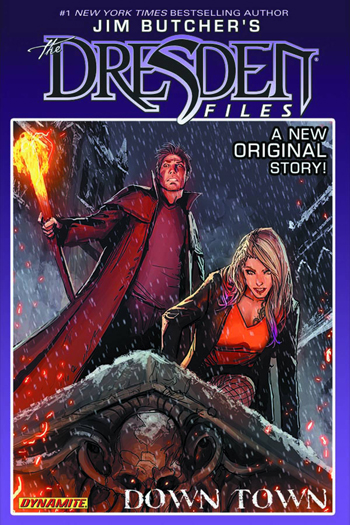 Dynamite revealed the upcoming September release of Jim Butcher's The Dresden Files: Down Town hardcover graphic novel, collecting the all-original Dresden Files storyline only ever previously released in a six-issue comic book format. Conceived of by Jim Butcher, co-written by Butcher and Mark Powers, and illustrated by Carlos Gomez

, the new volume follows upon the success of

New York Times-

bestselling graphic novels

The Dresden Files: Ghoul Goblin

and

The Dresden Files: War Cry

. The upcoming release in the official, in-continuity

Dresden Files

graphic novel series tells the story of titular wizard Harry Dresden's mystical confrontation with Chicago mobsters.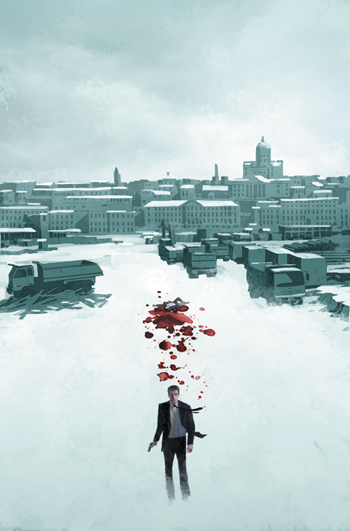 Fan-favorite author Warren Ellis will be writing Dynamite's James Bond 007 ongoing comic book series, the first to appear in over two decades. James Bond 007 is scheduled for release this November and will feature interior artwork by Jason Masters

.

The news of the high-profile author's involvement with the

James Bond 007 series follows Dynamite's announcement of their partnership with Ian Fleming Publications Ltd. (IFPL), the Fleming-family company that owns and administers the literary copyright of Ian Fleming's published works, including his fourteen James Bond

books. Under their agreement, Dynamite has been granted worldwide rights to publish comic books, digital comics, and graphic novels starring 007.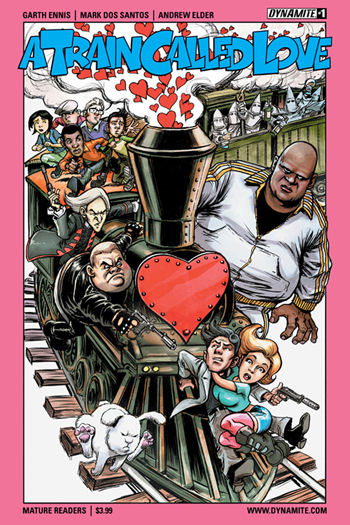 Garth Ennis and Dynamite will launch a brand new ten-issue creator-owned series, A Train Called Love, this coming October. A volatile comic book exploration of romance as only Garth Ennis can deliver, A Train Called Love will feature Mark Dos Santos as regular artist and Russ Braun

on cover duties.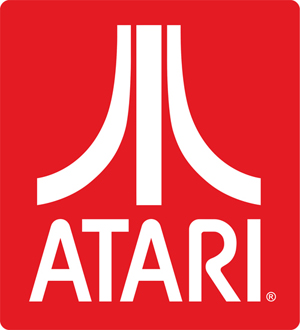 Dynamite entered a collaborative publishing agreement with Atari, one of the world's most recognized publishers and producers of interactive entertainment. The deal includes rights for a comprehensive retrospective hardcover book, collecting game production and concept artwork, photos, behind-the-scenes info, marketing art, other details on the company and its games, and interviews with key people involved in Atari's rich history. The deal also includes the right to create original comics and graphic novels in all sizes, as well as reprinting existing comic material.
Dynamite, Fleischer Studios, and King Features Syndicate will bring Betty Boop, the first female animated screen star, to comics for the first time in over twenty years, with a new line of original graphic novels and serialized comics.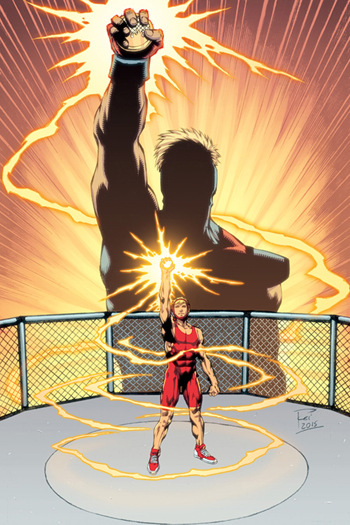 In a collaborative agreement with Surge Licensing, Inc., Ian Parker, Mark Mastrandrea, and Dynamite Entertainment will develop a comic book series based on the brand new property Cage Hero. The four-issue series will debut this November, be released monthly as single-issue comics, both digitally and in print, and be collected later into trade format.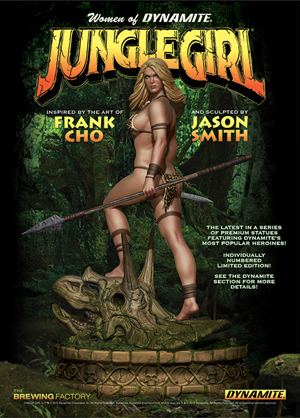 Dynamite is expanding its merchandising program with the Jungle Girl Statue, the third in its line of porcelain Women of Dynamite statues. Produced as part of their announced creative partnership with merchandise development company The Brewing Factory, the statue is slated for release in late October and features Jana, the heroine of the Jungle Girl comic book series by industry sensation, Frank Cho

.

Based on the artist's distinctive illustrative style and sculpted by the ever-talented Jason Smith, the blonde warrior poses atop the skeletal remains of a triceratops. Hand-painted on cold-cast porcelain, the Jungle Girl

statue stands approximately 12" in height on a 6" diameter base, with each individually numbered as part of a Limited Edition run. This

Women of Dynamite

statue comes packaged in a four-color box with a hand-numbered Certificate of Authenticity.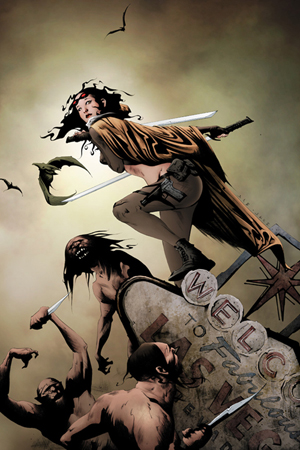 Jonathan Wayshak will join as the artist of Devolution, the upcoming comic book series written and created by Rick Remender, along with Jordan Boyd, who joins the creative team as series' colorist. A pulp/grindhouse science fiction epic that blends high-octane action, character drama, a world of strange mutations, and social commentary, Devolution is scheduled for release in late 2015.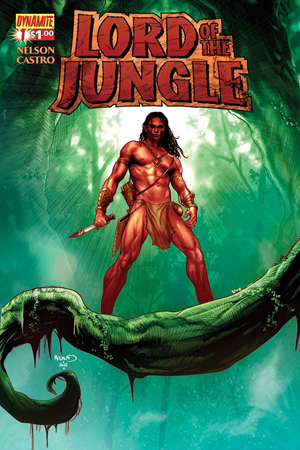 Dynamite announced their agreement with rights-holders Galaxy Publishing and Valdoro Entertainment to publish original comic book and graphic novel content for Sheena, Queen of the Jungle, as well as reprints of the character's classic jungle fantasy material. Described by co-creator Will Eisner as a female counterpart to Edgar Rice Burroughs' Tarzan, Sheena will see her first adventure at Dynamite Entertainment teaming with the iconic "Lord of the Jungle" himself. Dynamite's rights also include statues, trading cards, action figures, lithographs/fine art, and t-shirts.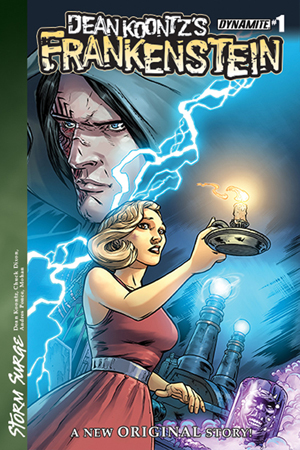 Dean Koontz's Frankenstein: Storm Surge, an all-new six-issue miniseries, launches in October. From the celebrated imagination of the bestselling novelist comes a powerful reworking of one the most classic stories of all time, co-written by veteran comic book author Chuck Dixon and illustrated by Andres Ponce. Frankenstein: Storm Surge #1 continues the fan-favorite reimagining of "The Modern Prometheus" seen in Koontz's previous Dynamite series, focusing on cast members Victor and Erika.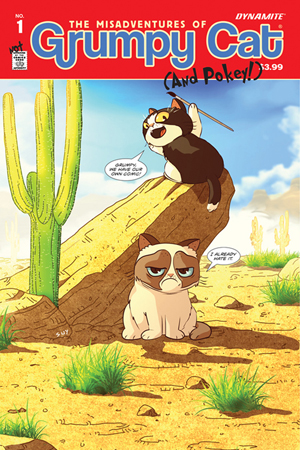 Following the May announcement of their upcoming Grumpy Cat comic book series, Dynamite is pleased to announce the complete creative team for the upcoming first issue, scheduled for release in October. The series writers include Ben Fisher, Ben McCool, Royal McGraw, and Elliott R. Serrano. The interior artists will be Ken Haeser and Steve Uy, who also contribute cover artwork alongside Rebekie Bennington, Agnes Garbowska, and Tavis Maiden. Dynamite will also offer two special cover variants: a Blank Authentix edition, perfect for fans with artistic talent to personalize; and the first-ever "Create-Your-Own-Meme" edition that provide Grumpy Cat lovers an outlet for their own curmudgeonly witticisms.
Click here to return to the top navigation!
---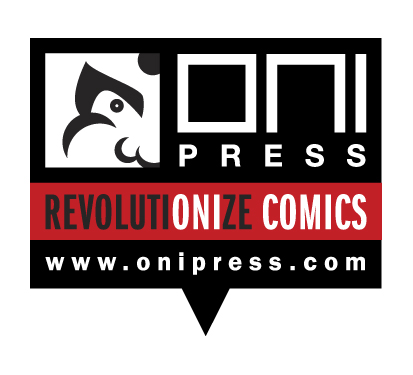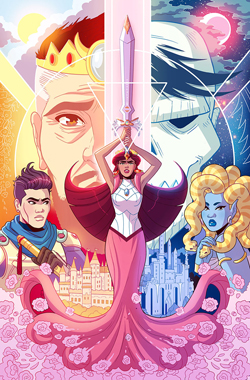 Oni Press is mounting a royal rescue with Another Castle, a new series written by Andrew Wheeler and illustrated by Paulina Ganucheau. This new fantasy adventure follows Misty, a kidnapped princess who discovers the best way to save her kingdom may be just to stay put—but she doesn't plan on just sitting around and sighing out the window. More details about the project are forthcoming, and aspiring knights can check out several preview pages at CBR.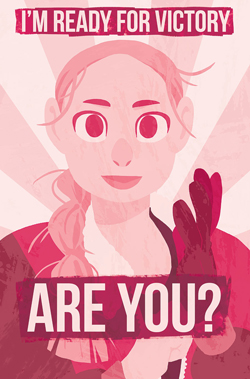 Oni Press have officially announced creator Natalie Nourigat's latest original graphic novel, Over The Surface. The story follows Ava Lefevre, a young woman who longs to be a pilot in the Solveran Army but is denied doing so because of her gender. But with her homeland at war with the neighboring country of Isolestra, the army will need to bolster its forces in any way possible, and after besting an ace pilot in an impromptu dogfight, Ava is allowed to join Solveran's ranks. However, her dreams of flying high may soon be grounded when the realities of war begin to set in. More details on the project are forthcoming, and preview pages are available on CBR.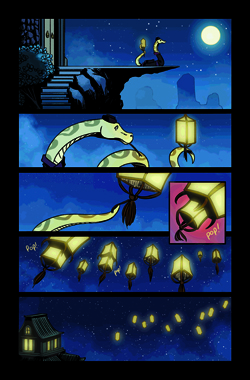 Oni Press has announced a new series about fantastical fisticuffs with The Mighty Zodiac. Written by J. Torres and illustrated by Corin Howell, The Mighty Zodiac follows Master Long and his students, the Zodiac Clan, as they set out to retrieve six stars that have fallen from the heavens and return them to their base. They're not the only group eager to get their hands on the stars, as the Moon Rabbit Army is hot on their heels and eager to keep Master Long from getting them within his grasp. More details about the project are forthcoming, but readers won't have to wait for the stars to align to get a sneak peek over at CBR.
Click here to return to the top navigation!


---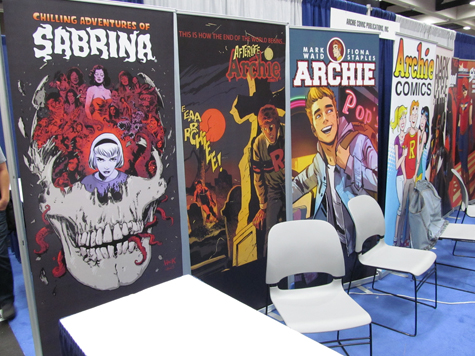 Archie announced a new miniseries featuring the influential punk band the Ramones. Archie Meets Ramones will be co-written by Alex Segura and Matthew Rosenberg with art by Gisele. Look for the comic in 2016.
Click here to return to the top navigation!
---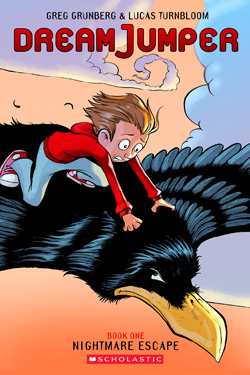 In celebration of the tenth anniversary of their Graphix imprint, Scholastic has announced a new original graphic series, Dream Jumper. This new fantasy series follows Ben, a young boy who discovers he can enter other people's dreams and must save his friends from a dream-monster determined to make sure they never wake up. Dream Jumper will be co-written by

Greg Grunberg and

Lucas Turnbloom, with Turnbloom illustrating the interiors as well.

Readers can look forward to the first volume, Dream Jumper: Nightmare Escape, on

June 28, 2016

.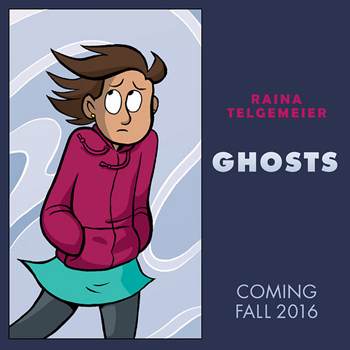 Creator Raina Telgemeier has announced her newest YA graphic novel, Ghosts. A fictional story with a dash of the supernatural, Ghosts follows 11-year-old Catrina and her younger sister Maya, as their family moves to the small coastal town of Bahía de la Luna hoping the clean air will help improve Maya's medical condition. However, the girls soon learn that a fresh sea breeze isn't the only thing they're in store for with their mysterious new surroundings. Ghosts will clock in at over 240 full-color pages, and readers can look forward to the book in the Fall 2016.
Click here to return to the top navigation!
---
Titan Comics has announced a new Doctor Who mini-series starring the Eighth Doctor (as portrayed by Paul McGann). George Mann will write for the series while Emma Vieceli will illustrate the interiors. Fans can look forward to the debut issue in shops on October 28, and issue #1 will include four different covers.
Click here to return to the top navigation!
---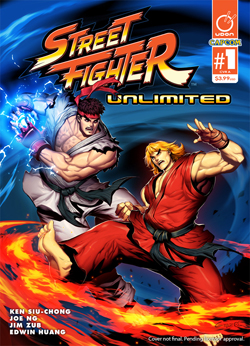 Udon Entertainment has announced an all-new, ongoing monthly series with Street Fighter Unlimited. Based on the hit fighing game franchise, this new series will feature SF comics veteran Ken Siu-chong and interior artwork from Joe Ng and Edwin Huang, with the artists taking turns handling each four-issue story arc. Each issue will also feature Udon's signature four-page bonus stories from a lneup of creators that include Jim Zub, Adam Warren, Chris Sarracini, and Jeffrey "Chamba" Cruz, amongst others. Fans can look forward to issue #1 in shops this December.
Udon Entertainment also announced a high-profile line-up of new manga acquisitions and upcoming artbooks including: Moyocco Anno's Sugar Sugar Rune (previously published by Del Rey, with the first volume scheduled for the second quarter of 2016), Yomi Sarachi's Steins;Gate (based on the hit game from 5pb. and Nitroplus, with the first volume scheduled for this August), Riyoko Ikeda's The Rose of Versailles (the first official English release of the groundbreaking classic shoujo series; to be published as two-in-one omnibus editions with the first volume slated for the second quarter of 2016), and artbooks for Bayonetta 2 (due second quarter of 2016), Persona Q (due second quarter of 2016), Battle Chasers (due second quarter of 2016), and Shovel Knight (due first quarter of 2016).