Success Isn't Cheap In Dark Horse's The Paybacks
Jul 10, 2015
Bills got you down? Upset that all your hard work to "make it" did nothing but put you in debt to the tune of paying off something close to multiple mortgages? You're not alone. Heroes have it hard, too. Just read The Paybacks #1 (JUL150091) from Donny Cates and Eliot Rahal. They write from experience. So here's an opportunity to hear from two guys who decided to make a comic that shows heroes not at the top of their game, or involved in an epic crossover. The Paybacks shows costumed crimefighters cursing the taxman just like the rest of us.
**********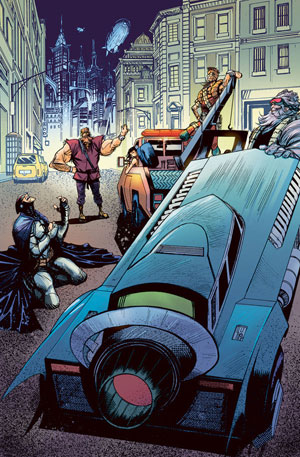 PREVIEWSworld: The concept for The Paybacks #1 (JUL150091) is brilliant: heroes that made their bones on the cheap now have to pay the bill with mafia-level interest. Tell us how the idea for the story got rolling. Did one of you miss a rent payment once, and BANG! Old memory makes for a great comic book!
Donny Cates: For me personally it came out of many conversations I've had with friends and family and with Eliot especially. I went to art school to learn how to write comics, which, as you probably can guess, are not two ventures that are known for making someone rich. As I started making some headway in my current profession, the weight of my school loans was just crushing me. I knew I wanted to talk about the subject of debt in a way that people could relate to, and having tackled serious topics before in Buzzkill, going back to that same world sounded like a perfect fit. Throw in the flavor of Mr. Rahal here and The Paybacks is what comes out!
Eliot Rahal: The most important person in my life is my wife. She grew up as a person without means, and accrued an unreasonable amount of debt to put herself through college. Now she works a great job but has to spend a lot of the money she makes paying back her debts. The interest alone is out of this world. It actually really pisses me off. Also…I've lived in four different cities in five years. That compounded with a lot of bad decision making, including trying to become a professional writer in comics (pause for laughter), has really amped up the amount of debt I personally owe. It changes how I see everything. And personally I like writing about tangible problems. Plus there's just limitless potential and infinite amounts of fun to be had spinning off the world of BuzzKill.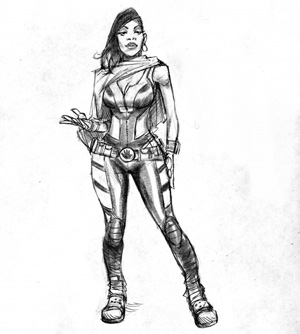 PREVIEWSworld: The comic's premise seems to hinge on what you thought was "up" is really "down." Which one of you read Rick Veitch's Brat Pack? Who among you was cheering for Ozymandias in Watchmen? Did books like these make you fans of spinning people on their heads?
Donny Cates:: When creating a new issue, whether it's scripting or plotting things out with Eliot or whatever, we all ask ourselves "is this story worth four dollars?" As a former retailer myself I know how hard it can be to take a chance on a new title, so that's always playing in the back of our heads. So with that in mind we tried to cram as many amazing "holy s!@#" moments into this book as possible. Twists and turns and mysteries that no one will see coming. Layers. Buzzkill wasn't just about superheroes, Ghost Fleet wasn't just about trucks. The Paybacks is a really fun romp, but the emotions and drama of the book will sneak up on you. There's a lot going on at all times. Pay attention!
Eliot Rahal: Donny and I had a rule going into this thing… If we said, "What if this happened?" and the answer was "THAT'S COOL!" then it was going in. Nothing was saved "For Later" everything was left on the field for these first 12 issues. Everything. And what I discovered is that sometimes the outcomes that we wanted to have happen weren't necessarily the ones that should. We allowed for the world of our story to become real to us. As a result I think we have a really cool comic book on our hands. Oh, and for the record… I actually "bought" what Mr. Veitch was selling.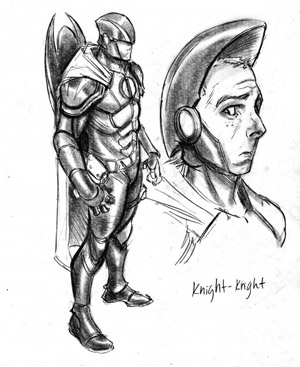 PREVIEWSworld: Tell us about some of the characters in the book. Who is there to like? Who needs sympathy? Who needs to be stuffed into a wood chipper?
Donny Cates: Oh man! There's SO many great characters running around. I think Bloodpouch and Miss Adventure are my two favorites. Miss Adventure is such an interesting character. Deadly and troubled. I'm always attracted to dangerous F$#* ups. As for the wood chipper? Night Knight is kind of a jerk sometimes.
Eliot Rahal: Donny, Night Knight isn't kind of a jerk...he is a jerk. But I love that about him! I love having a character that people will read and say, "F$%@ that guy." That's really fun to me. In terms of who I love-love, or who my "Fam" is as the kids put it…Wow. Well, Emory Rains is a badass, she's seriously so cool. Also, Skisquatch is my soul.
PREVIEWSworld: The cover for the book makes one think of the chaos factor formerly seen in Garth Ennis' Hitman. Without spoiling the series, what can you tell us about a scene(s) that you love to geek over in the book because it's nothing short of Hunter S. Thompson gonzo?
Donny Cates: In the first issue there's this scene with a unicorn that still makes Eliot and I crack up. It might be our favorite thing in the entire book!
Eliot Rahal: 100% the unicorn. So much fun. However, I must return to Skisquatch. What started off as a joke became one of the most compelling characters in the book, and that always brings me a smile.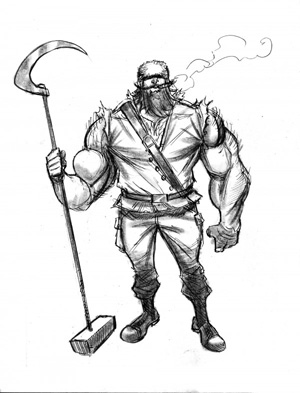 PREVIEWSworld: If, at the end of the day, you had to summarize the results of the acid test responsible for this book, what would you say to readers that would convince them they no longer need to hedge over pre-ordering The Payback? How does this series deliver the goods?
Donny Cates: We're here to have fun. Eliot and I are very big on comics having a sense of humor and being playful. There's still some hardcore moments in the book but even in those moments I like to think the reader will see how much fun we are all having. I think our smiles and laughter are in every panel on every page. We're just throwing a big fun party. And everyone is welcome.

Eliot Rahal: There's a lot of heart in this book. Donny and I have known each for a long time. We got our first book picked up together; we were interns at Marvel together. The Paybacks is sort of the sum of everything that has happened to us while at the same time… the start of something new. That's cheesy, I know, but this book covers the spectrum. It's fun, it's funny, it's incredibly violent, dark, and hopeful. Our whole goal was to earnestly create something that's honest. We just want everyone to feel that with us.