Indie Edge July 2015: Cullen Bunn
Jun 17, 2015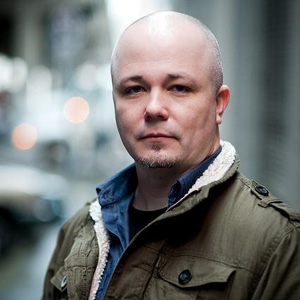 This month's featured creator is Cullen Bunn.
Please tell us a bit about yourself!
I am the writer of a number of different comics, including books like The Sixth Gun, Hellbreak, and Terrible Lizard from Oni Press; Harrow County from Dark Horse; Magneto and Deadpool's Secret Secret Wars from Marvel; Sinestro, Aquaman, Lobo, and Green Lantern Corps: The Lost Army from DC; and The Shadow and Masks II from Dynamite. I also write short stories and novels, mostly horror. I grew up loving comic books, so I feel very fortunate to be able to create them for a living. Not only do I get to write stories, but I get to work with incredible artists like Brian Hurtt, Drew Moss, Tyler Crook, Joelle Jones, Brian Churilla, and dozens of others! I love seeing my ideas brought to life by these talented folks! And… once upon a time… I performed on stage as the "World's Youngest Hypnotist"! No fooling!
What are your favorite projects you've contributed to over the past decade?
That's a tricky question! Next year will be my 10-year anniversary of writing comics professionally, so I definitely have to list my first pro comic work, The Damned from Oni Press. I'm also extremely proud of The Sixth Gun, which will be wrapping up soon after 50 issues (and a few spin-offs). It's gratifying to be able to set out to tell a long-form story — and be afforded the opportunity to tell it! Recently, the first issue of Harrow County was released from Dark Horse, and I feel like this is a very personal story, something that is very true to me as a writer. It might be the book that represents who I am most clearly, and I have been so thrilled by the reaction to it.
New and Classic Titles by Cullen Bunn

The Sixth Gun Vol. 1 TP (OCT101087)
Terrible Lizard TP (DEC141591)
Magneto Vol. 1: Infamous TP (JUN140739)
What are you currently working on?
As I mentioned earlier, I'm bringing The Sixth Gun to a close. The final arc of the series is epic to say the least. I've known where the story was headed since the first arc of the series, so it's exciting — if a little bittersweet and, at times, stressful — to see the final payoff coming together. Right now, there's some added excitement for me because Pinnacle Entertainment is adapting The Sixth Gun to a role-playing game. As a gamer from way back, I'm jazzed about that! I'm also working on Hellbreak, which is sort of an action-exorcist story about mercenaries retrieving lost souls from Hell. I've been working on that for a while, so I'm way ahead of the release schedule of the book. Harrow County from Dark Horse just launched. We've been calling the book a "Southern Gothic Fairy Tale" and I think that sums it up pretty well. The first issue sold out and is going to a second printing. I'm in the middle of writing the second arc and planning the third! And I'm also working on a book for Oni Press titled Blood Feud: A Vampire Yarn… with Spiders. It's the story of black magic and vampires (sorta) in the Missouri Ozarks — like the Hatfields and McCoys… if the Hatfields were flesh-eating monsters. That launches later in the year.
What fun titles are you reading?
Southern Bastards (Vol. 1: Here Was a Man—JUL140517) from Jason Aaron and Jason Latour is currently my favorite comic book series. From a very simple beginning, the Jasons have created a story that manages to take me by surprise with every issue!
Trees (Vol. 1—DEC140696) by Warren Ellis and Jason Howard is a wonderful science fiction story that I first encountered in trade, but now follow in singles.
KaijuMax (#1 2nd Printing—APR158439) from Zander Cannon is a giant monsters in prison story that is full of humor, heart, and tons of ideas I wish I'd come up with!