Respect the Source: Joe Harris' Mark on The X-Files Season 11
Jun 11, 2015
by Vince Brusio
He's been at it for over 30 issues now, and he feels pretty good about getting inside the head of Agents Mulder and Scully. But as writer Joe Harris explains in this interview for The X-Fles Season 11 #1 (JUN150359), it's all about respecting the source material.
The X-Fles Season 11 #1 (JUN150359) is in comic shops August 12.
**********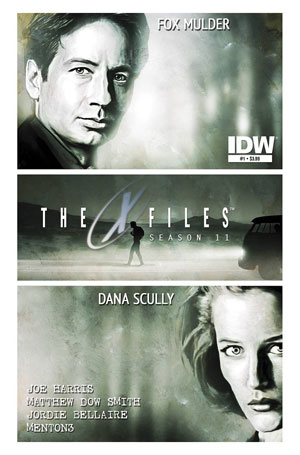 PREVIEWSworld: What's the premise for The X-Files Season 11 #1 (JUN150359)? Can you start at ground zero, and take us from there?
Joe Harris: Well, I'll try to be as 'non-spoilery' as possible as Season 11 #1 spins right out of the batcrazy events that conclude The X-Files: Season 10 #25...
A couple of months have passed since the events Agents Mulder and Scully contended with in Cuba, in which former chess prodigy and advanced alien brain-child — as well as old and trusted friend — Gibson Praise was revealed as the previous season's "big bad" we've been teasing since we first launched that series back in 2013. Mulder and Scully have been separated. Mulder's a fugitive wanted for stealing secrets from the government and on the run from a compromised FBI and larger federal government that doesn't seem to realize the nature of Gibson's consulting firm and private contractor, Cantus, who've taken over the X-Files division. While Agent Scully is back, at this compromised FBI, unsure of who she can trust while trying to figure out just what Gibson and his operation have in store for Mulder.
As she works to find him, clear him, and bring him home, she begins to understand that Gibson is actually using Mulder for some higher, secret purpose. And Mulder, for reasons she'll also uncover in time, has been pressed into service as Gibson's operative. He's seeking out specific things, procuring knowledge and secrets from both new paranormal experiences as well as revisiting some old ones, but with a purpose that will be revealed in time and an agenda only Gibson and his super-genius, telekinetic, and psychically advanced mind understands at this point.
With Season 11, I'm trying to bring the X-Files, and Mulder's longstanding quest to uncover the truth, into a 21st century paradigm of secrets stealing, privatized government agencies and contract work, the post-Patriot Act surveillance state and conspiracy-busting FOIA requests.
In this new "Citizens United" age, where unlimited amounts of so-called dark money anonymously pulls the levels of politics and policy, determining elections and full-tilt lobbying at the scales of representation, the X-Files almost feel quaint. On the one hand, there's never been so much daylight with so few shadows for secrets to hide. While, on the other, the government has never been so bought and paid for. If the alien colonists only knew how K Street lobbying firms worked, they'd have succeeded in enslaving the Earth years ago!
Gibson has a plan, and understands a coming threat that he's determined is best dealt with if he drives the bus, through his own mysterious means, while using Mulder and Scully like chess pieces in a game he's thought through as only a true master of the game can. And Mulder and Scully, working their way back to one another, will find that there aren't easy solutions.
PREVIEWSworld: This story is independent of an X-Files season that was broadcast on TV. The series ended after nine series. Yet you're writing about two of the most well-known FBI agents in television history. How do you find the balance between "legacy" and "creative license"?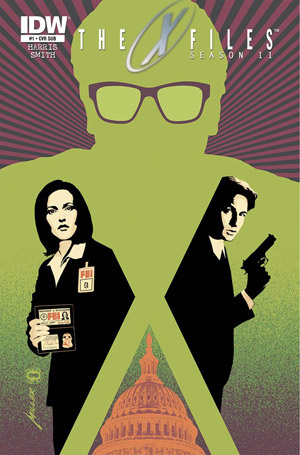 Joe Harris: I try to respect the source material at every turn and stay true to the characters while looking for natural departure points and places where I can make this my own, always keeping in mind that, though I want to challenge myself and make my own mark on this franchise in whatever small way, it's not about me. It's about the fans, and striking that right balance between the new and familiar is the daily challenge.
I think I've got a good feel for this stuff by now. After writing around 30 issues at this point, I feel pretty good about taking risks while not making it about me.
PREVIEWSworld: What was the most fun about starting this new series?
Joe Harris: Honestly, the most fun thing about kicking off Season 11 is that it's an organic extension of things we've been working toward for the past couple of years, in the old series. When we launched Season 10, I knew we had to focus on the familiar. We had to reestablish these characters, find the right balance between catering to the diehards who live and breathe this stuff and the casual fans, or even newcomers, who might not recall every detail of a franchise that ran for nine long television seasons and two feature films. This time around, I feel a bit freer to take risks and make this my own. I'm pretty confident in my vision for these characters and where I want to take the entire concept of "The X-Files" in these pages.
PREVIEWSworld: Did you consider past episodes of the show when thinking through the plot? Is there a crossover effect? Or do you aim to keep the two universes separate when writing Season 11?
Joe Harris: I write it as though it's all canon, and the continuity is a continuous stream we're contributing to. This comes up in obvious ways, from the sequel to the infamous Season Two "Flukeman" episode we tackled in our "Hosts" arc, back in the "Season 10" series, and in an upcoming storyline involving a particular clan of fan-favorite, incestuous mutant farmers I'm writing for early on in Season 11.
Other times, I find myself shuttling through the series... different scenes I wanted to re-visit, episodes I wanted to re-familiarize myself with, etc., and, particularly when reviewing the Mytharc episodes, I'll find little elements and things that either weren't fully explored, or left dangling, and I'll add them to my notes and try to revisit those later on.
In our "Pilgrims" arc back in Season 10, I revisited the idea of 'time loss' involving stopwatches and proximity to alien spaceships as first introduced in an early season episode, when the entire conspiracy was new and Mulder was just understanding it.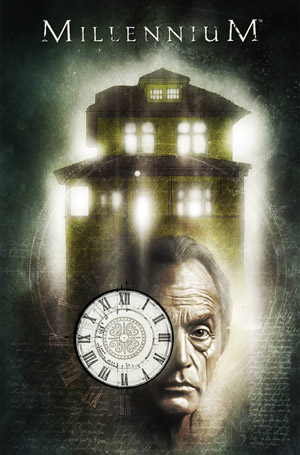 Most recently, I decided to flesh out the backstory of serial killer Monte Propps in our Millennium mini-series. Propps was only mentioned one time in The X-Files, back in the Season One pilot, as the nefarious killer Mulder helped put away as a young Agent just out of the Academy which led to his cache rising at the Bureau and the eventual opening of the X-Files office.
There's no shortage of stuff back in the canon to derive some inspiration from and I'm going through it all the time and taking notes.
PREVIEWSworld: So did you "geek out" over the news that David Duchovny and Gillian Anderson are reprising their roles for a six-part limited series run on Fox? The show will start production this summer. Maybe IDW can pull some strings so you can meet those two. Have you ever crossed paths with them before at conventions? If you had a chance to speak with Duchovny and Anderson, what would you say?
Joe Harris: I'm as excited as anybody, believe me! I haven't had the pleasure of meeting David yet, but Gillian and I were on a Comic Con panel together, along with Chris Carter, back in 2013 and talked about the just-launched IDW series for a crowd of thousands. I've been on some big panels before — for movies I was associated with and big comics franchises — but nothing was as much fun as that panel.
To commiserate with Duchovny would be a thrill if, for nothing else, I could confess how hard it's been to have Fox Mulder not sound like Hank Moody from Showtime's excellent "Californication." The one-liners and quips are so easy from Mulder, it doesn't take much to delve over into the more 'blue' territory Hank Moody was famous for.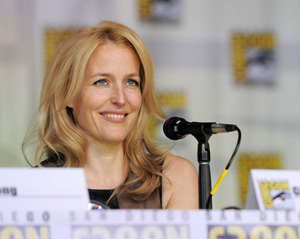 Since I've had the wonderful experience of meeting Gillian before, I'll just share a post-panel exchange we had in the green room of the San Diego Convention Center. We'd just done the panel, much fun was had, and we're standing together in the room, along with Chris Carter and Dean Haglund, waiting to be escorted down to the show floor for a signing, and I notice Gillian is sort of eyeballing me. She had no idea who I was prior to this panel, but I guess I said enough during it to garner this fleeting curiosity. And I've got this messenger-type thing slung over my shoulder as I always do and she says, with a gesture and deadpan delivery that only accentuated the risqué, "I like your man bag."
I smiled and probably blushed a little. From the panel, I'd already gathered that she has this playful and provocative way of keeping folks on their toes, and I'm not sure whether to say thank you or what. So I just grinned. And as we all went downstairs I think I laughed.
Hey, you asked...