Indie Edge June 2015: Jim Zub
May 20, 2015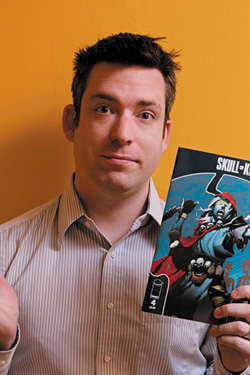 This month's featured creator is Jim Zub!
Please tell us a bit about yourself!
My name's Jim Zub. I'm a Canadian comic creator and art instructor living in Toronto. Over the past decade I've bounced around in a bunch of different roles learning about the publishing business — starting as a colorist, then illustrating, moving over into an editorial role, and now happily writing a bunch of different creator-owned and work-for-hire comic titles. When I'm not writing comics I teach Animation-related post-secondary courses at Seneca, Canada's largest college.
What are your favorite projects you've contributed to over the past decade?
My first major creator-owned work is The Makeshift Miracle, originally serialized online and re-mastered/published by UDON Entertainment. It's the project that taught me how to tell a comic story and will always have a place near and dear to my heart. A recent project I did for UDON is called Wonder Momo: Battle Idol. Omar Dogan, Erik Ko and I were hired to take an older Bandai-Namco video game title that was never released in North America and update it for a modern audience in comics. It was a ton of fun playing with anime, sci-fi, and pop culture tropes in the story while Omar illustrated up a storm on it. I'm probably best known for Skullkickers, a chaotic and joyous sword & sorcery action-comedy that's wrapping up this year. It's the series that raised my visibility and opened up a lot of other comic writing opportunities.
New and Classic Titles by Jim Zub:
Wonder Momo: Battle Idol Vol. 1 HC (DEC131307)
Makeshift Miracle Vol. 1: The Girl From Nowhere HC (FEB121167)
Skullkickers Treasure Trove Vol. 1 HC (FEB120458)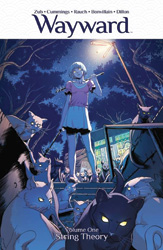 What are you currently working on?
I'm currently writing Wayward, a supernatural action-drama published by Image Comics.
It's a bit like "Buffy in Japan" — Teenagers fighting Japanese mythological monsters on the streets of Tokyo. Steve Cummings and I are having an absolute blast putting it together and the readership we're building is passionate about the story.
Co-writing two legendary sword & sorcery characters in Conan Red Sonja with Gail Simone was a real honor.
I grew up reading the original Robert E. Howard novels, so having my name on a Conan book is wonderfully surreal. Continuing the story of Samurai Jack, the award-winning Cartoon Network animated series, in comics has been one of the best assignments of my career!
Working on it with Andy Suriano, who did designs on the original cartoon, is icing on the cake.
What fun titles are you reading?
I'm really enjoying Adam Warren's Empowered (Vol. 1: MAY128260) from Dark Horse. It's a naughty romantic comedy with Adam's signature action flare. It's so great seeing him create such a robust and entertaining superhero parody!
Image has been on an incredible tear with new and exciting titles and Death Vigil (Vol. 1: MAR150526) is definitely a stand out. Stjepan Sejic's characters are engaging and entertaining, and his artwork is incredibly appealing, page after page.
UDON's Street Fighter (Vol. 1 HC: AUG121326) graphic novels are always a pleasure to read. The studio's action-packed art and bone-crunching stories never cease to inspire me.