Babes, Blood, & Bullets in Gonzo Girl-Powered Pussycats
Apr 29, 2015
Imagine a punk rock anthem that smashes your face and leaves you bloody...but the culprit's a comic book, not 80s vintage vinyl. That would be close to describing the crime scene that unfolds in the Pussycats TP (JUL151337), which collects the 5-issue mini-series about adult film stars that crossed the line to become grifters with a conscience. And a thirst for vengeance.
All hell breaks loose when a Russian mob enforcer on a sadistic killing spree invades the swanky seductive Sophie's Place, an escort service that's home to famous adult film stars which moonlight as name brand entertainment. When the Russian's arrival pushes one of Sophie's entertainers to attempt suicide, a chain reaction ensues that sends redneck-tempered Cowgirl Cathy into a direct confrontation with clients who are known to associate with the invader.
Fans of gritty grindhouse movies like I Spit on Your Corpse will thrill to this exploitation-themed comic that also takes Thelma and Louise-style sass and camaraderie to the next level. Political intrigue lurks behind what seems to be a simple sex-slave crime wave, but all is not as simple as it seems because of mistrust and secrecy. While Cowgirl Cathy is preoccupied with eliminating scumbags who have hospitalized her girlfriend, the manager of Sophie's Place, Tammy Carpenelli, is caught in the crossfire, and learns that her own life is in peril.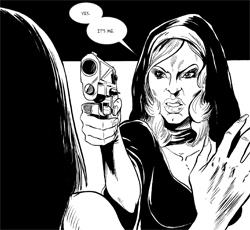 Based on a conspiracy that unfolded in the previous Pussycats #0 (JAN151431) — which ranked in PREVIEWSworld's Top 50 Small Press Comics for March 2015 — Tammy learns that in addition to Sophie's Place losing money because of her employer's strange disappearance, she is now faced with how to live on the run since her place of business will soon become a den of death.
Bullets fly, people die, and girls go gonzo in this black-and-white tour-de-force of glamor, guns, and glory.
This is Sons of Anarchy crammed into The Blacklist, with women who wail, whoop, and whack you upside the head with a pistol because you're obviously too dense to get out of their way.
And the truth is they're at the front of a resistance that stands between you and the decline of America.
Pussycats TP (MAR151334) is available at your local comic shop September 30.