TOYCHESTnews Exclusive Reveal: Predator Minimates from Diamond Select Toys
Apr 16, 2015
Get to the chopper! Diamond Select Toys has a whole new line of Minimates mini-figures, based on the cinematic world of Predator!

This first blind-bagged assortment features Billy and the Jungle Predator (masked, unmasked and thermal) from the first film, the City Predator (regular and battle-damaged) from Predator 2, and Edwin and Cuchillo from Predators!

There are eight different figures in all, with a full set in every display case of 18 foil bags, but Edwin is the rarest figure, with only one per case!

Let the hunt begin! Each 2-inch Minimates mini-figure features 14 points of articulation as well as interchangeable parts and accessories. Designed by Art Asylum!

Pre-order your own Predator Minimates from the upcoming May PREVIEWS! Get the new catalog at your local comic shop on April 29th!
Click on the image below to get a closer look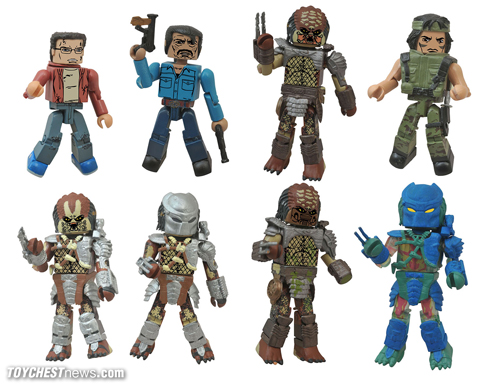 PREDATOR SER 1 FOIL BMB COUNTER DISPLAY
Item Code: MAY152178
Foil bag SRP: $5.99/ea.

Are you following TOYCHESTnews on Twitter yet? Follow @toychestnews