Top 100 Comics: March 2015
Apr 12, 2015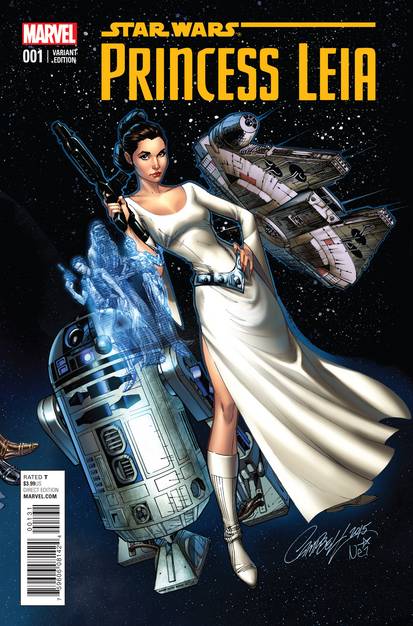 Leia Organa of Alderaan must balance the needs of her surviving people with the demands of the Rebel Alliance after her homeworld's destruction in Mark Waid and Terry Dodson's Princess Leia #1 from Marvel Comics, the best-selling comic book of March.
In total, Marvel Comics had nine of the month's top ten comics, including Jason Aaron and John Cassaday's Star Wars #3 at #2, Brian Michael Bendis and Arthur Adams' Guardians Team-Up #1 at #3, Chip Zdarsky and Joe Quinones' Howard the Duck #1 at # 7, and Gerry Conway and Carlo Barberi's Amazing Spider-Man #16.1 at #10.
DC Entertainment had one title in the top ten, Peter J. Tomasi and Viktor Bogdanovic's Batman: Arkham Knight #1 at #9.
Among the premier publishers, Robert Kirkman's The Walking Dead #139 for Image Comics was the publisher's top book in March at #13. Based on the classic 1980s cartoon, IDW Publishing's Jem and the Holograms #1 was their best-selling book at #77. Finally, Mike Mignola and Ben Stenbeck's Frankenstein Underground #1 from Dark Horse Comics was the publisher's top book at #136.
TOP 100 COMIC BOOKS
Based on Total Unit Sales of Products Invoiced in March 2015
This information may not be reproduced in any format without the express permission of Diamond Comic Distributors.
How does Diamond calculate the charts? It all starts at the comic book shop.
Data for Diamond's sales charts — which includes the monthly market shares and all top product charts — are compiled by Diamond Comic Distributors from sales made to thousands of comic book specialty shops located in North America and around the world. Additional sales made to online merchants and other specialty stores may be included as well.
Unit and dollar market shares are calculated based upon orders for comic books, graphic novels, and magazines invoiced and shipped to Diamond customers during any given month, which comprises pre-orders, advance reorders, and reorders, minus any copies that are received back from a title marked as returnable. Please note that comics marked with an asterisk (*) have had their reported quantities reduced due to retailer returnability, and thus may rank lower on the charts than their actual sales would reflect.