The Good May Die Young In Cullen Bunn's Harrow County
Mar 11, 2015
by Vince Brusio
Nick Cave and the Bad Seeds' Murder Ballads. Listen to that CD as you're driving on country back roads when the leaves turn brown. You'll feel one step closer to the grave, and you'll be in the right form of depression for Cullen Bunn's Harrow County. It's a story about some bad things that are going to happen to a good girl. It's when Cullen Bunn lets the demons dance. It's something we're going to pick at in this PREVIEWSworld Exclusive with creator/writer, Cullen Bunn.

Make sure you pick up Harrow County #1 on May 13th at your local comic shop!
**********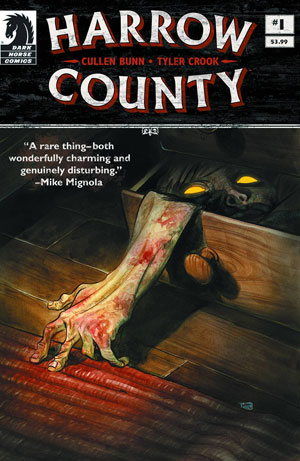 PREVIEWSworld: What's the deal with Harrow County #1 (MAR150088)? What made you think, "Gee, I haven't written a good horror story about ghosts, goblins, and zombies."
Cullen Bunn: I always think it's time to write a new story with ghosts, goblins, and zombies. That kind of thing is right in my wheelhouse. I think most of my stories, including the superhero stuff I write, tends to stray into dark territory at some point or another.
There are so many different kinds of horror stories, and Harrow County gives me the chance to explore a few different types of terror. On one hand, we've got what I call "backwoods horror," which I've explored a few times in several of my short stories and in my middle reader horror novel Crooked Hills. I return to that "neck of the woods" again and again, maybe because I grew up in the country and I know the shadows are long there at night. On the other hand, this book gives me the chance to write what I'll call "sweet horror," because our lead character, Emmy, is a wonderful human being who faces the supernatural weirdness she encounters with a kind of wide-eyed, charming fascination.
Harrow County is Emmy's story. She has grown up surrounded by ghosts and goblins—"haints" as she calls them—and she's almost come to take them for granted. But she's starting to learn that she's connected to this strange beings in a terrifying way she never expected.
PREVIEWSworld: What past works have you read that you would label good horror?
Cullen Bunn: The list is pretty expansive. I'm a big horror reader, and I have lots of favorites over the years. The works of Stephen King, especially Salem's Lot, It, The Shining, and The Dead Zone, stand out to me. Novels like Phantoms, Whispers, and Watchers from Dean Koontz are great examples of horror. The works of H.P. Lovecraft and Robert E. Howard were big influences on me, and Robert R. McCammon wrote some of my favorite novels and short stories of the horror genre… or any genre. I'm a big fan of short stories, and I love those "Year's Best Horror" anthologies and the like. I think Clive Barker's short stories in The Books of Blood are some of the best in the genre. The novels Skipp and Spector were writing in the 80s and 90s remain some of my favorites. Joe Lansdale, Brian Keene, Bentley Little, Thomas Ligotti… the list really goes on and on.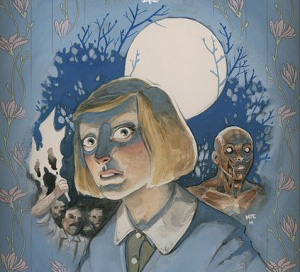 PREVIEWSworld: How is writing this book different from writing superhero fare? Meaning, do you put yourself in a different mode? Lit candles? Dark ambient music? Give us a peek?
Cullen Bunn: If I tell you all my secrets, you'll steal my magic! And, I guess this is as good a time as any to mention Tyler Crook's soundtrack to the comic!
Actually, there's no real secret to it. Harrow County is so close to my heart, it doesn't take too much time to get in the right mindset. At most, I might read some stories or bits of books that have a similar tone to what I have in mind—something to put me in the mood. I do try to listen to music that is appropriate to whatever I'm working on at the moment. I have a lot of movie scores that I collected back in the day, and they still see some play. For this book (and, really, a bunch of things I'm working on) I tend to play Southern Gothic music. I just found and ordered the soundtrack to the movie Pumpkinhead, and I see that getting a lot of use while working on Harrow County.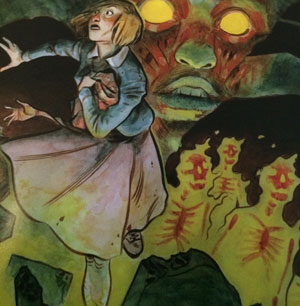 PREVIEWSworld: How is horror good for the soul? How do you make Harrow County good voodoo for people that want a scary story that makes them sleep with the light on?
Cullen Bunn: I've seen plenty of essays and studies on how horror stories (in whatever form) can be good for you. I don't know that I retained much of the information I read, though. If I look beyond entertainment value, horror is about catharsis, a cleansing of bad thoughts. You go through this terrible ordeal with the characters, and you come out the other side breathing deeply and better for it. Even when I was younger, I saw reading horror stories (or watching movies or what-have-you) almost as a way of exorcising the awful things that might potentially happen in life. I try to channel some of that into the horror stories I write. In the end, my goal is to terrify readers—and to make sure they have a lot of fun!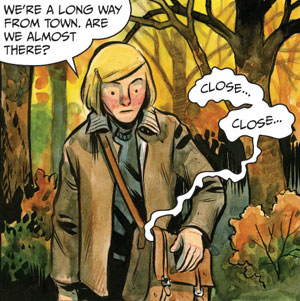 PREVIEWSworld: Finally, give us some insight on the characters of the story. Why should we not want them to die? Or should we? as everybody cheers for the death scene in the horror movie.
Cullen Bunn: I don't think this is one of those stories where you anxiously look forward to certain characters dying. I've always felt that the scariest stories make us worry about the characters and fear for their lives. In the case of Harrow County, we see events unfold through the eyes of a young woman named Emmy. She's a good person, charming, sweet, and innocent.
I think readers will care about her and worry about her as she discovers the horrific truth about the world she's taken for granted all her life.