Airships And Architecture In BOOM!'s Lantern City
Mar 06, 2015
by Vince Brusio
The subject of class warfare isn't foreign to readers. When the theme, however, is the backdrop for a world that's populated with airships and buildings taller than your eyesight can follow, there's something new on the horizon. That new thing is Lantern City #1 (MAR151070) from BOOM! Studios, and in this PREVIEWSworld exclusive interview, the creative team of Trevor Crafts and Matthew Daley reveal a wide landscape for multiple storylines.
**********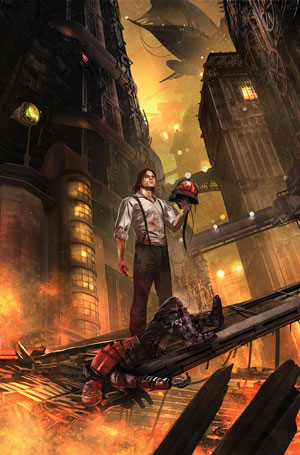 PREVIEWSworld: Without spoiling the book for anyone, how would you go about making a PowerPoint for Lantern City #1 (MAR151070)? What visuals would you want to present to dazzle the audience?
Trevor Crafts: One of the great elements of Lantern City is the scale and scope of the city. With towers that reach impossibly high into the sky and a vast labyrinth-like underground city, there is something amazing in almost every inch of Lantern City.
Matthew Daley: It's not only architecture that will dazzle. The couture and pageantry of the Grey Empire adds an amazing element that is contrasted by the uniformed terror of the Lantern City Guard, the elite police force of the Greys.
Trevor Crafts: And really fantastic original airships!
PREVIEWSworld: The premise of the book is one of class warfare, correct? Do you think that's a theme that audiences are connecting to moreso these days? Is the steampunk environment acting as a vehicle for an underlying message?
Trevor Crafts: Steampunk at its core has always had a political element. For us, this shows itself in the social strata of Lantern City and how each of these spheres of influence interact with each other.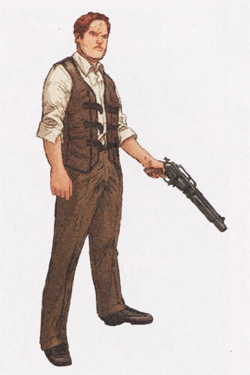 Matthew Daley: There are three distinct classes within the city: the ruling class of the Grey Empire, who live elevated above the rest of the city and rarely interact with the world below. Next are the working class, who occupy the street level. The workers live in oppressed conditions and are responsible for all of the labor-intensive work that is required to maintain the city. Finally, the people of the Underground, live in a city beneath the city, they choose the dangerous freedom provided by not living under totalitarian rule.
There have always been people with power, people who are oppressed, and people that want power. Change occurs when the downtrodden are pushed too far or when there are obvious kinks in the operations of the rulers. Will rulers ever have enough power? And in turn, will the masses ever have enough freedom? Interesting things happens when those two dichotomies clash. In our current times, the wealth gap is widening between the "haves" and the "have-nots." The particular era of Lantern City in which the comic is set is extremely volatile. Change is in the air.
Trevor Crafts: That being said, we're not going to sacrifice good storytelling and strong character development for the sake of spreading a message. It's more important that the essence of the story focuses on how the main character Sander Jorve is affected emotionally, intellectually and psychologically by the sacrifices he makes all to make a better life for his family.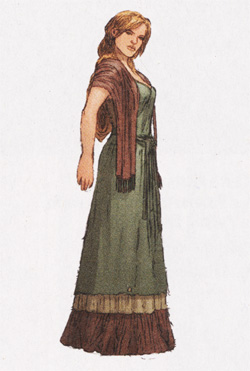 PREVIEWSworld: Where's the point of origin for your fascination with steampunk? What materials/references would we find on your bookshelf?
Matthew Daley: I've always been fascinated by history and science. My earliest memories of those two forces coming together so brilliantly were 20,000 Leagues Under the Sea (1954) and The Time Machine (1960). I loved movies and would watch everything I could. Those two films appealed to me because they were wonderfully made sci-fi films that simultaneously felt historical and scientific. Seeing them both led me to those books and others in the steampunk genre like "The Difference Engine."
Trevor Crafts: For me, I knew the look of steampunk long before I knew the term. Like Matt, I've been fascinated with augmented history for some time. The visual landscape that it offers feels like pure imagination to me. I always approach things from a visual standpoint, so I have shelves full of concept art books, everything from "Bioshock" to "Atlantis."
PREVIEWSworld: How long has this project been in development? Could you give us an idea of how Lantern City went from concept to the printing press?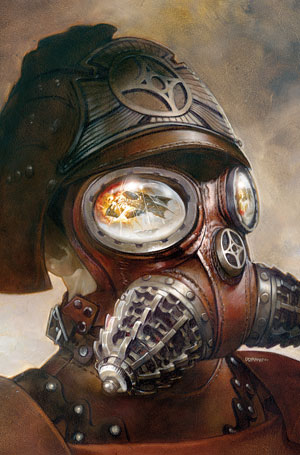 Trevor Crafts: I came up with the idea a number of years ago, but we launched in 2012 at Comic Con in San Diego and started building our fan base. Development on the television series has been ongoing. We published our first illustrated prequel novel RISE in 2013, but since the world of Lantern City is so big, we knew comics would be in our future soon.
Matthew Daley: Trevor had been talking to Stephen Christy at BOOM! as we were actively looking to expand the Lantern City universe into comics. We batted around different storylines for the comic book series before settling on this particular storyline. I was interested in writing a story from the perspective of a Lantern City Guard. It was supposed to be a short story, but brevity is rarely my strong point. This became the core concept for the comic and amazingly enough, it will be only be about eight months from concept to printing press.
PREVIEWSworld: If fans want to reach out to you to learn more about your 2015 plans to promote the book, where can they reach you?
Trevor Crafts: Fans can find us at http://www.lanterncitytv.com, www.facebook.com/lanterncitytv, and on http://twitter.com/LanternCityTV If you want to meet up with the team live in the next few months, you can find us at WonderCon in Anaheim, C2E2 in Chicago, and Atlantic City Boardwalk Con in NJ. We will also be attending San Diego Comic Con in July. We look forward to meeting everyone in person!