Hester and McCrea Get Cryptic In Mythic
Mar 05, 2015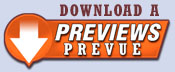 by Vince Brusio

Scary, yes. Gross, yes. But think of it as a Kirby-esque piece with exploding eyeballs. Some of the time. After all, this is a team book, not Sam Raimi's Evil Dead 2. Read our interview with John McCrea to learn more about Mythic!
**********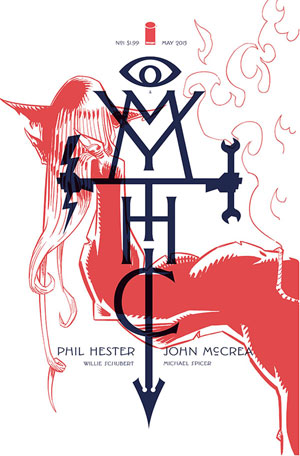 PREVIEWSworld: If we were so lucky as to peek at the drawing board, what initial concept sketches did you crank out that got the ball rolling for Mythic #1 (MAR150473)?
John McCrea: I do very little in the way of concept drawings, I have to confess, I just start drawing and try to figure design stuff out within the pages... which explains why my continuity can be ropey, as I'm changing the look of things as I go along and then forgetting to go back and fix things! But it keeps the energy in my work, I think...
PREVIEWSworld: Please give us the executive summary of the carnage that fuels Mythic. Given the gore factor that we see in the preview pages Image revealed in the March PREVIEWS catalog, should we wear rain gear and bring umbrellas to counter the splatter factor?
John McCrea: Actually, it's not as bad as the previews make out. There will be horrific elements to the story, but it's also very action-orientated, so more earth-shattering than vein-puncturing a lot of the time. Plus some humor, too. Think Kirby with the occasional exploding eyeball!
PREVIEWSworld: What details can you give us about the main characters in the book, Waterson, Cassandra, and Nate?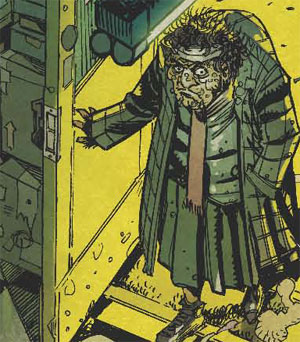 John McCrea: It's a team book, the characters get fleshed out slowly as they are a backdrop to the big story to start with. We have our leader Watterson who has a monstrous side to him, Cass the immortal who predicts the future and Nate the completely regular Joe who is out of his depth ... but as this is written by Phil Hester, I think things will shift and mutate as we roll along.
PREVIEWSworld: How did you "connect" with this book to take it on as a project? What grabbed you?
John McCrea: I always love working with Phil. He is a consummate pro, and a great artist, so he understands the artist's plight — and is sympathetic! But he has given me plenty of big, high energy and, dare I say, mythic stuff to play with and it is FUN!
PREVIEWSworld: If people want to know more about the book, what web sites can you call out?
John McCrea: Follow me, Phil and Mike Spicer ( colours ) on Twitter - @philhester @mccreaman and @SpicerColor we are always tweeting on about our work, popping up the occasional advance piece of art.