Women In Comics Month: Interview with Erica Schultz
Mar 12, 2015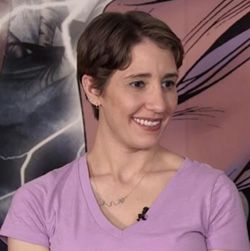 In honor of Women in Comics this March, PREVIEWSworld talks with writer Erica Schultz!
PREVIEWSworld: Tell us a little bit about yourself! What are you currently working on?
Erica Schultz: Having just completed the last issue of our indie crime series, M3, my partner, Vicente Alcázar (Jonah Hex), and I are waiting on getting the books for volume 2 back from the printer. This will be our second trade paperback (collecting issues 7-12) and the last of the series. It's a bittersweet ending, as Vicente and I have worked on M3 since 2010, but we're keeping busy, both already in the middle of other books.
That leads me to reveal that I'm incredibly lucky to be working with the fabulous G. Willow Wilson (Ms. Marvel, X-Men) as we're co-writing the Kato vs. Masquerade for Swords of Sorrow. I am also writing the Black Sparrow vs. Lady Zorro one-shot for the same crossover event. There are so many wonderfully talented ladies in this series, I know people are going to be blown away by it.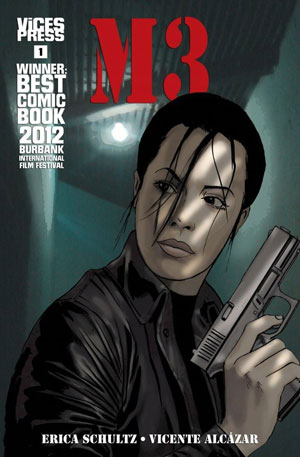 I have a few other projects in the mix that haven't been announced yet, so I have to stay mum about them. But I can say that I'm teaming up with the talented Claire Connelly (The Unauthorized Biography of Winston Churchill: A Documentary) again, this time to tackle The Bard. It'll be just as fun and quirky as Churchill was.
PREVIEWSworld: How long have you been working with sequential art? What titles, companies, and creators have you worked with over your time in comics?
Erica Schultz: I've been working in comics since December 2008. I started as an animator and colorist on the Astonishing X-Men motion comic series, "Gifted."
I started creating M3 in 2008, and was blessed with finding a partner in Vicente Alcázar. We just completed the series with issue 12, and we're so proud of it.
In 2014 I was tapped by Marvel Comics to write an original graphic novel based on the hit ABC series Revenge. The Revenge: The Secret Origin of Emily Thorne original graphic novel came out in September 2014.
Through Neal Adams' Continuity Studios, I've had the opportunity to work on Batman Odyssey, Batman Black & White, New Avengers 16.1, The First X-Men mini-series, and a recently announced Superman mini-series.
I worked extensively with fellow editors Joey Esposito (Footprints), Kris White (Father Robot), and Adam Pruett (Captain Ultimate) on RISE: Comics Against Bullying published by Northwest Press. This is a project that is near and dear to our hearts, and we're so happy that it's launching.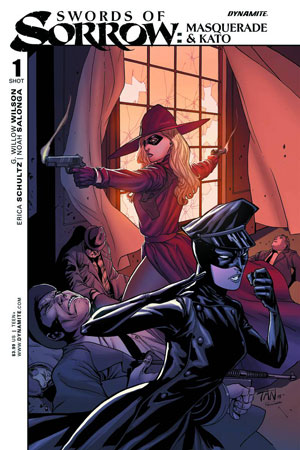 PREVIEWSworld: Did you have a mentor or hero in the industry that inspired you to pursue a career in comics?
Erica Schultz: I never had a comic book mentor, per se, but there are some amazing talents out there that have been kind enough to give me advice along the way. Enrica Jang (Red Stylo Media) has been a great support system for me. Kelly Sue Deconnick and Gail Simone have both been amazing cheerleaders for me. Likewise, Bill Sienkiewicz is a marvelous talent and a terrific friend who is always there with advice and a hug.
PREVIEWSworld: In your opinion, how has the comic book industry evolved in terms of gender?
Erica Schultz: Women have worked in comics since the beginning, however, it seems that only in the past decade or so people have really started to notice. I don't really know what that is. I'm happy to see more women in comics, but I'd love to see more diversity in comics as a whole. The more diversity we have, the more voices and unique stories are being told.
PREVIEWSworld: What stereotypes do you see surrounding women in comics? How could people of all genders go about breaking those stereotypes?
Erica Schultz: The biggest hit I take at conventions is when people come to the table and begin talking to my husband. Despite a big banner saying, "ERICA SCHULTZ: WRITER," people still approach him directly and say, "So, what's it like to write and draw comics?" He smiles and says, "I wouldn't know, I'm just the booth babe. You should ask my wife here." I think being seen as an afterthought is a stereotype.
The only thing that is going to break that norm of "women don't write/draw comics" is for more women go out there and do it.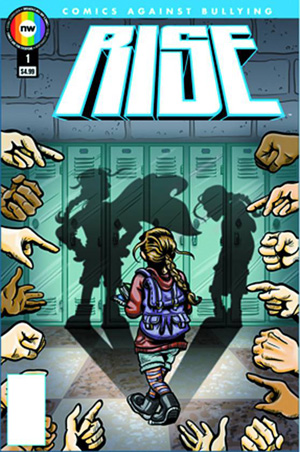 PREVIEWSworld: How do you want to see women represented in comic books 10 years from now?
Erica Schultz: I'd love to see more female-led books. We've got a lot of great ones out there, but there is always room for more.
PREVIEWSworld: If you could give advice to any aspiring editors, executives, writers, or artists, what would you tell them?
Erica Schultz: Take a chance. It's never easy to get out of your comfort zone, but that's where all the progress is. Editors, take a chance on new talent. Creatives, take a chance on sending that pitch in. I have pitches rejected all the time, but the trick is to just keep at it. If no one wants to publish your book, publish it yourself. That's what Vicente and I did with M3.
PREVIEWSworld: And lastly, are there any up-and-coming women creators who you would recommend readers check out?
Erica Schultz: I don't know how up-and-coming these ladies are, but Enrica Jang (House of Montressor) and Afua Richardson (Genius) are fabulous. Claire Connelly (Occulus) and Mina Sanwald are going places. Amy Chu has set her sights on ruling the world with Alpha Girl Comics. These are just a few of the talents out there.
Check out more Women In Comics Month interviews in our special section on PREVIEWSworld!