Women In Comics Month: Interview with Dawn McTeigue
Mar 08, 2015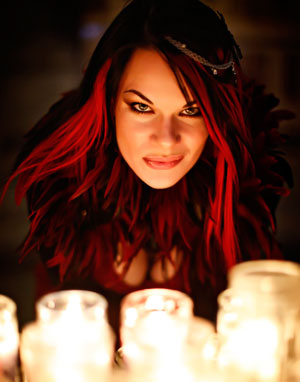 In honor of Women in Comics this March, PREVIEWSworld talks with artist Dawn McTeigue!
**********
PREVIEWSworld: Tell us a little bit about yourself! What are you currently working on?
Dawn McTeigue: My name is Dawn McTeigue, I'm a comic book artist. Today I'm working on one of the Zenescope 10th anniversary covers. It's of Brittany, aka Red Riding Hood. I'm also working on JP Roth's REM:8 issue 3 interiors. I'm also in the final printing stages of my very first art book called Womanly Wiles, a hard-cover 48-page, full-color book filled with a collection of my favorite covers and commissions from my 3 years in the industry.
PREVIEWSworld: How long have you been working with sequential art? What titles, companies, and creators have you worked with over your time in comics?
Dawn McTeigue: I started out in 2012 with JP Roth as one of her cover artists and an inker for her first issue of Ancient Dreams. Since then, I've moved on to penciling interiors for more of JP Roth's "Rothic Novels." I was a penciller for JP Roth's Southern Nightgown issues 0, 1 and 2 and JP Roth's REM:8 issues 0,1,2 and I'm currently working on issue 3. I also drew a few interior pages for Zenescope's Wonderland Annual 2012.
For covers, I've drawn for Rothic, Lady Death, Aspen, Zenescope, Bluerainbow Online and Anastasias Collectibles.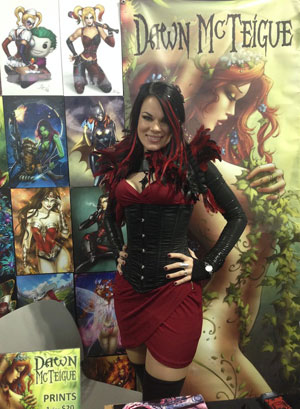 PREVIEWSworld: Did you have a mentor or hero in the industry that inspired you to pursue a career in comics?
Dawn McTeigue: I have a few heroes that I admire so much and adore their work. The artist that first got me into comics was J. Scott Campbell's work on GEN 13, then on to Danger Girl. From then on, I was hooked on comics, but never thought I could be a comic artist myself. That took my friend JP Roth and her refusal to accept my "no" for an answer. She invited me to work with her on her books and to start out together and figure it out as we go. Boy, I'm soooo grateful for her and how she had the drive to get us into the industry.
PREVIEWSworld: In your opinion, how has the comic book industry evolved in terms of gender?
Dawn McTeigue: Honestly, I haven't been in the industry for long enough to know all the history, but in the 3 years that I've been around, I am seeing more and more women artists in Artists Alley at the conventions, there are a lot more books and covers being drawn by women, and I feel that the Comic industry as a whole has definitely welcomed us, treats us with respect –as equals- even though in my case, I'm not as experienced as the male artists I've worked with.
PREVIEWSworld: What stereotypes do you see surrounding women in comics? How could people of all genders go about breaking those stereotypes?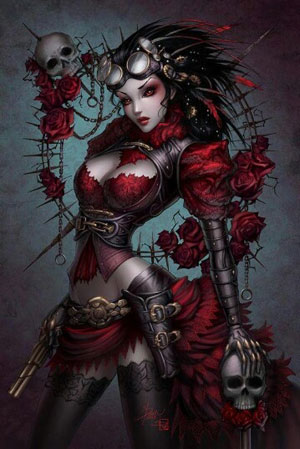 Dawn McTeigue: I feel that like we have freedom of speech, and there should be a lot more freedom of art. There's a lot of criticism going the direction of the women who draw comics and the women IN the comics. How we look, what we wear, what the characters we draw wear etc. Of course some of the outfits our characters wear are unrealistic and wouldn't necessarily work if worn, and certainly wouldn't be comfortable, but that's the beauty of the art form and one of the things that in my opinion, makes comics so darn interesting to look at.
PREVIEWSworld: How do you want to see women represented in comic books 10 years from now?
Dawn McTeigue: Strong, sexy, graceful and capable. J
PREVIEWSworld: If you could give advice to any aspiring editors, executives, writers, or artists, what would you tell them?
Dawn McTeigue: Don't give up. Getting started is really hard. It's going to take an immense amount of work, long hours, lots of networking and little traction at the beginning. But once you've put in that hard work and gotten over the hump, then you'll have the discipline and time under your belt to keep up with the volume of work you'll have.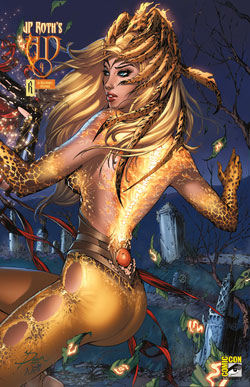 PREVIEWSworld: And lastly, are there any up-and-coming women creators who you would recommend readers check out?
Dawn McTeigue: I don't know if these girls count as up-and-coming as they're all very successful in their own right, but I'd like to recommend them anyway because they're absolutely amazing and I feel fortunate to call them my friends:
JP Roth: Author and the creator of Rothic. She is the reason I am here and able to do what I love. Her stories and the worlds that she's created are breathtaking, her attention to detail and the passion that she writes with will take you to another world.
Nei Ruffino: Incredibly accomplished colorist and artist. She has her own series called "Secret Life of Crows" which is a beautiful story, filled with gorgeous artwork and amazing colors. She also has her own art book coming out called Fallen Angels filled with her amazing digital paintings!
Sabine Rich: Amazing colorist and artist. She's the interior artist for JP Roth's "Theory of Magic" all about a fairy who spends 3 days as a human and is hunted by another fairy clan for her blood but ends up falling in love with her hunter. She is a cover artist for Zenescope, Lady Death and more. She also has an all-new art book coming out called Sirens of Art –a collection of her covers and commissions from the last few years! You don't want to miss it!
Check out more Women In Comics Month interviews in our special section on PREVIEWSworld!