Uncle Scrooge Gets New Series At IDW Publishing
Feb 06, 2015
by Vince Brusio
Just when you think you've seen everything from IDW Publishing, they step it up a notch. Their latest offering is one of Disney's most iconic characters: Uncle Scrooge. The worlds' crankiest and wealthiest waterfowl is now an ongoing series for IDW, and we spoke to both Editor Sarah Gaydos and Archival Editor David Gerstein about this latest all-ages title, and what they think lies ahead for the daring duck.
**********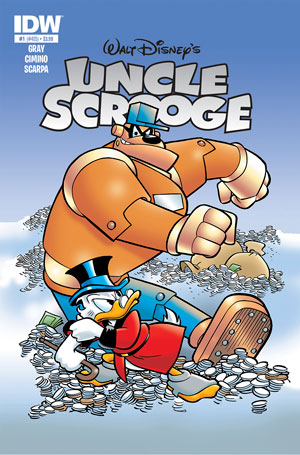 PREVIEWSworld: How did IDW get to do a Disney book? How did you pull off Uncle Scrooge #1 (FEB150309)? What was the pitch for this ongoing series?
Sarah Gaydos: IDW is the best company around when it comes to licensed comics, from Transformers and Ponies, to our Marvel and DC Artist's Editions…so teaming up with Disney was a natural fit for us. In terms of a pitch, we were eager to showcase the best Disney comics stories from around the world, for readers of all ages.
PREVIEWSworld: How does Uncle Scrooge appeal to young readers today? What is it about the character that readers find funny? Or is this title something that you think straddles the fence, appealing to both old school readers as well as kids?
David Gerstein: It absolutely straddles the fence - but by appealing, I think, to the kid in all of us. It's why Scrooge has clicked in comics, and in TV's DuckTales, and in so many other venues for all these years.
What kid doesn't dream of being a hero, battling tough guys and evil magic? Or being super-rich? Or going on treasure hunts in jungles and outer space? Scrooge is "tougher than the toughies and smarter than the smarties," as Carl Barks once had him say, so this kind of thing is his daily routine. And he wraps it in the greatest eccentric personality ever. He could be a charming old adventuresome grandpa, but he's not: instead he's got that wild stinginess and wilder temper.
And three cubic acres of money. That he *swims* in. That's not super-rich, that's the-whole-world-wants-to-rob-you rich.
As an adult, if you're normal, you DON'T want that. But you never forget those younger days when you wanted it. (And as a kid, you still do.)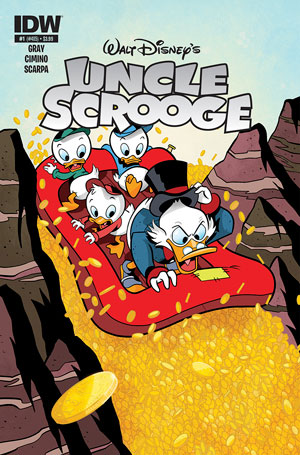 PREVIEWSworld: Will the book focus solely on characters from Uncle Scrooge's past, like Donald and the Beagle Boys? Or will IDW be taking new license?
David Gerstein: You'll see Donald, and you'll see the Beagle Boys, and you'll see Gyro Gearloose, with all his madcap inventions. But here and in our other books, you'll see more than before of some classic co-star characters from other great creators, like Romano Scarpa and Dick Kinney.
Take Jubal Pomp... "please," Scrooge would add. He's a smug wanna-be tycoon with one crazy get-rich-quick scheme after the other. He's always trying to cut in on Scrooge's action, or be a part of it; and Scrooge would so love to send him packing - but is that always a good idea?
And then there's Belle Duck, a formerly sweet southern belle who made Scrooge's heart spin way back in his riverboat days. She's back and she's big, and she still knows just how to sweet-talk Scrooge into the most awkward spots.
PREVIEWSworld: Without spoiling anything, what upcoming storylines can readers expect to see in the series?
David Gerstein: Hmm! In "Shiver Me Timbers," by the great Dutch cartoonist Bas Heymans, Scrooge gets to search for a haunted pirate treasure with the help of three ghost pirates' disembodied hand, foot, and eyeball. Yarrr, it could happen!
In "Meteor Rights," Scrooge and his rival tycoon, Flintheart Glomgold, go racing to find a meteorite full of a rare, alien mineral that kicks people's generosity up a notch. Stingy Scrooge wants to keep Glomgold from using it on his business partners... except then it starts working on Scrooge and Glomgold *themselves.
Then there's "The Grand Canyon Conquest," by Miquel Pujol, a classic Duck artist whose extra-long stories have been in demand in the USA for years. It seems that decades ago, in a moment of weakness, Scrooge once agreed to share his Klondike take with a fellow miner - but didn't. Now this miner's heir, a good-looking jerk with a staff of dangerous creeps, is back to claim what's "his." You know Scrooge smells a rat... his miser-sense is tingling!

Click below to see IDW Publishing's Disney Comics Calendar for 2015: