Bad Karma Coming From Dynamite Entertainment
Jan 19, 2015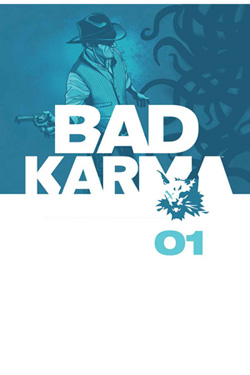 Press Release
Dynamite Entertainment has announced that Bad Karma Volume One, the highly anticipated hardcover anthology from such comic creators as Alex Grecian (Proof, Rasputin), Jeremy Haun (Constantine, Batwoman), B. Clay Moore (Hawaiian Dick, JSA Liberty Files: The Whistling Skull), and Seth Peck (X-Men, '76, Sorrow), will be available for the first time in comic book stores and book retail chains in April 2015.

Celebrated as "a beautiful representation of collaboration at its best" by industry news site Comics Alliance, Bad Karma Volume One features 200 pages of original comic book and prose stories, plus pin-up artwork, by a huge selection of the industry's up-and-coming creative people. At its core, Bad Karma highlights four separate, creator-owned concepts: Hellbent, by Peck & Tigh Walker; Old Dog, by Moore & Christopher Mitten; Middleton, by Grecian and Phil Hester; and Chaos Agent, by Haun and Mike Tisserand. The four aforementioned writers also collaborate on The Ninth Life of Solomon Gunn, with Jeremy Haun performing double-duty on art chores.

Additional Bad Karma contributors include Tony Harris, Ben Templesmith, Francesco Francavilla, Rebekka Isaacs, Chris Samnee, Jenny Frison, Shane White, Shaky Kane, Andrew MacLean, and many more. The first volume of this anthology series also features a fold-out gatefold by noted print-maker Mark Englert.
Each of the core Bad Karma writers summarized their experience in bringing this unique, innovative project to fruition: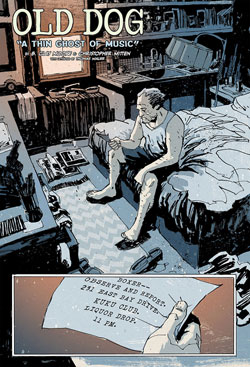 B. Clay Moore: "Bad Karma was intended as a showcase for Jeremy Haun, Alex Grecian, Seth Peck, and me to launch new creator-owned concepts, utilizing the assistance of friends we'd always enjoyed collaborating with, or always wanted to collaborate with. Our goal was to produce as high quality a book as possible, focusing on content and design, and we did just that, from Jonathan Hickman's hardcover design to Mark Englert's fold-out Bad Karma print. There are five new concepts in the book, one of which the five of us created together. We also traded off on each other's concepts, writing short stories based on the others' concepts. Alex and I also contributed prose pieces. Everything was loosely linked together. We were lucky enough to have the support of a number of amazing talents, contributing art to the stories, as well as spot illustrations and pin-ups."

Seth Peck: "Working on the book was the most challenging, exciting, and satisfying experience of my career. The chance to tell any kind of story I wanted to was extremely liberating, and really let me stretch myself creatively. Having complete creative control let us design the entire book from the top down, and let us produce the work exactly as we wanted to."
Jeremy Haun: "Cover to cover this is a book I'm truly proud of. We had the opportunity to work with some of the most talented folks in the industry. It's not often you get to completely craft every aspect of a project. We were able to build a book that came out exactly how we wanted, from the design, to the color, to the paper stock."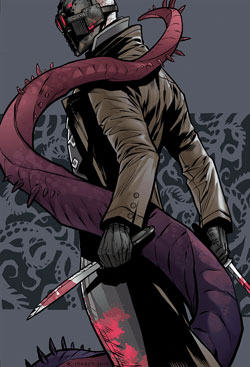 Alex Grecian: "Bad Karma never should have been as good as it is. Four headstrong creators in complete control of a project as ambitious as this one? It's a formula for disaster. But somehow it worked. And more than worked. It's a book I'm proud of. And I plan to keep coming back to it, to build on my creations in it and to steal my own ideas (and those of my co-creators)."

Bad Karma Volume One came to realization thanks to fan support by way of the crowdfunding platform, Kickstarter. Since its successful campaign, the creators connected with Dynamite Entertainment for greater distribution and marketing opportunities. B. Clay Moore says, "We successfully crowdfunded the project, and the success of the project, and the enthusiastic response from readers, helped fuel our passion for the book. We're especially grateful to Nick Barrucci and Dynamite for helping us expand the Bad Karma audience."

"What's so great about Bad Karma is that it can appeal to such a diverse audience," says Keith Davidsen, Marketing Manager of Dynamite Entertainment. "Within its pages, readers will find gritty crime noir, Victorian mystery, gun-blazing Western action, tentacled monsters, mind-blowing pin-up illustrations, and more. Anyone can pick up this book and find something to love... and that's just for starters, because the sheer high quality of this package, the considerable wealth of talent involved, will draw eyes to each and every page. We're exceedingly proud to count Bad Karma as part of our release schedule for 2015."

Bad Karma Volume One will be solicited in Diamond Comic Distributors' February 2015 Previews catalog, the premiere source of merchandise for the comic book specialty market, and slated for release in April. Comic book fans are encouraged to reserve copies of Bad Karma Volume One through their local comic book retailers, bookstores, or online retailers.