The Pistols, Passion, & Power of Pussycats
Jan 13, 2015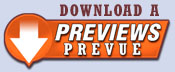 Heroes, heroines, villains, and vixens come in all shapes and sizes, and sometimes you can actually find them at San Diego Comic Con. It was at the world's biggest comic book convention where E-Comix Publisher/Writer Vince Brusio met two actresses that helped create the premise for his new comic book series, Pussycats, which mixes Sin City with The Blacklist to create Jennifer Blood as a character on Charlies' Angels.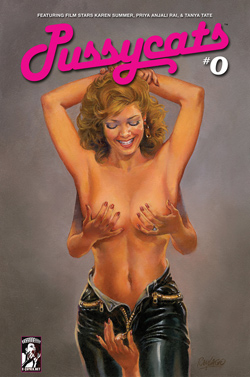 "The four-issue series was already in production, but I still hadn't found the anchor characters that needed to be in Pussycats #0 (JAN151431)," said Brusio. "The seductive power of Bettie Page and Bond girls was needed, but also personalities that had mad skills and brain power. Movie actors and actresses were always my inspiration for voices and visuals, so the question was who would be the real-life references for the characters in Pussycats? The main characters are adult film stars. It had to be the right fit."
Enter film legend Karen Summer, and later … Tanya Tate.
"I found that I could arrange a meeting with Tanya because she cosplays at San Diego Comic Con, and Karen was moving back to California because she was making a comeback, and being inducted into the AVN Hall of Fame, and the Legends of Erotica Hall of Fame," Brusio explained.
"They were perfect. And both had expressed they wanted to do comics. So I reached out to both on Twitter to meet at San Diego, and after hearing the pitch and seeing the artwork, they said "yes" to being characters in the zero issue. Both were signing ashcans and lithographs by the time Barbra Dillon from Fanboy Comics was making her way upstairs to break the story. And by the end of Comic Con, Tanya was promoting the book at panels, and Karen was doing the same on social media."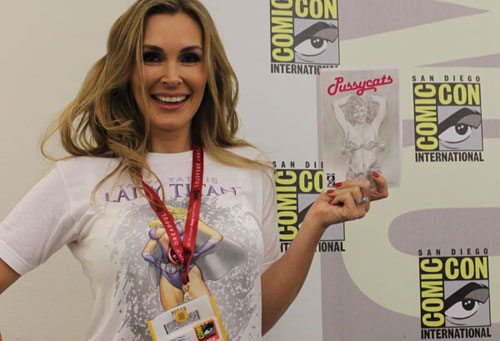 Not only did Summer and Tate provide consultation, inspiration, and star power for Pussycats #0, but their involvement recruited other interested parties, such as actress Priya Anjali Rai. All three women loved how they were drawn and depicted as tough, ruthless characters in a cinematic action thriller that advanced historical fiction.
The story of Pussycats reveals how adult film stars were flown overseas to entertain Russian VIPs, while the stars' handlers covertly escorted people of interest out of the Soviet Union, and into the arms of the United States government. The problem today is that the film stars that assisted in this espionage have now become targets, their identities have been compromised, and they're being linked to the people that hired them. For fear of political scandal, those who are facing an election year want people like Karen Summer to disappear to advance plausible deniability.
"We've already shown Pussycats #0 to some people in the press like First Comics News, Comic Bastards, and Fanboy Comics," Brusio concluded.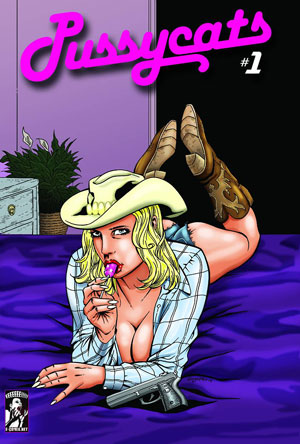 "I'm happy with the initial reactions we're getting, and it's really cool to see that two years worth of work is finally getting into print.
It took this long to announce the books because we made sure they were done before we listed them in PREVIEWS. This way the books ship on time, and we've got the elbow room to look for future actresses that want to be the next Pussycats for future books.
Plus, we can better promote the all-original characters that are introduced in the upcoming mini-series.
We've got a nurse, nun, cowgirl, schoolgirl, guns, more guns, and … yeah, lots of guns. It's what an all-girl team book would look like if it was directed by Quentin Tarantino."
**********
Pussycats #0 (JAN151431) ties directly into a four-issue mini-series, and arrives in comic shops March 4.
Pussycats #1 (MAR151334) (of 4) is now available for pre-order in the March PREVIEWS catalog, and a 5-page preview is available here.