It's Time to Explore the Final Frontier Once More with the Ninth Doctor
Jan 05, 2015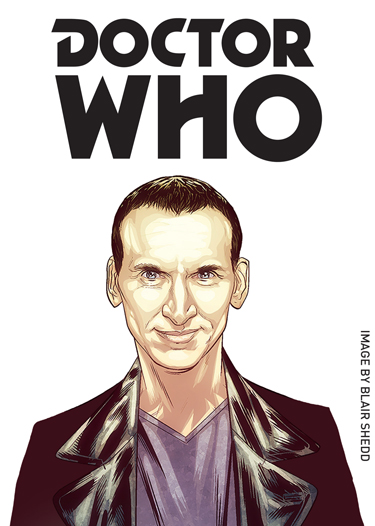 Since it was first announced that Titan Comics would be publishing Doctor Who Comics, the company has been inundated by e-mails from curious fans wondering what's in store for their favorite Doctors. However, Doctor Who-lovers have been eager to see one Time Lord in particular, with the Ninth Doctor (played by Cristopher Eccleston) receiving the most requests for a continuing comic adventure. Now fans will have to wait and wonder no more, as Titan Comics has announced a brand new mini-series starring the Ninth Doctor to celebrate the 10-year anniversary of the series' return to TV!
Check out our PREVIEWSworld Exclusive interview with Cavan Scott, writer for the upcoming Ninth Doctor mini-series, to learn more about what's in store for the fan-favorite Doctor, and be sure to pre-order the first issue of this new series at your local comic shop!
---
PREVIEWSworld: You've written for the Ninth Doctor before—in particular, the Destiny Of The Doctor audiobook release, "Night Of The Whisper." What characterizes Christopher Eccleston's take on the character for you?
Cavan Scott: He's a man who's remembering how to be the Doctor. To the Ninth, the terrible events of the Great Time War with the Daleks are recent, all too painful, memories. He's full of righteous anger, but there's also a playfulness there, as if he's only just remembered how to smile and is loving the moments when it happens.
Most people remember the Ninth Doctor's underlying rage, but there's a real warmth there, a hope that things can get better. Sometimes, he just needs a helping hand for the hope to break through—and that's what he has in Rose.
PREVIEWSworld: As a lifelong fan of the series, how does it feel to be helping Doctor Who celebrate ten years since its rebirth in 2005?
Cavan Scott: It's an honor and a joy. I've been writing Doctor Who professionally for around 15 years now, and I never take it for granted or get blasé about the fact.
In some ways, the shock is that it's been ten years. Ten years! It only seems like yesterday that I saw down and watched "Rose." And so much has happened since then. Doctor Who is a phenomenon today, thanks mainly to the foundations that were set ten years ago.
As the Ninth Doctor said, they sent us off on a "trip of a lifetime."
PREVIEWSworld: Can you tease some of what readers can expect from your pulse-pounding mini-series?
Cavan Scott: The Ninth Doctor in space. A lot. In the 2005 series, the majority of his stories were earth-bound or set on space stations. When I started discussing the series with editor Andrew James, we decided early on that we wanted the mini-series to feel cosmic. We see the Doctor, Rose, and Jack together again. They have such a fantastic dynamic. I always wished we'd seen more of them together on the show. This has been my chance to make it happen.
PREVIEWSworld: You're working with fan-favorite Who artist Blair Shedd on the series. What's the process been like?
Cavan Scott: I've loved every minute. Blair has such a terrific eye for detail and storytelling. And his likenesses? Wow! His Ninth Doctor is absolutely brilliant.
Blair has an uncanny knack of asking just the right question at just the right time to bring the story alive. I've thrown a lot at him in this story—new alien races, carnage on planetary scale, epic battles, and bizarre new dimensions, and Blair's knocked it out of the park each and every time. Best of all, in the middle of all of this action, he brings a sensitive touch to the quieter, more human moments that every Doctor Who story must have.
I can't think of a better partner to help bring the Ninth Doctor back!
Doctor Who: New Adventures
With the Ninth Doctor #1
Regular Cover
Item Code: JAN151599
Release Date: 3/11/2015
SRP: $3.99

Doctor Who: New Adventures
With the Ninth Doctor #1
Subscription Cover
Item Code: JAN151600
Release Date: 3/11/2015
SRP:$3.99
Are you following PREVIEWSWorld on Twitter yet? Follow @PREVIEWSworld