Kelly Sue DeConnick Cuts Loose On Bitch Planet
Dec 03, 2014
by Vince Brusio
You've hears the old expression "good things come to those who wait"? Well, sometimes the best things come out of those who wait for a really, really long time. Like years. Like what Kelly Sue DeConnick just did with launching Bitch Planet #1 (OCT140578) through Image Comics. Being so involved in other comic project, the idea was sidelined for a while, and because of the delays Kelly worked on the idea long enough to admit the end product was quite different from what she had initially developed. In this PREVIEWSworld Exclusive interview, Kelly Sue DeConnick explains this comic has more in common with sea monkeys than it does with Captain Marvel.
Bitch Planet #1 (OCT140578) is in stores December 10th.
Download a PREVIEWS prevue of Bitch Planet here.
**********
PREVIEWworld: For those who may not be up to speed on what you're doing with Bitch Planet (OCT140578), how would you best describe the series in your own words?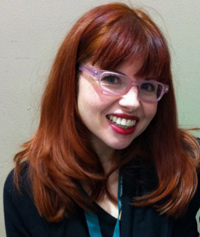 Kelly Sue DeConnick: It's an ongoing sci-fi women-in-prison book that plays with exploitation tropes.
The book follows five women prisoners as they go from Earth to a prison planet populated by those labelled Criminally Non-Compliant — too difficult, too dangerous not just for society but for our world. There, they not only have to figure out how to survive lockup and each other but also compete in gladiatorial sport for their lives.
PREVIEWworld: And who would be the audience for this book?
Kelly Sue DeConnick: It's not for children or the squeamish, but other than that…? Angry and difficult women and people who are fans of angry and difficult women.

PREVIEWworld: What was the inspiration for Bitch Planet? Has this been a project you've been whittling away at for years, or did it come together fast and furious?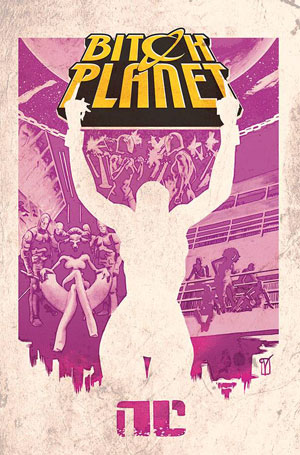 Kelly Sue DeConnick: I'm embarrassed at how long it's taken this to go from idea stage to press—literally a few years — but that said, Pretty Deadly happened on a similar timeline and I'm incredibly proud of that book, so I guess there's precedent. Also, like PD, Bitch Planet has changed substantially since the initial conversation. I think this all bodes well.

PREVIEWworld: Without giving away too much, what scene(s) would you most likely want to blog about as being representative of the tone or fun factor for Bitch Planet?
Kelly Sue DeConnick: Laurenn McCubbin is doing an old school comic book classifieds ad page for our back cover. The kind that used to sell sea monkeys and x-ray specs, only our own original stuff that spins out of the book. Some of it you will actually be able to order too.
PREVIEWworld: How does this book stand apart from other titles you've produced? What makes this book different?
Kelly Sue DeConnick: Visually, tonally…EVERYTHING-ally, is completely different from either Captain Marvel or Pretty Deadly. I wouldn't even know where to start.
PREVIEWworld: What social media sites could you plug so as to give the fans a chance to send you a message?
Kelly Sue DeConnick:
Twitter: @kellysue
Tumblr: kellysue.tumblr.com
Bitch Planet: http://www.bitchpla.net