Sneak Peek: "Cerebus Cover Gallery HC" From IDW Publishing
Sep 29, 2014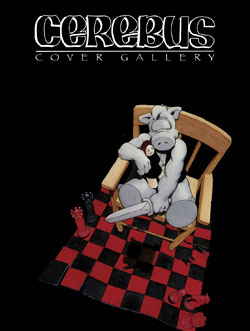 Cerebus Cover Gallery HC
IDW Publishing
(A/Cover) Dave Sim, Gerhard
Dave Sim is one of the most important cartoonists in comics history. His groundbreaking Cerebus ran for 300 issues, each written and drawn by Sim-a monumental achievement! Now, through IDW Publishing, Sim's beautiful covers are reproduced in an archival over-sized hardcover, and many of the illustrations have been scanned from Sim's personal collection of his original art. Also collected are roughs, color guides, sketches, and other historical images that chronicle this very important artist's creative process.
Item Code: OCT140536
Price: $75.00
PREVIEWS Page #175
In Shops 1/7/2015
Download a prevue here.