Manga Monthly: Take On Titans and Catch 'Em All In October
Oct 17, 2014
Welcome to another installation of Manga Monthly! We've got some continuing series, some new series, some one-shots, and some returning classics in the October PREVIEWS! Have a look at everything we have to offer below and be sure to pre-order your favorites today at your local comic book shop!
We start off this month's selection with Blood Blockade Battlefront, Volume 7 (OCT140139) from Dark Horse Comics! This manga is written and illustrated by Yasuhiro Nightow, best-known for his work on the Trigun series.
A bacteria-sized crime fighter is on the trail of a microscopic terrorist hiding inside Libra agent Leo Watch's pal Real, and any threat turns poor Real into a titanic monstrosity. Leo's job one is to get the mini cop inside Real to even the odds before Jerusalem's Lot becomes a parking lot!
Will we ever stop talking about Attack on Titan? Who knows? The animated series and manga continue to be one of the best-selling anime titles of recent years, and Kodansha's got new box sets heading your way!
The Attack on Titan: The Beginning Box Set (OCT141530) box set contains the first four volumes of the hit manga series. A great gift for any manga-loving fan, or just people who love stories about the battle to survive against giants that are threatening to eat you, your family, and everyone you know.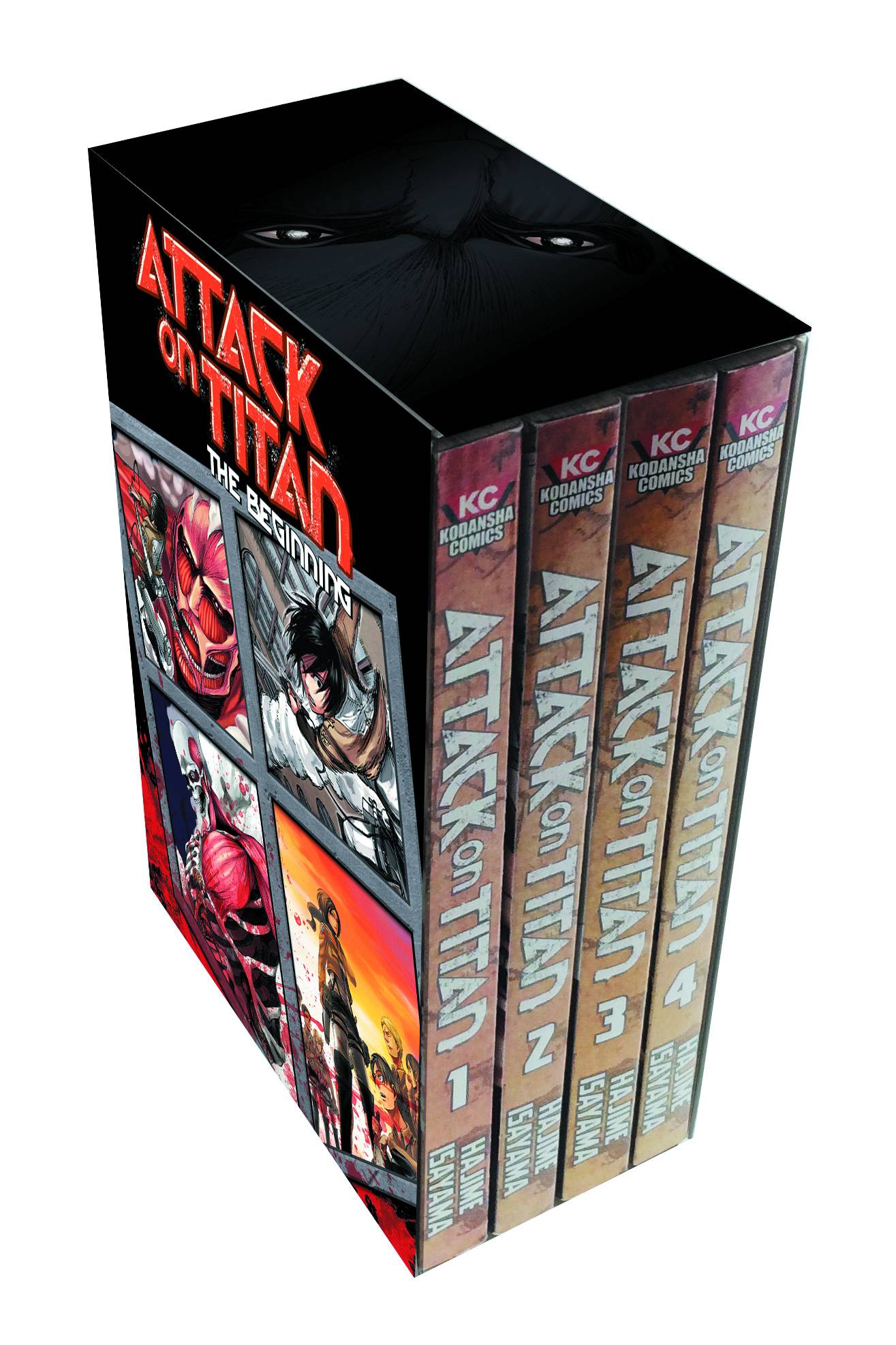 Humanity has been devastated by the bizarre, giant humanoids known as the Titans. Little is known about where they came from or why they are bent on consuming humanity. For the past century, what's left of mankind has hidden in a giant, three-walled city. People believe their 100-meter-high walls will protect them from the Titans, which are 10 to 20 meters tall. But the sudden appearance of an immense Titan is about to change everything.
There's also the Attack on Titan: The Spinoffs Box Set (OCT141531), which contains the three first volumes of the spinoffs from Attack on Titan. The titles included are Attack on Titan: No Regrets, Attack on Titan: Before the Fall, and the hilarious spoof, Attack on Titan: Junior High.
Perfect Square continues to bring over fantastic kid-friendly manga titles, and Pokemon Adventures is ready start a new chapter with the first volume of the X and Y arc (OCT141609)!
As the new champion of the Pokémon Battle Junior Tournament in the Kalos region, X is hailed as a child prodigy. But when the media attention proves to be too much for him, he holes up in his room to hide from everyone - including his best friends. What will it take to get X to come out?! How about an attack on his hometown of Vanville Town by the two Legendary Pokémon Xerneas and Yveltal and a mysterious organization named Team Flare?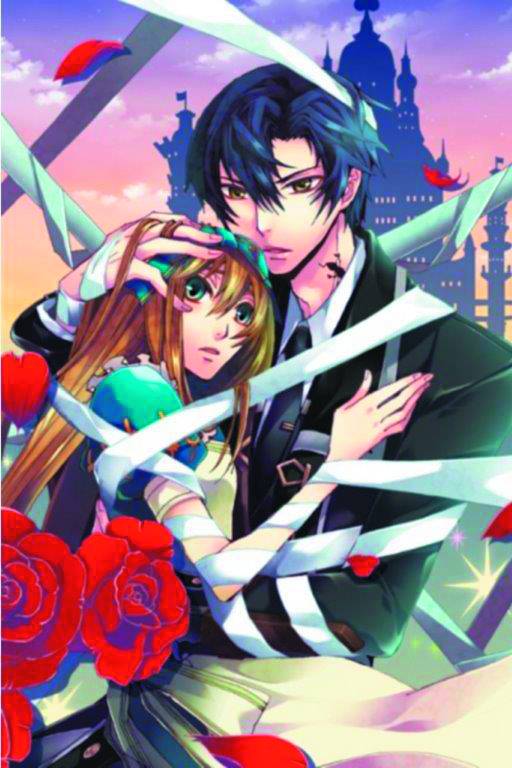 Alice in the Country of Clover continues to be a smash-hit for Seven Seas Entertainment, and The Lizard Aide GN (OCT141624) will likely continue in that trend!
This is a new Alice one-shot that focuses on her romance with one-time assassin Gray Ringmarc!
Former assassin Gray Ringmarc serves his master Nighmare in the Tower of Clover. Known for his mature personality and kindness to animals, Gray also has a dark side. When Alice is whisked off by an adversary, Gray's inner darkness emerges in a fit of jealousy.
Now there will be hell to pay. Can Alice tame his reptilian heart?
The popular series Strike Witches continues to make its way to American bookshelves thanks to Seven Seas Entertainment!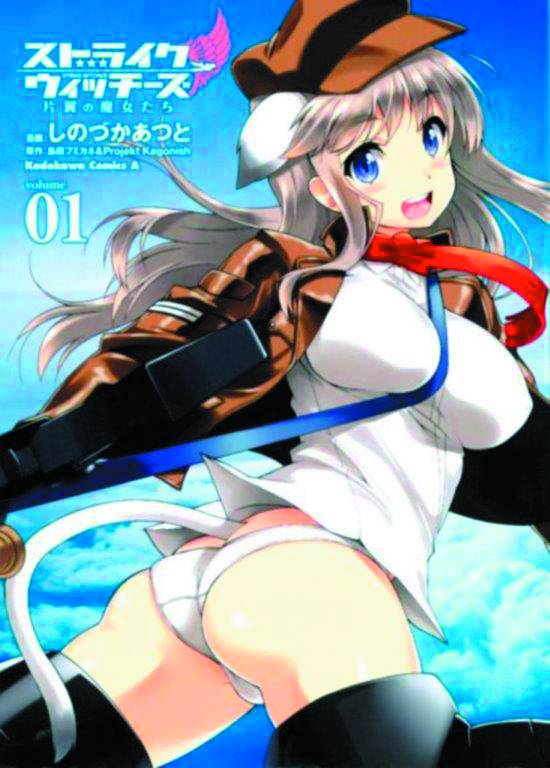 The Strike Witches of the 501st weren't the first witches to take to the sky, nor would they be the last. Strike Witches: One-Winged Witches (OCT141630) covers the story of Wilma Bishop and her adventures along the English Channel in 1942, one year prior to the Second Neuroi War.
As this tale unfolds, revelations about key characters and surprising details from Strike Witches: Maidens in the Sky and Strike Witches: The Sky That Connects Us are revealed, all from the unique character perspective of Wilma Bishop.
Join Wilma, sergeant of the Isle of Wight Detachment Group and ace Strike Witch, as she shows new recruits what it takes to earn their flying stripes, not to mention how to kick some nasty Neuroi butt in the process!

The biggest name in Japanese science-fiction, Gundam, returns with one of its creators retelling its origins through an epic graphic novel series 35 years after the series debuted. Without Gundam's influence, it's hard to say where the mecha genre would be today!
Now you can pick up the eigth volume of Mobile Suit Gundam: The Origin (OCT141714)!
In a civil war, half of humanity has been wiped out, and Zeon's army of Zaku mobile suits have been the decisive weapon. With the Federation's first Gundam out of action, civilian Amuro Ray miraculously stumbles on a second unit. Now, in control of a machine with unparalleled destructive power, will Amuro's actions save the colony's survivors or destroy them?
Viz will be releasing a ton of new manga series later this year, not the least of which is Master Keaton Volume 1 (OCT141716)! This series is illustrated by Naoki Urasawa, also known for his work on Monster.
Taichi Hiraga-Keaton, the son of a Japanese zoologist and an English noblewoman, is an insurance investigator known for his successful and unorthodox methods of investigation. Educated in archaeology and a former member of the SAS, Master Keaton uses his knowledge and combat training to uncover buried secrets, thwart would-be villains, and pursue the truth.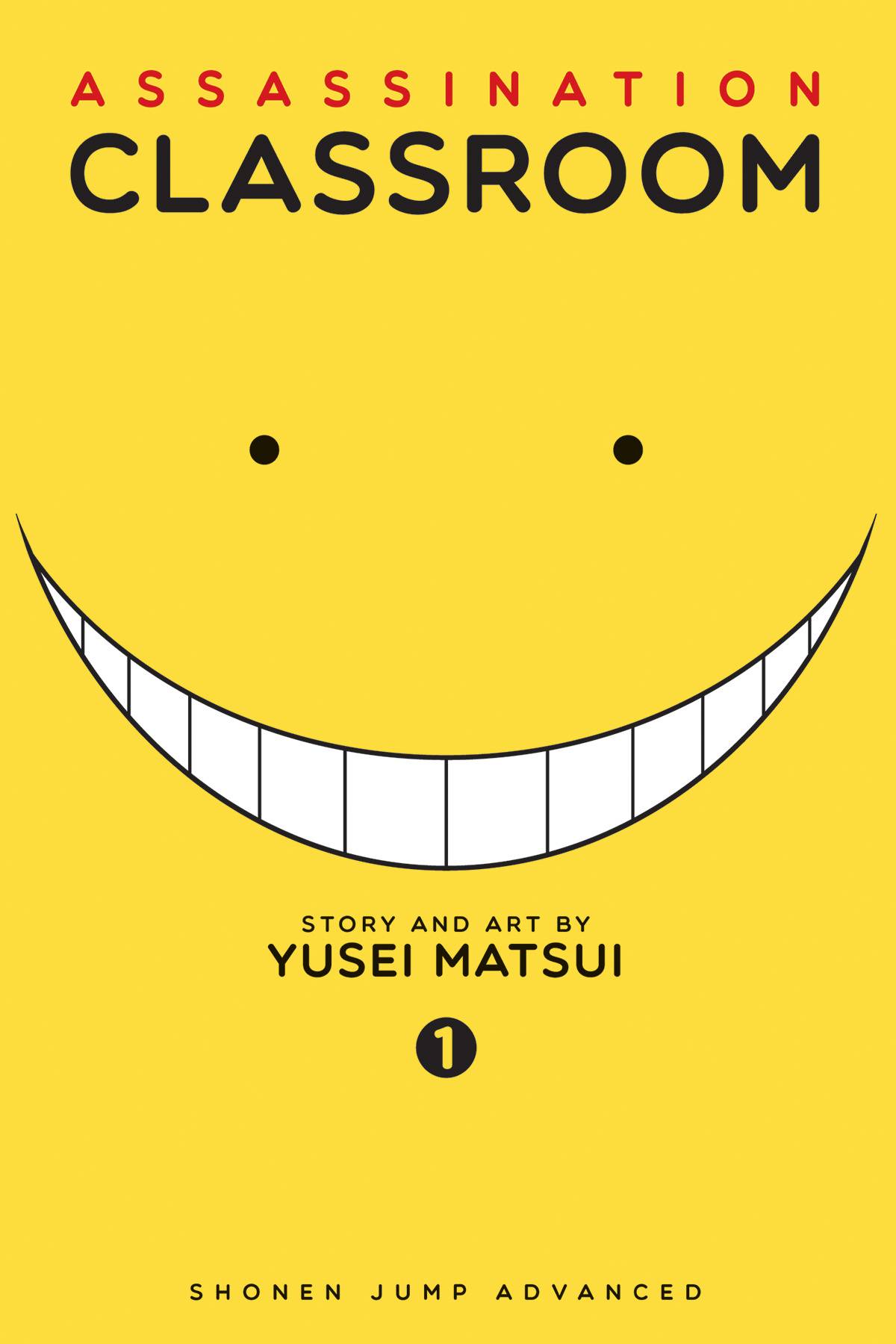 Viz is also releasing the first volume of Assassination Classroom (OCT141718) later this fall. This series is written and illustrated by Yusei Matsui, also known for his work on the cult hit Neuro: Supernatural Detective!
You think your school days were rough? Well, meet the would-be assassins of class 3-E. There's Sugino, who let his grades slip and got kicked off the baseball team. Then there's Karma, who's doing well in his classes but keeps getting suspended for fighting. And finally there's Okuda, who lacks both academic and social skills, yet excels at one subject: chemistry.
Who has the best chance of winning that reward? Will the deed be accomplished through pity, brute force or poison? And what chance does their teacher have of repairing his students' tattered self-esteem?
If you're more into romance than assassinations, well, Viz has something for you, too, with Yukarism (OCT141743)! When Yukari meets classmate Mahoro Tachibana for the first time, the two of them can't help but feel like they know each other. Yukari senses that they had a major connection in the past, but was their relationship friendly or deadly?
Viz is also going to be re-releasing Hirohiko Araki's magnum opus, JoJo's Bizarre Adventure, starting with the Stardust Crusaders arc (OCT141728)!
Where can we even begin with JoJo's Bizarre Adventure? Well, for one, it's one of the longest ongoing manga series ever, having started in 1986 in Weekly Shonen Jump Magazine. It's got eight arcs so far, and Stardust Crusaders is the third - but that doesn't make it a bad place to start. It's actually considered the most popular arc of the entire franchise!
It focuses on Jotaro Kujo, who begins the story inside a jail cell; even though he's told he can go, he believes he is posessed by an "evil spirit" and won't leave! As it turns out, that so-called "evil spirit" is a manifestation of Jotaro's own power, called a Stand - and he's not the only one with one, either!
To save his mother's life, Jotaro must tame his dark forces and travel around the world to Cairo, Egypt, where a hundred-year-old vampire named DIO thirsts for the blood of his family. But the road is long, and an army of evil Stand Users waits to kill Jotaro and his friends! With the animated series currently available on Crunchyroll's streaming service - and with the animated Stardust Crusaders arc currently on a brief hiatus - there's never been a better time to start reading the JoJo's Bizarre Adventure manga! Walk like an Egyptian to your comic shop for it today!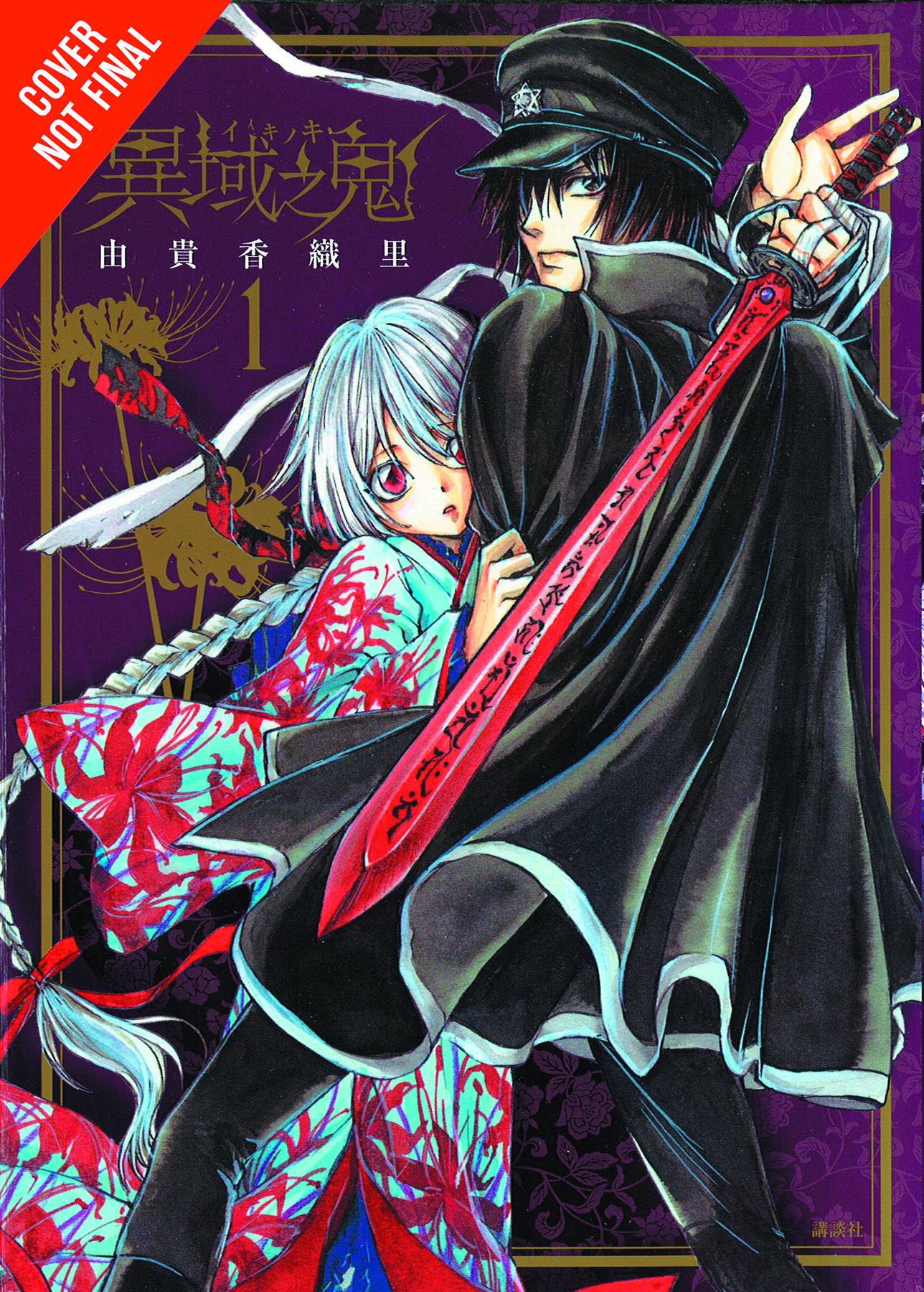 Yen Press continues to expand its manga selection with Demon from Afar, Volume 1 (OCT141775)!
A thrilling gothic fantasy steeped in black magic penned by Kaori Yuki, master of Gothic suspense! Yuki is probably best known for her beautiful work on Angel Sanctuary.
This time travel period fantasy steeped in black magic is one of the newest works to come from the pen of Kaori Yuki, master of Gothic suspense. When Sorath is miraculously saved following a great earthquake and taken in by a sinister baron, he becomes ensnared in not only a romantic triangle, but also the dark secrets of the estate that becomes his new home!

Well, that wraps it up for another month's worth of manga. Though we've featured quite a few series here, this is only a small taste of what we've got coming your way! You can also find hot titles such as Barakamon, Naruto, Rurouni Kenshin, Accel World and more in this month's catalog, so be sure to pick up yours today and pre-order all your favorite upcoming releases at your local comic shop!