Darryl McDaniels Grabs The Mic To Tell You About DMC #1
Oct 25, 2014
It's 1985 in New York City. Wildstyle graffiti covers subway cars as. B-boys break and spin in playgrounds and on street corners. Koch is mayor. Drugs and crime rule the streets. A terrifying plague is brewing in the shadows. And as the populace loses faith in the police, a man named Bernard Goetz is being hailed as a hero for shooting four teenagers in a subway car.

In this 1985, however, the city's brand new guardian angels wear spandex and capes, wielding their gadgets and their superpowers to clean up the City - even if their methods hurt more people than they help. There's the deluded "graffiti king" Mr. Marx patrolling the tunnels; the dark moral crusader The Puritan who stalks the shadows of the Lower East Side; and above it all, the godlike Helios, darling of the Upper East Side and the NYPD. It seems like only some of New York's residents are benefitting from these vigilantes' protection. The rest whisper the name of another hero: DMC.

You see, in this 1985, Darryl McDaniels (Run DMC) never rocks the mic to become one of hip-hop's most enduring icons. Instead, he dons his tracksuit and Adidas sneakers to defends the city's marginalized citizens against super villain and super hero alike, leaving no traces besides the imprint of his knuckle rings on his opponents' faces. (By day, though, he teaches junior high school English.) With the help of reporter Charlie Cooper and a band of graffiti artists led by the spunky Lak6, DMC must confront the new "heroes," and investigate whether there's anything behind their sudden appearance.

DMC #1 (JUL141175), the inaugural title from Darryl Makes Comics, imagines an alternate history that blends traditional comic book storytelling with the pressures and anxieties of 1980's NYC, and explores how we got to where we are now. DMC is a superhero for those who need one most.

Get this graphic novel on October 29th at your local comic shop!
Click on the preview pages below to get a closer look!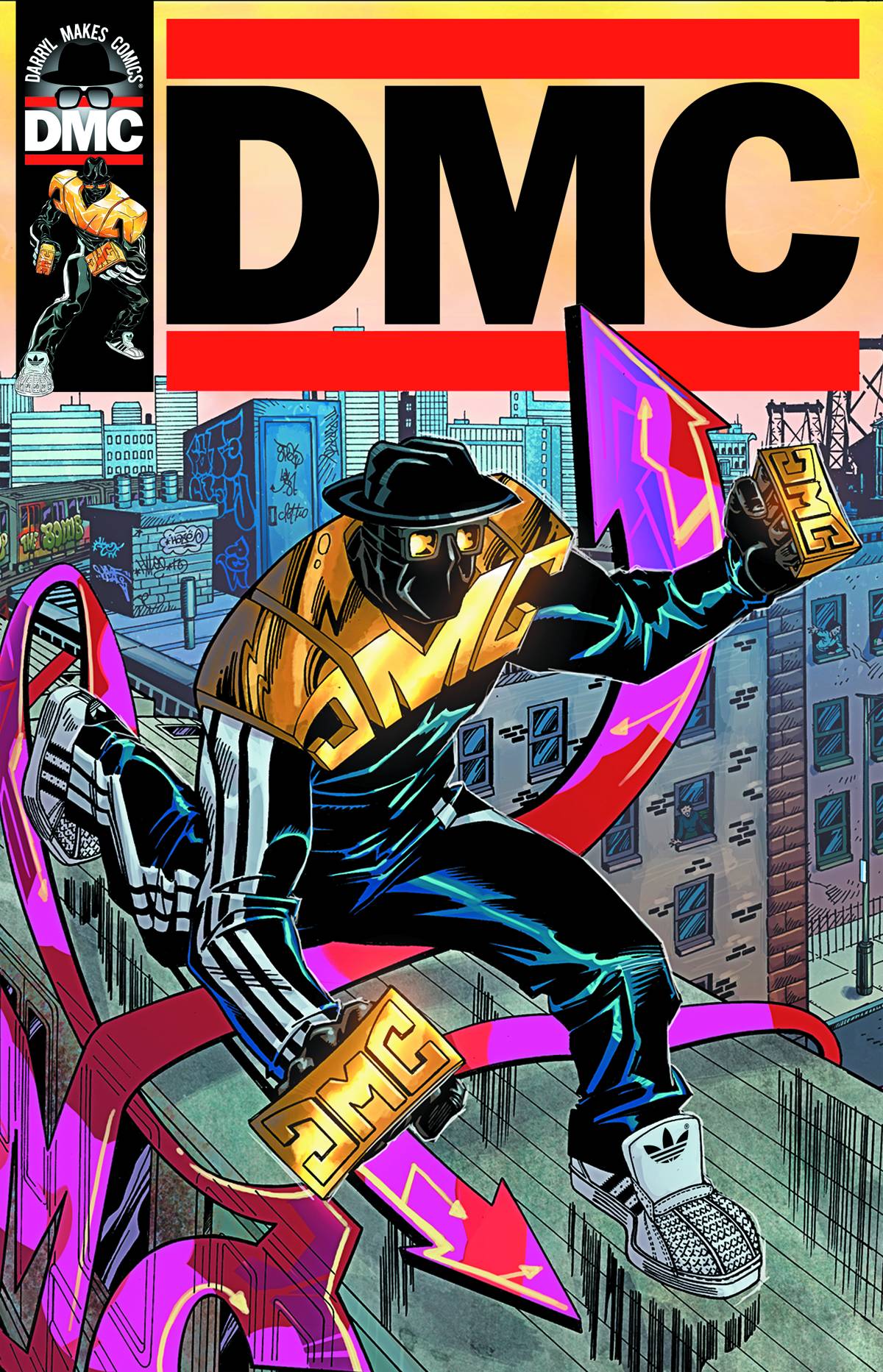 Story by Darryl DMC McDaniels, Damion Scott with Ron Wimberly as Creative Consultant. Cover by Sal Buscema (Captain America, The Amazing Spider-Man, Incredible Hulk) and Bob Wiacek (Iron Man, Uncanny X-Men, Iron Man).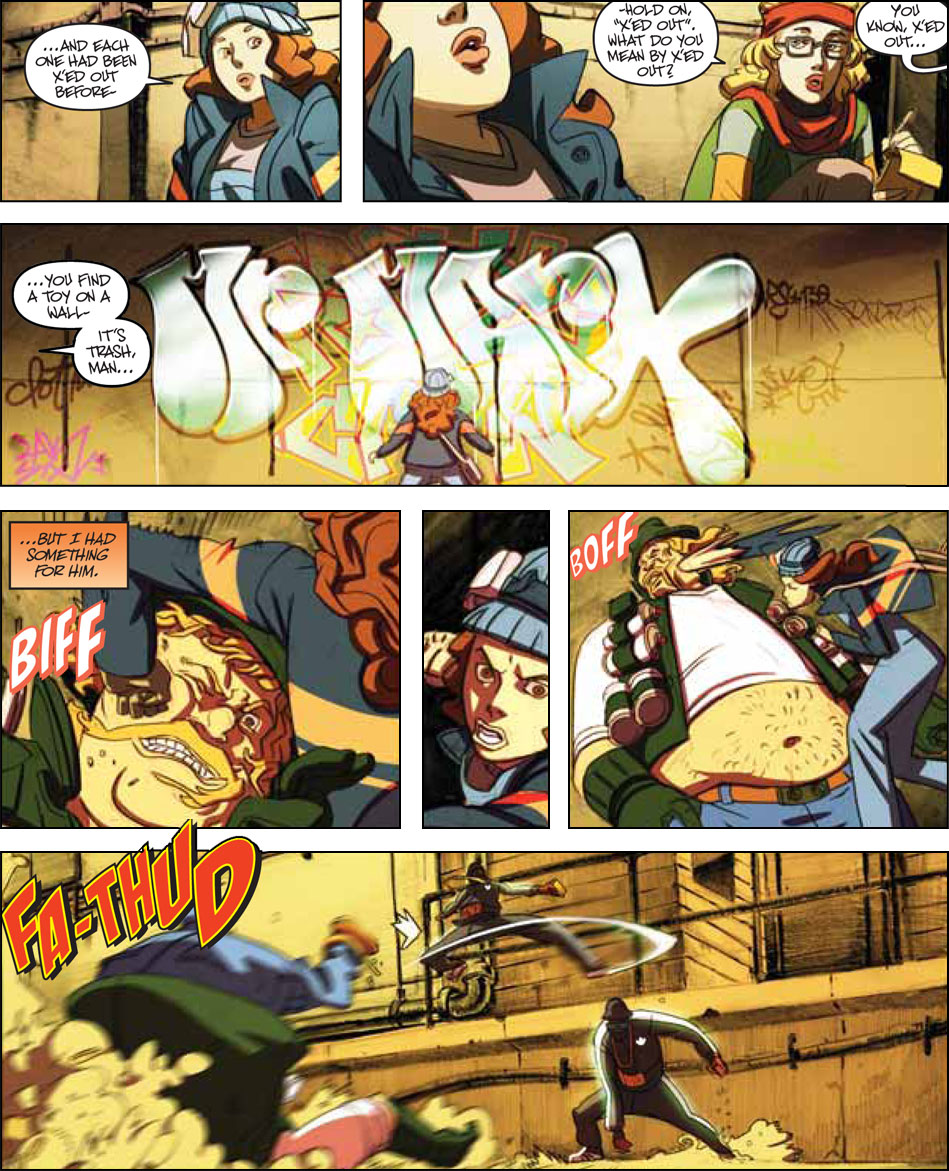 Chase Conley - Penciler/Inker/Colorist Chapter 1
Director at FOX ADHD (Axe Cop, Majer Lazer) and Character Designer for Cartoon Network (Black Dynamite) making his comics debut with DMC #1.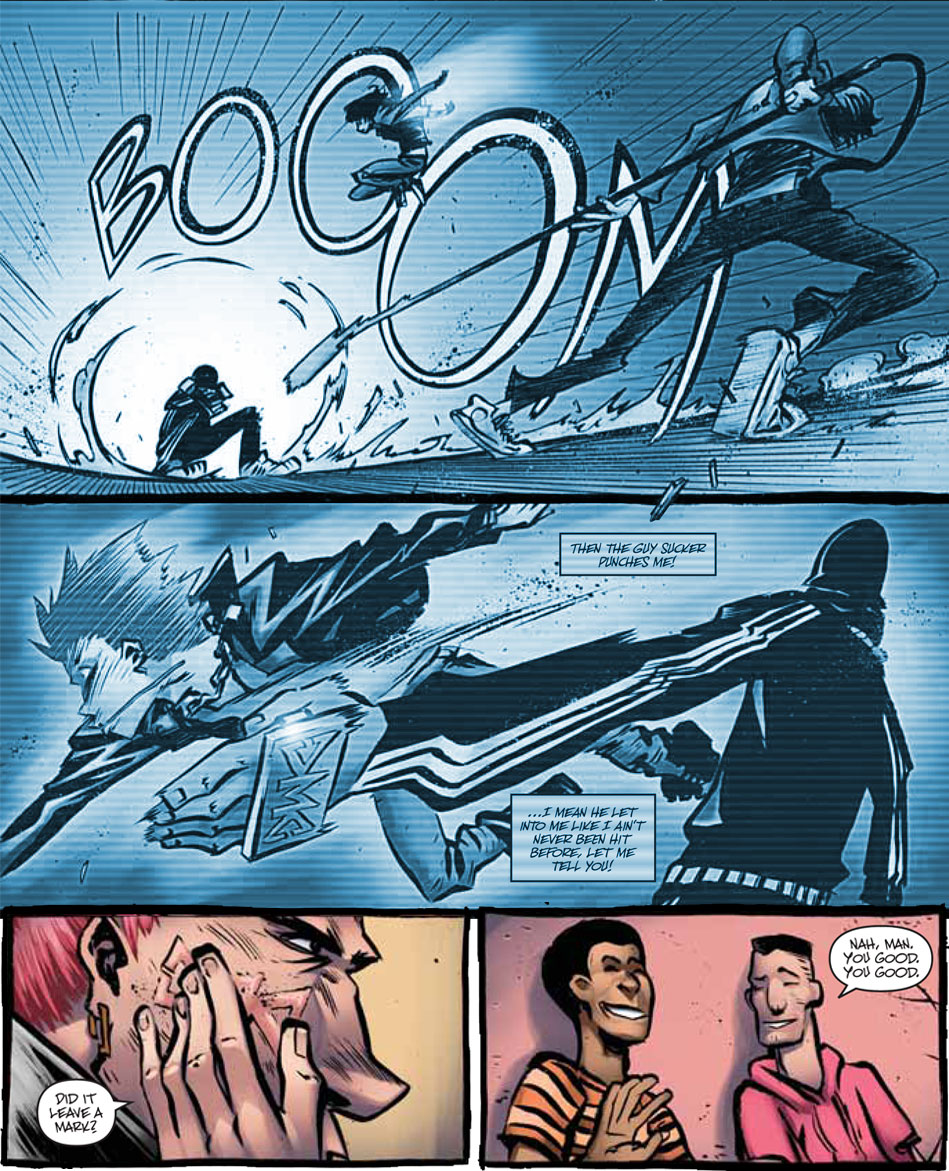 Jeff Stokely - Penciler/Inker Chapter 2
Penciler at BOOM! Studios (Six-Gun Gorilla).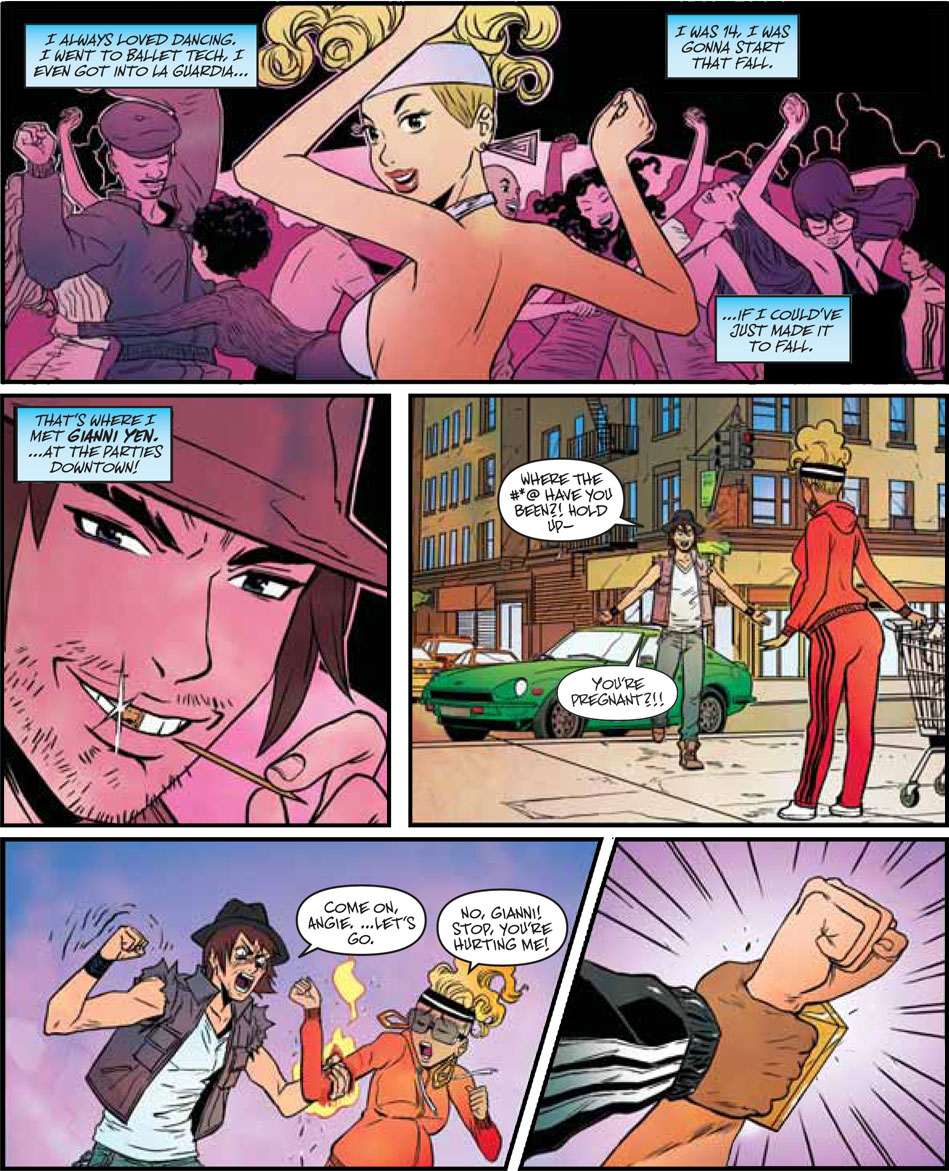 Felipe Smith - Penciler/Inker/Colorist Chapter 3
Character Designer for Nickelodeon (TMNT), writer for Marvel (Ghost Rider) manga writer/artist for his Peepa Choo, MBQ and making his Amerian comics debut with DMC #1.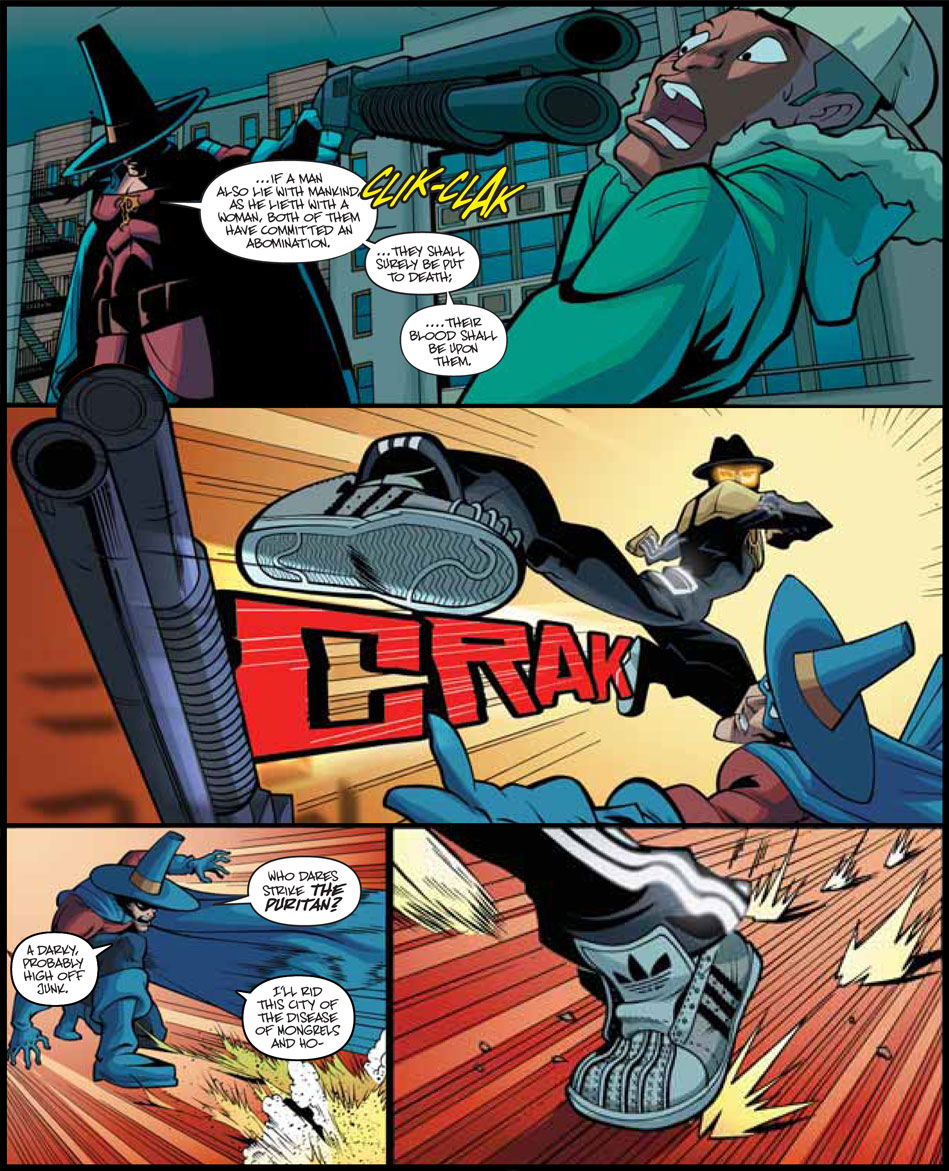 Mike & Mark Davis the Mad Twiinz - Pencilers Chapter 4
Character Designers for Cartoon Network (Black Dynamite, Boondocks) and Nickelodeon (TMNT).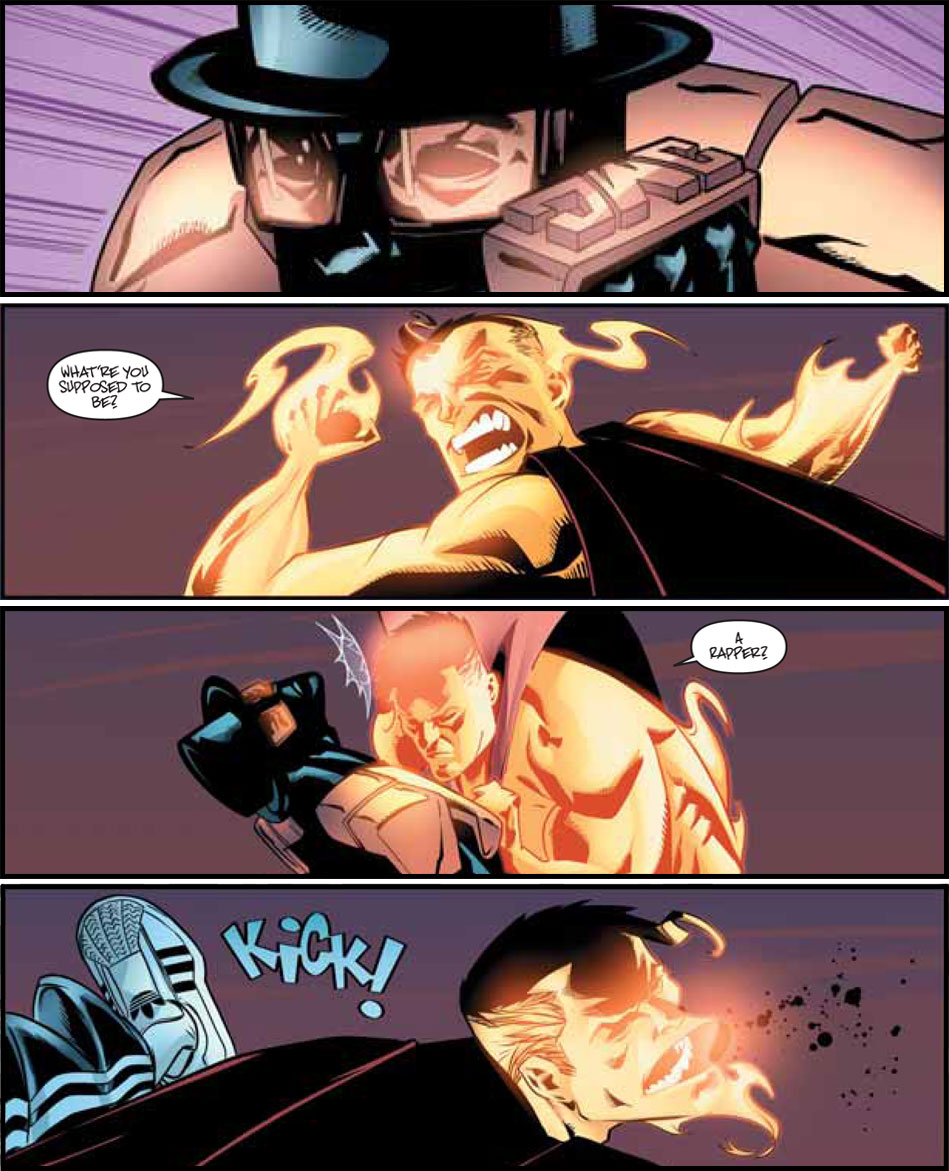 Shawn Crystal - Penciler Chapter 5
Penciler at DC (Arkham Manor) and Marvel (Deadpool, Fantomex, Uncanny X-Men).