Indie Edge September 2014: Renae De Liz
Aug 20, 2014
This month's featured creator is…
Renae De Liz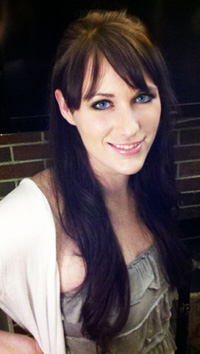 I am a professional artist (and now writer) of comic books, living in Portland, Maine. I started getting into comics when I was around 9 or 10 when I picked up a Betty & Veronica comic in the check-out of a grocery store. I was instantly hooked, and my interests spread to all types of stories (anime, superhero, fantasy, horror). Eventually I started drawing my own stories, and I knew pretty quickly that this was what I wanted to do for the rest of my life. I always loved to draw, but here was a way to completely tell a story visually all by myself (versus animation or videogames in which you often need to work with teams). I became obsessed with drawing comics through all my teen years. When all the kids were outside playing, I was inside drawing a story about dragon hunters. After a while, I let others convince me nothing good would come of my love of drawing comics, and quit drawing for almost five years after high school to try get a "real career". Luckily I found my way back to drawing and never stopped again. I've been doing this professionally for about eight years now, and am having the time of my life!
What are your favorite projects you've contributed to over the past decade?
The Last Unicorn, Peter Pan, and Sonic the Hedgehog were the most amazing because those are stories/characters from my childhood that I'm deeply attached to. Working on something I'm passionate about is definitely the way to go. I'm a pretty emotionally driven artist, so I tend to do my best work when I truly care about the story. When you love what you're working on, you enjoy every second of it.
I was also Project Manager of Womanthology, which is a for Charity book funded on Kickstarter. It was the most challenging project I've ever had (by FAR!), but there were so many amazing things I experienced from it that it will always be something very special to me.
What are you currently working on?
I'm just finishing up Volume 1 of my creator-owned adaptation of the original Peter Pan novel, which I funded through Kickstarter. And I'm also currently working on two other big projects for major publishers that are yet unannounced… so I can't say what they are yet! But I am so SO excited about them!
Three Titles by Renae De Liz
Heroic: A Womanthology HC (NOV110296)
Anne Rice's Servant of the Bones HC (FEB120390)
The Last Unicorn TP (AUG140515)
What fun titles are you reading?
I've been having fun re-reading old favorites from my teen years, like Bone, Strangers in Paradise, The Maxx, Magic Knight Rayearth and Gen13. My tastes are pretty broad in comics, but the art must be expressive for me to really like it!
Are you following PREVIEWSWorld on Twitter yet? Follow @PREVIEWSworld