Class Starts For DC Comics' Gotham Academy
Sep 29, 2014
Gotham Academy #1 (AUG140201) creative team of Becky Cloonan and Brenden Fletcher joined Batman Group Editor Mark Doyle to talk with us at San Diego Comic Con about their new book that's a monthly teen drama.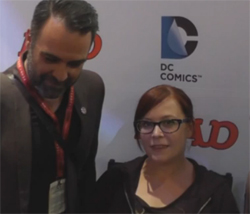 A lot is going on in the Batman universe, as criminals are about to take over Arkham Manor, and now new characters are being introduced that attend Gotham City's most prestigious prep school. But the school does not appear to be a stepping stone to Ivy League institutions. In fact, the school may be the last stop before certain teens take up permanent residence in white rooms with no windows.
"Mark Doyle called me up in February and we were talking about pitching some new books, and he mentioned the idea of what is was like for a bunch of kids growing up in Gotham," says writer Becky Cloonan. "And then I looked over at Brenden Fletcher and Karl Kerschl who were actually in the room with me at the time in Montreal, and I said you guys are coming with me on this one. You have no choice!"
The idea was to introduce the spook factor. Ghosts. This would not be teen angst as you'd see in the movies, or anywhere else. These individuals would be in the middle of something completely different.
"The big problem with describing the book is that its so much about mystery," said writer Brenden Fletcher. Translated: watch the YouTube video above to get the limited details we were able to get in our interview, and keep all eyes on Gotham Academy #1 (AUG140201) which is due in shops October 1!