The Grim, The Green, & The Ghosts In IDW Crossover
Oct 16, 2014
by Vince Brusio
The streams get crossed October 22nd, but the result is not total protonic reversal: it's the Ghostbusters meeting the Teenage Mutant Ninja Turtles. Yes. We're serious. Expect all life as you know it to stop instantaneously, and every molecule in your body explode at the speed of light as you flip through IDW Publishing's latest release, Teenage Mutant Ninja Turtles/Ghostbusters #1 (AUG140392), which takes two of its most popular properties and makes them play nice, whether they like it or not. See the interview we did below with writers Erik Burnham and Tom Waltz, and get the scoop on this epic crossover!
Teenage Mutant Ninja Turtles/Ghostbusters #1 (AUG140392) is in comic shops October 22nd!
**********
PREVIEWSworld: So here's what I see happening: the TMNT movie hits in August. Then, Sony is re-releasing a restored/remastered version of the original Ghostbusters film to commemorate its 30th anniversary. Now you guys are getting together to put both of these properties together for a monster mash that warrants its own theatrical release. The whole thing sounds like a block party waiting to happen. Tell us what was written on those invite cards to the party! What were the ground rules?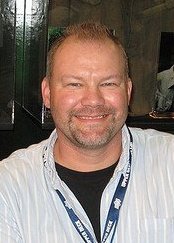 Tom Waltz: I guess the most important thing would be an understanding, which is, if you come to this block party, please understand that the block may get possessed and/or destroyed! Oh, and BYOB – bring your own bad-assery… you're gonna need it in the insanity to come.
Erik Burnham: And don't be the guy to leave when it's time to clean up. There's gonna be a big mess left behind when these guys are through, especially since both teams have the habit of running into green slime.
PREVIEWSworld: Given that both properties are rooted in 80s nostalgia, who was tweeting who when it came to trumping each other on trivia? Or was none of that necessary as the story's written in a pocket universe? Can you give the readers details on how you worked out the time and setting for the story? Yes, we're in New York but then....what? Is a battle with poltergeists the real reason the Stage Deli closed its doors? Will this be the untold story?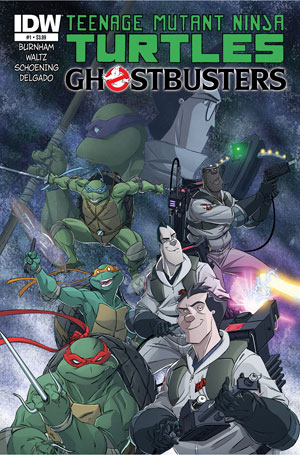 Tom Waltz: Wait! Was there even tweeting in the 80s? And artist Dan Schoening is the trivia champion, hands down (though IDW EiC Chris Ryall is definitely a contender to the throne). As for the time and setting, both Sony and Nickelodeon were super cool enough to let us drop the story in the current continuity of both our ongoing series, which means this crossover counts and will have a lasting effect on both our GB and TMNT universes moving forward. We probably won't cover the Stage Deli, but I can guarantee that this story, untold our otherwise, will not be a one off. These events matter and will rear their heads in future TMNT and GB stories.
Erik Burnham: Dan really is The Guy with trivia. I think it may be his main pursuit. And yes, totally canon for the universes we've been putting together for both teams… which is exciting. I love when crossovers count for the characters' ongoing narratives. It's a rare opportunity!
PREVIEWSworld: Ok, don't spoil anything, but please, a little red meat is appreciated. What can you tease about TMNT/Ghostbusters without calling down the wrath of the mighty Dirk Wood?
Tom Waltz: Red meat is bad for the heart… and we hope to test readers' hearts as we put the GB and TMNT through the wringer. Look for a brand new villain from the TMNT's ancient past, plenty of proton and ninja action, classic super-team meet-up confusion, and some very geeky science talk between eggheads Egon and Donatello. And just wait till Mikey sees Slimer for the first time!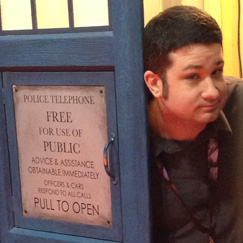 Erik Burnham: I guarantee a reference in issue one that will send folks scrambling for Wikipedia. And will a ninja turtle strap on a proton pack for the first time? We'll see.
PREVIEWSworld: So what can we expect from the back-and-forth between the camps? Do the turtles have the upper hand against the guys with the ray guns, or is it the other way around? How do they hurt one another, and how do they help one another?
Tom Waltz: The GB have the upper hand as far as setting is concerned since the story takes place in "their" New York, but over the course of the story we'll see that both teams (collectively and individually) possess talents and skills that are necessary to the successful outcome of their team-up. Both groups will find a way to exploit and combine their strengths, bringing their martial and technical skills to bear on an extremely powerful and evil villain. But will it be enough to save the day? Only one way to find out – read the comics!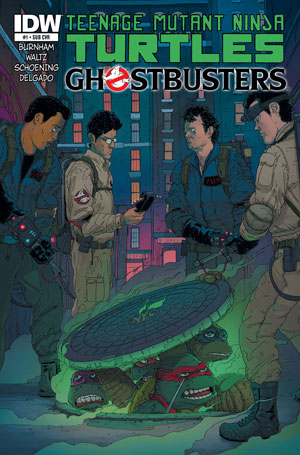 Erik Burnham: The Ghostbusters are more familiar with one type of foe they're facing than the Turtles, but the Turtles have the ability to deal with the other type of foe that the boys in grey sorely lack. These teams, their skills, and the threats they face all complement each other.
PREVIEWSworld: We see how Disney: Infinity has taken Pirates of the Caribbean and mashed it with Cars in a video game. Do you think such a model would work well should we take the Turtles and put them in the same game as Egon and the boys? Or have I just stepped on a land mine, and unintentionally revealed the next big thing from IDW?
Tom Waltz: Well, I don't know about IDW, but if anyone ever creates a TMNT/GB video game, I'm pre-ordering that sucker for sure!
Erik Burnham: It better have a good soundtrack, is all I'm sayin'.