The Strain on Mike Huddleston
Aug 01, 2014
The Strain television series is now underway on FX, and this prompted us to talk with Mike Huddleston, the artist on the Dark Horse comic book series. See what Mike had to say in this exclusive PREVIEWSworld interview.
**********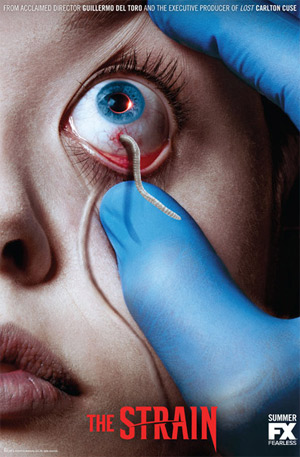 PREVIEWSworld: Adapting prose novels into sequential art is by no means a new practice, but The Strain seems as though it came with its own unique set of challenges. As the novel series was originally conceived of as a film production and is set to be adapted for television, series creator and novel co-writer Guillermo del Toro undoubtedly had a specific vision of how the world of The Strain should look. How did you go about both utilizing the source material and incorporating the creator's feedback when creating the visuals for The Strain comic series?
Mike Huddleston: Yes, Guillermo DID have a very specific vision of what he wanted this world to look like and at the start of The Strain we spent a lot of time working together creating the vampires, specific locations and props, even casting the "actors" that would be our heroes in the book. He's been intimately involved at every step creating the look of the comic.
As far as the source material, I made a conscious decision not to read the novels, so I'm only pulling from David's fantastic scripts. The interesting side effect of that decision is that I'm reading this project as I draw it. 500+ pages in and I don't know how it ends.
PREVIEWSworld: Did your style or visuals for The Strain comic series have any influence on the aesthetics of the television adaptation?
Mike Huddleston: From what I hear from people who have seen more of the show than I have, apparently the two versions do come pretty close together. Seeing the airplane sequence definitely gave me some déjà vu, as well as The Master's coffin and the look of a few characters. Again though that comes from Guillermo. Whether it's on paper or on TV, it's his vision.
PREVIEWSworld: How has this comic pushed you and helped you develop artistically? What has been the greatest artistic hurdle (or hurdles) you've had to overcome while working on this series? For example, have you discovered anything that you never thought you'd enjoy drawing prior to working on this series, or is there possibly something you vow to never draw again after completing The Strain?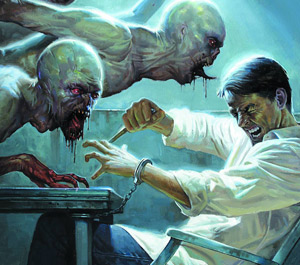 Mike Huddleston: The Strain has been the biggest challenge of my career, and I think has pushed me to grow more than anything I've drawn previously. The sheer size of the project makes it a challenge: a worldwide vampire invasion with an epic historical backstory, told over what will be 700+ pages.
Also, when I began on the book I was very aware of working on someone else's vision and I played it a little safe stylistically, but as time has gone on it's become more and more of a personal project for me. The more I experimented and pushed, the happier DH and Guillermo have been.
Uh… I think I'll draw less tongue tentacles in the future.
PREVIEWSworld: As the comic series is heading into its third and final arc, do you have a favorite issue or page sequence that you've illustrated thus far? Is there any particular storyline or sequence you're looking forward to creating in the coming issues?
Mike Huddleston: I don't want to reveal anything too specific, but the first pages of Night Eternal have been some of my favorite so far to illustrate. We're seeing the ancient origins of the plague that are hundreds to thousands of years away from our heroes running around New York killing vampires. That was a lot of fun.
Again, as I am reading this book script by script I don't know what's coming, but in the issue I just finished illustrating certain Biblical characters have arrived. I am definitely excited/ curious to see how that storyline unfolds.
**********
Back issues and trade paperbacks available to order from your local comic shop!