Dynamite Halloween Treat! Evil Ernie Returns In October!
Jul 30, 2014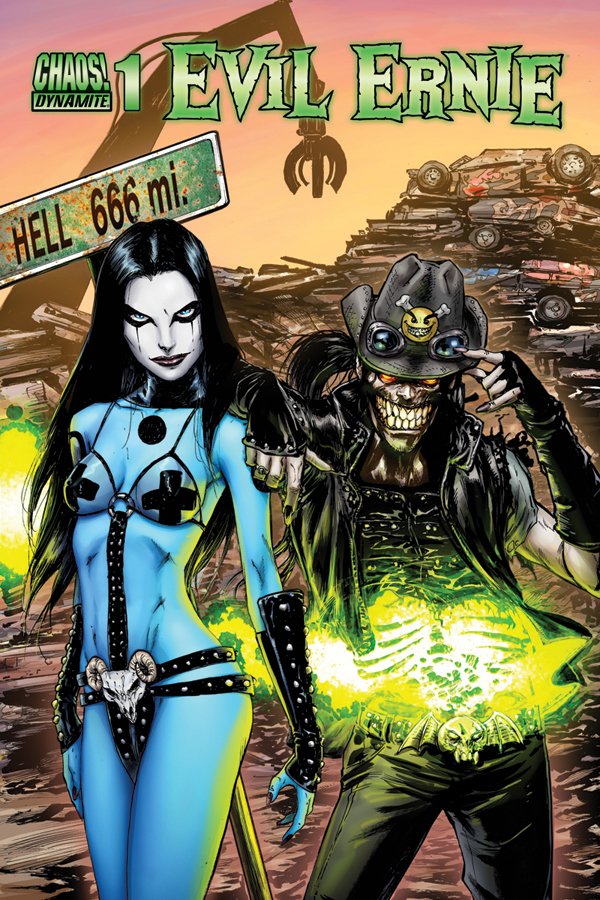 Evil Ernie, the fan-favorite fiend of Chaos! Comics, returns in his own solo comic book this October from Dynamite Entertainment!

Tim Seeley (Hack/Slash, Batman: Eternal), the architect of Dynamite's best-selling Chaos! miniseries that reintroduced the core cast of comics' reigning horror universe, joins with his brother Steve Seeley to tell the continuing legend of Ernest Fairchild, the undead killer of killers.

The brand-new and ongoing Evil Ernie series features the interior artwork of Rafael Lanhellas (Warlord of Mars, Grimm Fairy Tales: Bad Girls), and picks up where the epic Chaos! event left off!

In Evil Ernie #1, teenage psychopath Ernest Fairchild is dead, resigned to Hell where he belongs. But when reality is threatened by an enemy that even the Devil can't handle, he calls on the only weapon that can prevent total megadeath: Evil Ernie himself. That's right – the deadliest mass murderer of all time may be the world's only hope! Guest-starring Mistress Hel, the seductive Norse goddess
Here's what Tim Seeley has to say about Evil Ernie:

"Steve and I first discovered Evil Ernie when the first issue (of the classic 1990s series) came out. We were both teenagers, and our dad was a big horror movie fan, so we were plenty familiar with mayhem and massacre. But something about seeing this punk teenager trying to take out the entire world really appealed to us. So, when a new Evil Ernie series was available, Steve and I figured it'd be a great time to debut out first brother-on-brother comic book collaboration, as we return Ernie to his anti-hero/slasher movie roots. This is going to be tongue-in-cheek, apocalyptic slasher movie comic book goodness, loaded with everything that two guys spent their teenage years neck deep in: heavy metal, horror, and comics."

You can pre-order Evil Ernie #1 now at your local comic shop!

Check out the wide array of covers for issue #1 below!
Main Cover
by Tim Seeley
Item Code: AUG141261
Variant Cover A
by Carlos Rafael
Item Code: AUG141262
Variant Cover B
by Ardian Syaf
Item Code: AUG141263
Variant Cover C
by Kyle Hotz
Item Code: AUG141264
Variant Cover D
by Ken Haeser
Item Code: AUG141265
"Old School" Subscription
Edition by Andrew Mangum
Item Code: AUG141266