SDCC: Orlando Jones — Tainted Love and Dynamite In A Cold Sleepy Hollow
Jul 26, 2014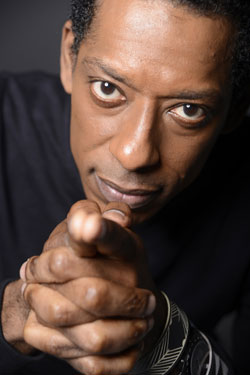 by Vince Brusio
He has been around for decades, and is testament to the rewards of hard work, perseverance, and passion. He is Orlando Jones. And he's the real deal. The actor caught up with us at SDCC, and in a candid interview told us how — in addition to being blessed — he was also a stone cold comic geek, which is probably why E! Online said he was in the top 5 personalities to follow at this year's show.
Orlando has done a lot in his career, from acting in dramas such as Barry Levinson's Liberty Heights, to voice acting in Adult Swim's Black Dynamite. He is not a man who wears many hats. He is a man who wears many Armani suits. On Thursday, July 24, he agreed to talk with us at the Bayfront Hilton to say that comics were one of his true passions, and the reason for him being at this year's San Diego Comic Con. He is a guest on "The Black Panel," the "Sleepy Hollow" panel, as well as the "Showtime Presents the Will Eisner Comic Industry Awards."
In this PREVIEWSworld Exclusive interview, Orlando touched upon his many acting activities, which includes appearing as Captain Frank Irving on Fox's Sleepy Hollow — now a new magazine from Titan, and comic book from BOOM! Studios.
But emphasizing his geek passion, he also revealed that he's involved in a graphic novel-style digital action comic series called Tainted Love, and he's giving it everything he's got — which includes writing the soundtrack.