Double Talk For Titan's Doctor Who Comics
Jul 21, 2014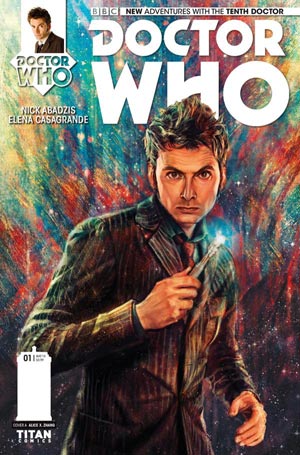 by Vince Brusio
This July Titan Comics releases both Doctor Who 10th (APR141372) and Doctor Who 11th (APR141379) comic series for readers that can't make up their minds about which Doctor they love the most. Why choose when you can indulge yourself without guilt? To highlight this landmark event, writer Nick Abadzis talked with us about his writing chores on Titan's new ongoing "10th" series, and writer Rob Williams weighed in on matters pertaining to the "11th" series.
PREVIEWSworld: What is your first memory of Doctor Who? Were you just a wee lad sitting on the couch, with your mouth ajar? Did your Dad sit you down and say "Watch this, son!" Or was it a friend that said you didn't know what you were missing?
Nick Abadzis: I watched it with my older brother, who claimed Jon Pertwee as his own, but when Tom Baker came along, he was "my" Doctor. I was a proper fan before that, though - the Sontarans and the giant maggots made a big impression, Sarah Jane Smith made a big impression and my mother bought me the Target novelizations. The first one I ever got had Patrick Troughton on the cover and featured the Yeti. I didn't watch the show from behind the sofa, I used to go out of the room when it got scary and watch through through the crack between the door and the door frame.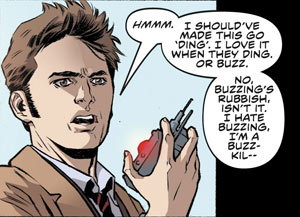 Rob Williams: I think it was just there when you were a kid in the '70s. My earliest memory is of Pertwee, but since he left in '73 and I'd have been two at the time it must have been a repeat. I have vague memories of the episode with giant invisible spiders on people's backs. Giant invisible spiders... that's not absolutely terrifying to a child at all, eh? I suspect I hid behind a warehouse full of sofas during that one. But my main childhood Doctor was Tom Baker. I remember the grin and the eccentricity and the glee. Baker made it all seem rather joyful. Matt Smith did that too, I think. This was an adventure. This was to be enjoyed. That's a great thing about Who.
PREVIEWSworld: What separated Doctor Who from your other television favorites? Did you think this was a character/program that would one day celebrate a 50-year anniversary?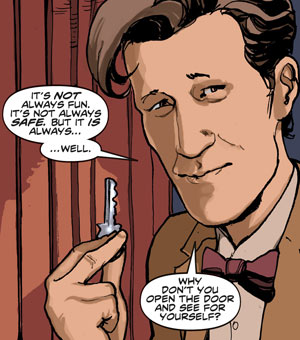 Nick Abadzis: Other shows came and went, but Doctor Who always came back, and changed, evolved. It wasn't as slick as Star Trek or similar, but it was completely and utterly captivating and often bonkers and it had the best monsters and villains. It was always about the ideas and the characters, the fact that you never knew precisely where the Doctor was going to end up. The format's unendingly flexible - it always changes and yet stays basically the same. It was the best idea for a TV show ever, and when it was off-air from 1989 to 2005 (with a blip for the 1995 Paul McGann TV movie), I recall trying to persuade a publisher I was working for to get the license for Doctor Who, to produce figurines and a magazine based on all its characters and history. They didn't (not until many years later) but I was absolutely sure it would come back to TV and I was right. Here's to the next 50.
Rob Williams: I had no idea of its legacy at that time. I remember seeing the Three Doctors special and you got the idea that other people had played him before. The regeneration was a very clever idea indeed. I didn't grow up in a household where my parents had watched Who with Hartnell or anything like that. I don't recall it being a huge deal in my school, funnily enough. I was a comic reader and I remember enjoying the Who comics as much as I did the TV show. Dave Gibbons and Steve Moore. Doctor Who weekly was on order in our house along with Spider-Man and Hulk weekly.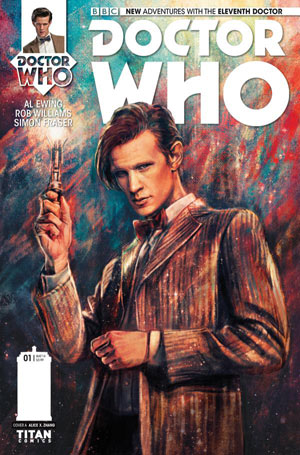 PREVIEWSworld: In regards to your respective books, why are you drawn to that particular incarnation of Doctor Who? What is it about the personality that makes it so much fun for you to write?
Nick Abadzis: I like all incarnations of the Doctor, but I enjoyed the Tenth Doctor's humanity, angst and survivor's guilt. He was romantic and handsome but scratch the surface and you got this wounded quality, which never prevented him from being a hero or having a sense of humour but which undercut him sometimes. Russell T Davies, who orchestrated the tenth Doctor's era, would always go for the pain. I also have perhaps some extra special empathy for him because he's my daughter's Doctor.
Rob Williams: I think fun is the key word. Matt Smith's very good with the dialogue gymnastics. I can hear his voice very clearly when I write, I think. With some characters — like Judge Dredd or The Punisher, say — you write very sparse dialogue. The Eleventh Doctor it's more a case of cutting back all the dialogue I've written so it doesn't clog the visuals. He's very funny, very smart, has a bit of the verbal diarrehoa as his mind leaps from one thing to the next. But one thing I like a lot about the Eleventh is this strong sense of justice and burning anger that occasionally slips through. The sense that something is wrong and it shall not pass, and he's going to draw a line in the sand. I like the Eleventh Doctor a lot.
PREVIEWSworld: Without giving anything away that would bring the wrath of Titan Comics down on your head, what lies down the road for the good Doctors? Is there anything you can tell us about what you plan for your respective books?
Nick Abadzis: The tenth Doctor's era was often an emotional rollercoaster, especially towards the end - but you haven't seen it all. We're showing you unseen moments; events that occurred in his timeline between the episodes, between the specials. For now, let's just say a LOT happened - he saved a lot more than he said he did. No wonder he didn't want to go.
Rob Williams: We're giving him not one or two but THREE brand new companions, all of whom are very different and strong characters and concepts. One is the type of companion who would blow the budget of the TV show very quickly, but we have no such constraints. The first few issues have a giant alien dog, an amusement park world gone wrong, the truth about who bluesman Robert Johnson really met at the crossroads, a time-travel problem that completely bemuses The Doctor and a big, giant, mother of all space battles. You get a fair bit of bang for your buck.
PREVIEWSworld: If people want to reach out to you so they can learn more about where you'll be this summer/fall for convention season, how can they contact you?
Nick Abadzis: There's news of my movements and projects at http://abadzone.tumblr.com/ and I'm also on Twitter: http://twitter.com/#!/NickAbadzis
I'll be at San Diego ComiCon, so check their site or for details of signings and appearances. I'm doing several at various locations on Friday and Saturday.
Rob Williams: Via my website robwilliamscomics.co.uk or through Twitter @Robwilliams71
Click here to see a preview of Doctor Who 10th #1!
Click here to see a preview of Doctor Who 11th #1!