Aliens and Predator Face Fire and Stone
Jul 23, 2014
by Vince Brusio
Dark Horse presents two new series this fall featuring sci-fi horror legends Aliens and Predator, and we spoke with writers Christopher Sebela and Joshua Williamson about their upcoming books set to hit comic shops in October. The Xenomorphs of the Alien franchise and the titular characters of the Predator series have been after each other ever since their first comic crossover in 1989. Now, Dark Horse continues the fight with Alien vs. Predator: Fire and Stone (AUG140008) and Predator: Fire and Stone (AUG140010) which you can pre-order from the August PREVIEWS catalog.
**********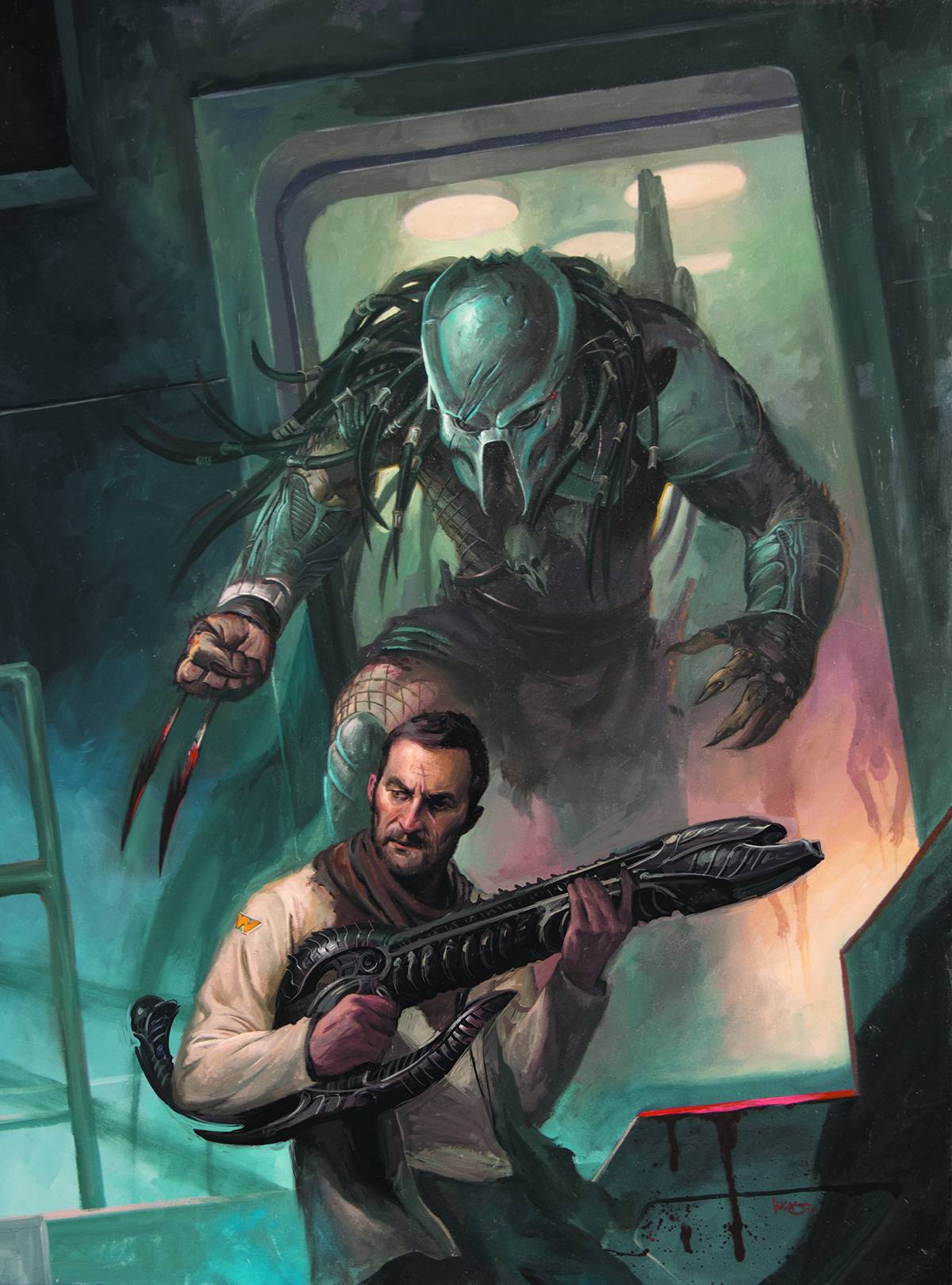 PREVIEWSworld: How did this crossover project get underway? What was the catalyst for making Fire and Stone a solid knockout for Dark Horse?
Christopher Sebela: Dark Horse had the idea of doing more Aliens and Predators stories, only this time they wanted to do it as a writer's room format, where writers, artists and editors all get together and build a story. They wanted everyone to be local to Portland to make getting together easier to pull off. So we all were asked and showed up and we've been working together on it since late last year. As far as what the catalyst was for Dark Horse wanting to do this? Probably between the Prometheus movie coming out a couple years ago and the fact that Xenomorphs and Predators are cool as heck, it seems like a pretty easy trigger to pull.
Joshua Williamson: It started with Mike Richardson and Dark Horse. On my end, we had been talking about doing an Alien book for a few years, something closer to the first classic Alien film. So they knew I was already interested in this universe. After Prometheus came out, they knew that fans wanted more. The idea of doing a crossover with Alien was too good to miss, and Dark Horse, who is known for doing this kind of thing, wasn't going to do a half measure - and tossed AVP and Predator in there.
During the meetings we talked about each book's role in the story and it became clear that I was most interested in Predator. It was the book that most matched my style.
PREVIEWSworld: How does the story reflect on previous AVP continuity?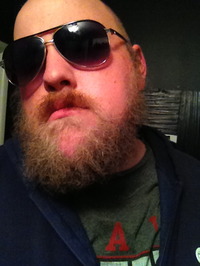 Christopher Sebela: Well, there will be some aliens and they most definitely will still be versus Predators, so that much we are staying faithful to, but across all four of the books, we set out to make stories that stood on their own and built an entirely new path in this mythology.
When I started, I didn't consider the two AVP films as canon to be studied, and while I love Dark Horse's classic AVP comics, I didn't want them to creep into my head too much.
I tried to approach this from as fresh a slate as possible, just using this book as an excuse to re-watch all the Alien and Predator movies and let my idea wheels start spinning as wildly as possible.
Joshua Williamson: For Predator we focused mostly on the first two movies with some of the third Predators. We didn't want to be too tied down by what had come before, but we didn't want to ignore it. Our story takes the best bits and moves forward. I looked at a lot of the Predator comics, even Batman vs Predator, and dived into the mythology and came back up with a lot of cool elements to inject in my issues.
PREVIEWSworld: What gave you inspiration for the stories? Can you tell us how the separate stories connect past how they both involve the Perses? I'm sure readers would appreciate help in connecting the dots so as to better understand the carnage that's ahead of Fire and Stone.
Christopher Sebela: I think half the fun for readers will be connecting the dots on how everything links together, but I can assure you that everything does. We all got together in the writer's room several times this year to break the overall story as well as everyone's individual stories to make sure that everything made sense from all points of view and there weren't any loose ends left over when we got down to writing. But we all started from the same opening spot and got to decide where our stories would branch out from there so that we made books that can stand on their own but that are more rewarding if you read them in order to see the back and forth of action and consequence that bleeds from one book into the next.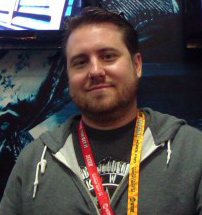 Joshua Williamson: Moby Dick was a big inspiration for the Predator series, alongside the original movies, and then with room full of great creators. We had these meetings about every six weeks where we broke down how our stories were being told, and so much great stuff came from that experience. I don't want to give away too much, but Predator takes place after Prometheus, Aliens, and AVP. But all three of those books have an impact on Predator.
PREVIEWSworld: Without spoiling anything, can you each tease something about your new respective stories? Or maybe you'd like to say something on a more personal note. You know, something like you admit checking into therapy after submitting your scripts because the horrors you conjured gave you nightmares at night.
Christopher Sebela: From the outset, the room decided that AVP was a big huge monster movie, which makes sense when you throw two of the most iconic monsters of the last 30 years in a book together. But it's not just non-stop bashing and bleeding, there's two characters in AVP that explore a whole different thread of humanity, inhumanity, change and how small a gulf there is between Predators as unstoppable hunters, Xenomorphs as perfect killing machines, and humanity.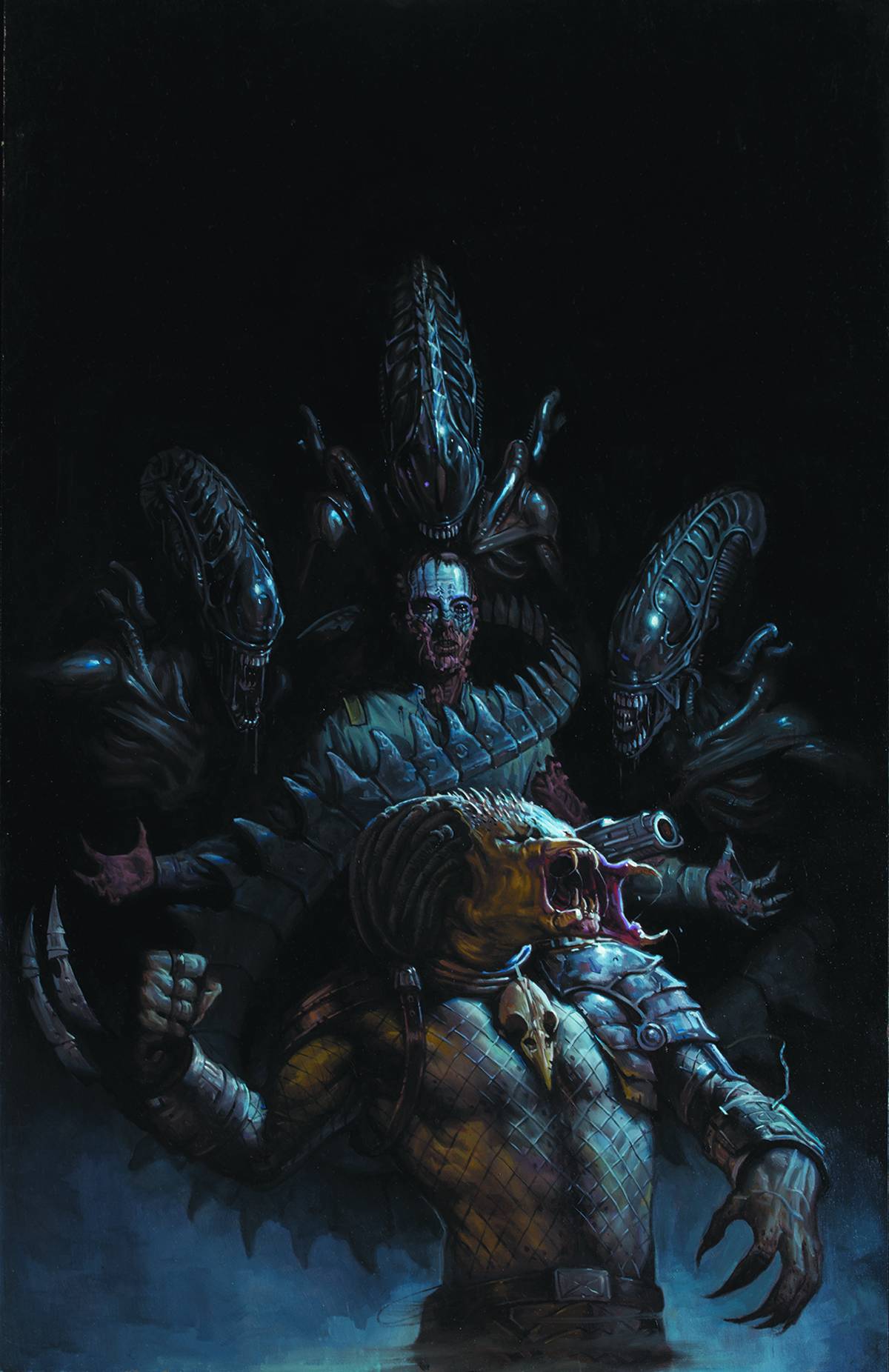 And if I'm being honest, this book is my therapy. I get to write the most messed-up, vicious, bloody stuff I can think of and then send it to other people; it's the best kind of catharsis in the world. Normally I'd think up this stuff and then have to live with it in my brain, but with AVP I exorcise it into the scripts and then watch as Ariel Olivetti turns my idle nightmares into flesh and blood horrors. Therapy was never this much fun.
Joshua Williamson: I do have nightmares nearly every night, and I get all of that out in my writing. But, back to Predator. Our story is about being careful what you wish for. The name of our Predator is AHAB, and his mission is one last great hunt. There is something he has been hunting for years and he's finally on its trail. What that thing is... well, you have to read Predator: Fire and Stone #1 to find out.
PREVIEWSworld: If readers want to keep up-to-date on where you'll be this summer, or what you might be doing to help promote the book, how can they contact you online?
Christopher Sebela: I'm most active on Twitter, @xtop, or Tumblr, christophersebela.tumblr.com. Braver souls can track me down on Facebook or hit me up on LinkedIn until I figure out how to delete my account.
Joshua Williamson: They can always reach me at my Twitter which is @Williamson_Josh, and I'll be at SDCC in July and Rose City in Portland in September. We'll also be doing a lot of promotion for the whole Fire and Stone line at NYCC in October.