Kids In Command for Teen Titans: Earth One
Jun 25, 2014
In a world where men and women are regulated to being good old fashioned tax-paying citizens, it is the kids who are in command of throwing punches and laying down the law in Jeff Lemire's Teen Titans Earth One Volume 1 HC (JUL140221)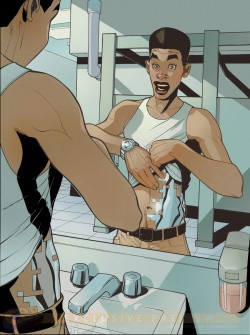 Old schoolers out there remember the Elseworlds universe. That line of books gave us cool alternate timelines and realities which cumulated in titles like Kingdom Come, Thrillkiller, JLA: The Nail, and othere memorable mini-series. Now the next evolution of thinking-out-of-the-box comes with Earth One titles that apply to the latest offering from Lemire, who works alongside artists Terry and Rachel Dodson to give us a a new homerun hardcover.
Already being partial to the graphic novel format, Lemire assures readers he is quite happy with his latest effort, commenting in previous interviews that "not having to worry about 50 other writers and what they're doing" gives him liberty to let it all hang out. To go gonzo. And to take the Teen Titan characters back to their formative years, when they were still practically kids.
It's all about living in the real world, dealing with real personalities, and having lots of fun with Cyborg, Changeling, Starfire, Raven and Jericho.
And if fans like it, there could be more!
Look for Teen Titans Earth One Volume 1 HC (JUL140221) from DC Comics in the Premier section of the July PREVIEWS!