Indie Edge July 2014: Steve Niles
Jun 18, 2014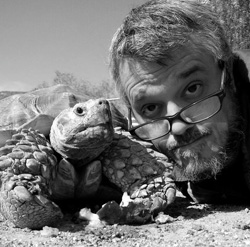 This month's featured creator is…
Steve Niles
Please tell us a bit about yourself!
My name is Steve Niles. I'm a writer. I primarily write comics and horror, but I've been known to wander. Right now I am working on all creator-owned books as well as working as a consultant on a TV show. The fact people seem to like the best, though, is that I own a (now) 75-pound giant tortoise named Gil. I live out in the desert with my wife Monica, Gil and 8 other animals.
What are your favorite projects you've contributed to over the past decade?
I've been at this close to 30 years now so that's a tough one. I will always look to Freaks of the Heartland (MAR120050) as one of my favorite projects and now Breath of Bones: A Tale of the Golem (OCT130070). The highlight of my career will always be getting a chance to work with Bernie Wrightson though. Nothing beats the thrill of working with someone you idolized as a child!
More Current and Classic works by Steve Niles:
30 Days of Night Omnibus Vol. 1 TP (AUG110319)
Criminal Macabre: Cal MacDonald Casebook Vol. 1 HC (DEC120083)
The Monstrous Collection of Steve Niles & Bernie Wrightson HC (JUL110389)
What are you currently working on?
Right now my slate is pretty slim, and I like it that way. I am working on the last three issues of my Army of Darkness run (at Dynamite), writing a new Criminal Macabre series, and ramping up for a new creator-owned ongoing series for IDW called The October Faction.
What fun titles are you reading?
Black Science by Rick Remender; Pretty Deadly by Kelly Sue DeConnick, and Saga by Fiona Staples and Brian K. Vaughn.
Black Science Vol 1: How to Fall Forever TP (MAR140535)
Pretty Deadly Vol. 1 TP (FEB140533)
Saga Vol. 1 TP (AUG120491)
Are you following PREVIEWSWorld on Twitter yet? Follow @PREVIEWSworld