The Faithful Keep Brubaker On Target
Jun 05, 2014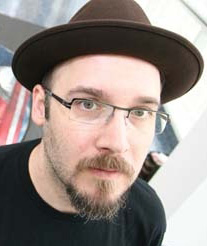 by Vince Brusio
It was announced by Image Comics this year that writer Ed Brubaker was signing a five-year exclusive deal with the publisher. His charge was to do what he wanted to do, and have fun doing it. Life can't get much better for Ed Brubaker right now, and he's showing us what's first on the list of "things to do" with his latest project, The Fade Out (JUN140463).
PREVIEWSworld: The Fade Out is your first project post the 5-year exclusive deal you made with Image Comics. Was The Fade Out already in the works when this announcement was made?
Ed Brubaker: The Fade Out is something I've been thinking about and taking notes on for a few years now, but I wasn't sure until a month or so before we did our exclusive that it'd be the next project we were doing. There was another project — a sci-fi idea — that I was mulling over, too. But I felt like I wasn't ready for it yet, and after Fatale, I felt something more "real world" was the right way to go, creatively. Although, there's a lot of craziness in The Fade Out, but not on a supernatural level, more of a Kafka or Lynch vibe is what I'm hoping for in a big hardboiled epic.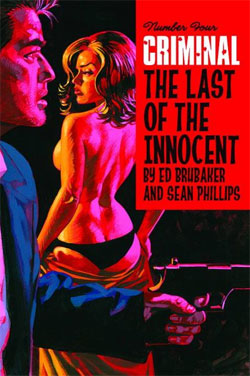 PREVIEWSworld: Was it projects like this, Fatale, and Velvet, that made Image decide they wanted more of the same?
I think it was more about looking at me and Sean's output over the years, Sleeper, Criminal, Incognito, Fatale... we have built a passionate readership over time, and as Fatale showed, it just grows with each project, and our backlist just continues to sell year after year. So among that readership, Eric Stephenson and Robert Kirkman appear to be me and Sean's biggest fans, because they said, "just come here and keep doing what you guys do, and don't worry about the business side, just be artists" basically.
PREVIEWSworld: An oversized "movie magazine replica" variant edition of The Fade Out boasts 8 extra pages of behind-the-scenes art and articles. Could you tell us how this idea came about? Are you trying to create collectibles that will transport people back to Hollywood 1948?
Ed Brubaker: A bit, yeah. In doing research for the project, I came across a lot of movie magazine covers and I wanted to do something special for our launch. I thought the idea of a sort of "Deluxe Edition" of the first issue that was a different size, and looked like an old magazine you'd find in some memorabilia shop on Hollywood Blvd. was a great way to set it apart and one that made sense for the story we're telling and the world we're inhabiting.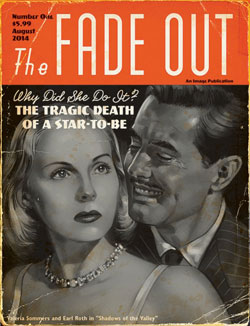 It's for our more die-hard fans, for sure, and we're only doing it for the first issue, and it'll probably end up being collectable because we're only printing what we get orders for, so anyone who wants one had better tell their retailer.
PREVIEWSworld: Warren Ellis has said that you and Sean Phillips are the "gold standard of the crime graphic novel." Very high praise! What is it about the crime genre that brings out some of your best writing?
Ed Brubaker: Crime stories are about people in bad situations that are about to get worse, and there's just something about that that draws me in, as a reader and a writer. And honestly, you can tell so many types of stories in a crime story, from Hamlet to Bladerunner to Inception. It's a very elastic genre. Crime, and noir, and mystery in my mind are all the same at this point.
PREVIEWSworld: How would you compare writing crime noir to, say, Captain America?
Ed Brubaker: I guess it's as simple as this: in a crime story Cap would have had to kill Bucky when he was the Winter Soldier, but it would have been a mercy-killing that broke Cap. In a superhero comic, he saves him. I'm not saying the version where he kills him would be a better story, but that's the difference in the genres.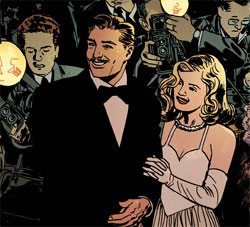 PREVIEWSworld: The Fade Out functions differently from Fatale or Velvet in that you have many sub-plots unfolding simultaneously. Can you tell us of the challenges you faced in undertaking this new direction? Did you tap into some new muse?
Ed Brubaker: The Fade Out is a bit more expansive than some of the stuff I've done recently, because there is a lot of ground to cover here, and while we have a "main character" it's more like how Don Draper is the main character on Mad Men, but there are five other main characters, too, who are all demanding time in the spotlight. So the challenge is to make sure all these plot-lines weave around each other in the most exciting way, or just the right way, to get the sense of scope across.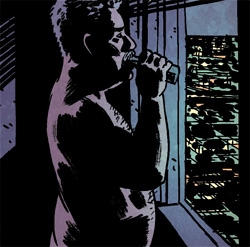 So I guess if there's anything new in the muse department, it's more just looking at things like Mad Men and Game of Thrones, and thinking of bringing that kind of epic storytelling to a crime comic, and figuring out what works and doesn't.
PREVIEWSworld: Ed, will you be making any convention appearances this summer? Should people consult http://criminalcomic.blogspot.com for news, or are you more likely to write about where you'll be on Twitter?
Ed Brubaker: I'm hoping to get to SDCC for at least a few days, but I haven't got anything planned yet for sure. And yeah, readers can always find me at @brubaker on Twitter for news and dumb jokes.