The Return of Little Nemo
Jun 02, 2014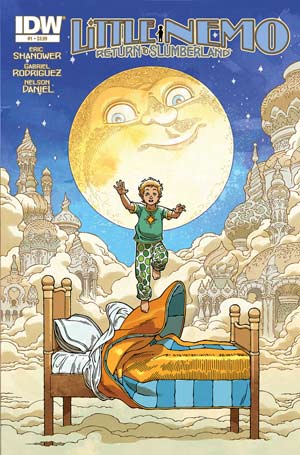 Once upon a time there was a full-page weekly comic strip by Winsor McCay called Little Nemo In Slumberland. The main character, Nemo, was besieged by fantastic dreams that came to life in the strip in such glorious artwork that McCay received critical acclaim for his use of color, perspective, pacing, and detail.
It was the year 1905.
And now, over a hundred years later, Winsor McCay's classic fantasy adventure is back in IDW Publishing's all-ages series Little Nemo: Return To Slumberland #1 (JUN140339) from writer Eric Shanower (Oz) and Gabriel Rodriguez (Locke & Key). The same experimental mechanics common to its 20th century predecessor are likewise throughout this new series that kicks off with a regular and Subscription Variant cover.
If you appreciate bizarre, surreal, nostalgic, and innovative fiction, this is a series that cannot be missed. There is a reason why McCay's original classic has been reprinted countless times since its first publication. The fantastical world of Nemo's dreams is timeless. Should you ever wonder what new architectural structures were possible on the page, Little Nemo: Return To Slumberland #1 will prove that there is no limit to imagination.
Click here to see a preview!