Press Start: Adorable Link Nendoroid Swings Into Comic Shops
May 15, 2014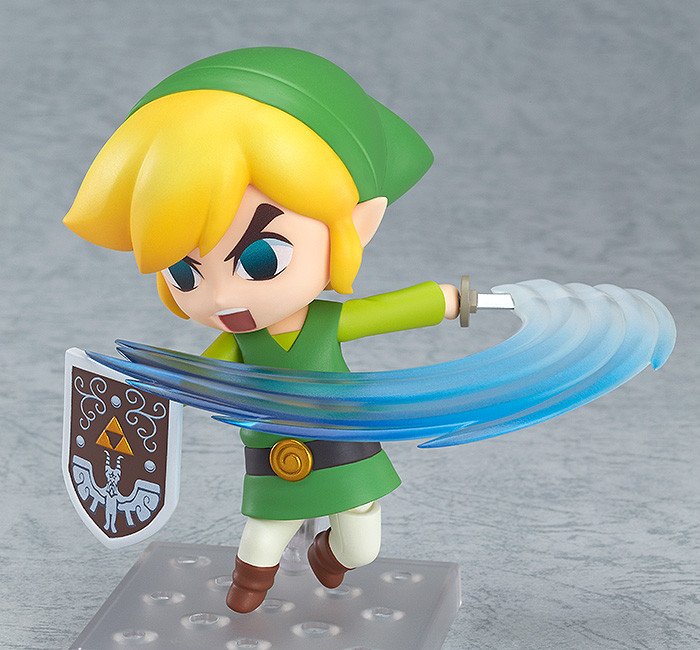 LOZ WIND WAKER LINK NENDOROID
Item Code: MAY142613
In this month's Press Start, Good Smile introduces their new Legend of Zelda: Wind Waker Link Nendoroid figure and Borderlands gets a new miniseries from IDW. Also, be sure to check out some of the other great video game themed comics and collectibles featuring your favorite gaming franchises like Halo, Mario, and much more. Plus, don't forget you can pre-order everything you see below now at your local comic shop.
Following up on their Skyward Sword Link Figma figure, Good Smile is bringing you a brand new take on Link with the Legend of Zelda: Wind Waker Link Nendoroid.

The initially controversial "Toon" Link design from the Gamecube entry of the Zelda franchise has since fell into the hearts of Zelda fans everywhere. And the cartoonishly cute take on one of gaming's most legendary hero is perfectly suited for the Nendoroid design of cute anime and video game character figures.
Featuring a number of different hands, legs, faces, and accessories, the Link Nendoroid is the definitive Legend of Zelda: Wind Waker collectible as it perfectly captures the design of "Toon" Link with its cute visage and litany of parts and accessories. Click here to see more photos and to get a sense of the number of different ways you can display Link.
Video Game Comics: Take a Trip to Fyrestone in the New Borderlands Series from IDW!
The loot based shooter from Gearbox is getting a new series from original game writer Mikey Neuman in the form of Borderlands: Fall of Fyrestone #1 from IDW. This comedic trek through the world of Pandora covers the events after Roland, Mordecai, Lilith, and Brick step out of Marcus's bus and realize that Pandora is a far more dangerous planet than they first imagined.
Also, Dark Horse continues their line of ongoing video game comics with Mass Effect: Foundation #13: the explosive finale that leads directly into the Mass Effect 3 Citadel DLC storyline, Halo: Escalation #8 sees the return of everyone's favorite Spartan: Master Chief, Tomb Raider #6 has Lara return to the terrifying island of Yamatai, and The Witcher #5 finds Geralt confronted with a bitter betrayal that leads to the release of a legion of cursed souls.
If you haven't been keeping up with The Witcher series from Dark Horse then be sure to pick up The Witcher TP that collects issues 1-5 of this acclaimed series.
Ubi Soft and Dynamite Entertainment introduce a new four part mini-series with Tom Clancy's Splinter Cell: Echoes #1. Writer Nathan Edmondson takes a shot at Sam Fisher's story by filling in the gap between Splinter Cell: Conviction and Splinter Cell: Blacklist. Click here to see preview pages and find out what else Splinter Cell: Echoes has in store in this PREVIEWS exclusive interview with Nathan Edmondson.

Finally, IDW continues their recently released Angry Birds series with Angry Birds Comics #2. Where the birds take a trip to Piggyland but quickly learn it is definitely NOT the happiest place on Earth!

The DST Yeti Bank Leads an Army of Other Great Gaming Toys and Collectibles

Diamond Select Toys unleashes the Yeti Bank based on the new Plants vs. Zombies game from Popcap and EA: Plants VS Zombies: Garden Warfare! The Yeti is the big man in the zombie army, and he's all set to stomp some plants. This 7" vinyl bank has a coin slot on the back, an access door down below, and is totally in scale to your Garden Warfare Select action figures, making him an integral part of any suburban assault!
From mugs to building sets, there are plenty of Nintendo toys and collectibles to please any gamer. Like the Legend of Zelda Mugs from Dark Horse (Young Link and Link on Epona), where you can drink your hot beverage of choice out two awesome mugs featuring art from the Legend of Zelda: Ocarina of Time.
Then there's the Pokémon 4" Trainer Action Figure featuring multiple points of articulation and small Pikachu figure. Also, be sure to check out the KNex Super Mario 3D Land Prongo Building Set where you can build your very own Mario level with the new jump disk and launcher that allow Mario to run and jump just like he does in the game.
You can also start collecting New Super Mario Bros. U figurines with these new mini-figurine 3 packs, featuring characters like Mario, Luigi, Peach, Bowser, and more! And finally, fans of past releases of the Mario Plush series can get ready for the new 8" Lakitu Plush, featuring the mysterious turtle in the clouds along with an attached Spiny.
However, if cute Mario plushes aren't quite your taste, than you might be interested in some even cuter plushes based on the classic shooter: Doom! Gaming Heads brings you three iconic Doom characters with the Doom Space Marine, Cacodemon, and Pain Elemental plush toys. Featuring high quality cloth materials and a cute design straight from Mars, these plushes are a great addition to your video game accessory collection.

Square Enix continues their line of Final Fantasy Static Arts Minis. Choose from a Mini Squall, Mini Chocobo, and Mini Moogle to either add or complete your collection of these adorable takes on classic Final Fantasy characters.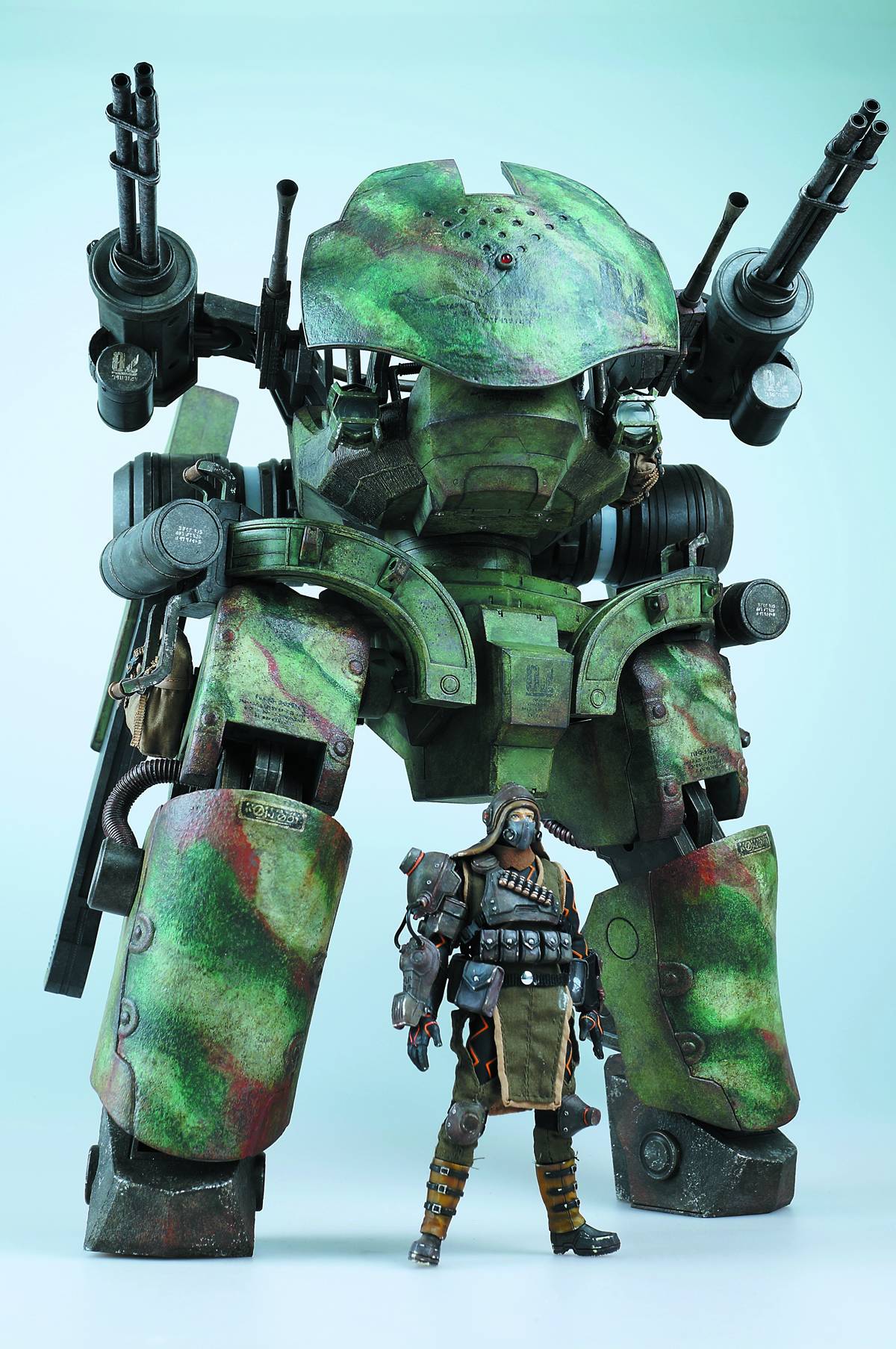 The masters at threeA bring you the fully articulated GTF-11 Drio figure from Lost Planet 2. Standing approximately 15 1/2" tall this figure boasts incredibly detailed mechanical parts, and includes over 100 articulated parts to fully recreate its look from the Capcom video game! Plus, it also includes a 6" Mercenary action figure with detailed armor parts and fabric clothing to fit inside and pilot the mech.

Finally, First 4 Figures is proud to present the Akira Yuki Statue, the mascot character of Sega's long running Virtua Fighter series. Standing at 1/6-scale and measuring 11" in height when crouched, Akira is cast in high quality polystone and painted by hand. He is stands in his signature pose from Virtua Fighter 5 and appears to be ready for action. Virtua Fighter fans won't want to miss out on this premium statue that includes an authenticity card for true collectors.

That does it for this month's roundup of all the gaming goodies featured in the May PREVIEWS. All of the products featured here are available to pre-order now at your local comic shop, and be sure to check back each month to see what other gaming comics and collectibles await on PREVIEWSworld.com.