From Zero To The '40s With Karl Kesel's The X-Files
May 15, 2014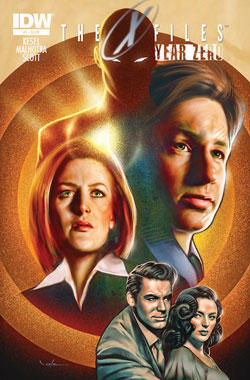 by Vince Brusio
Karl Kesel has his hands full with two of the most familiar investigators of the paranormal: Agent Mulder and Agent Scully. We know them as the familiar faces on TV's The X-Files. Karl Kesel now knows them as his willing pawns in the IDW Publishing mini-series, The X-Files: Year Zero #1.
**********
PREVIEWSworld: Science fiction oddities have been around forever, and most notably since Rod Serling gave us The Twilight Zone. It seems that the description for The X-Files :Year Zero #1 may be harkening back to those good old days, given the plot line in the May PREVIEWS solicitation (1940s housewives). Did any of those old school shows (The Outer Limits) have any influence on this new mini-series? Will we see people smoking in doctor's offices again?
Karl Kesel: I'm a huge fan of The Twilight Zone, and one of my childhood memories that scarred me for life was an episode of The Outer Limits (something to do with fish people and a dam; that's all I really remember, except it scared the Hell out of me!) so on some level I'm sure those affect The X-Files: Year Zero. But just as important, if not more so, is that the 1940s were the birth of the modern UFO— with the Roswell crash and Kenneth Arnold sightings near Mt. Rainier, among many other things.
Add in the growing paranoia generated by the Cold War and fear of an Atomic War, and there's a noticeable shift in the zeitgeist— the scariest monsters are the ones we don't or can't see. It's almost a relief to fight giant, mutated ants— something tangible we can confront and clearly defeat. And an important third part is the noir sensibility of the time— which I'm finding fits in astonishingly well with The X-Files.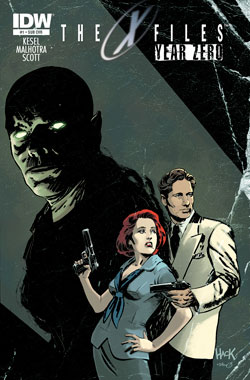 PREVIEWSworld: How did you approach this new story? You're obviously familiar with the show's history, and the films. But given that some readers may associate your name more with Fantastic Four or Superboy, can you tell us how you shifted gears to write a story that deals more with characters who typically investigate paranormal activity? Why are you attracted to The X-Files?
Karl Kesel: Four words: Challengers of the Unknown. They are my favorite comic characters, bar none, and I've never made any secret of that. Just ask anyone who has ever worked with me. I find the idea of ordinary people confronting extraordinary odds— superhuman and/or supernatural— and win the day through sheer skill and determination to be extremely compelling. Now that's comics! Clearly, Fantastic Four is only a step away from the Challengers, and when Tom Grummett and I did our second stint on Superboy the high concept was "Jack Kirby does Jonny Quest." Then Tom and I went off and did our creator-owned Section Zero (something we'd love to get back to, if we can ever get the math to work) which was another short step away from the Challengers. And the distance from Section Zero to The X-Files is even shorter. So to my mind, at least, all these things are not that different from one another. In many ways, in fact, The X-Files is purer and closer to what I've always wanted to do.
PREVIEWSworld: So without giving anything away, what can you tell us about this new six-issue mini-series? What might we see if peek behind the curtain? What cool visuals did artist Vic Malhotra and Greg Scott conjure?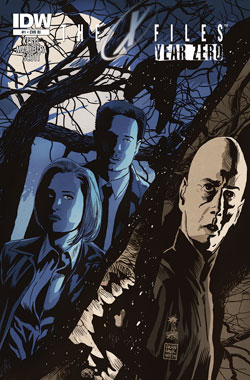 Karl Kesel: I can say this: I'm having far too much fun writing Mulder and Scully. They really are excellent, well-thought-out characters. I'm also having a blast with the 1940's side of the story— where the pressure is really on to make Bing Ellinson and Millie Ohio every bit as interesting and enjoyable as Mulder and Scully! Bing and Millie don't know what they're getting into at the story's start, and they don't have any sort of roadmap to follow, so they're making it up as they go along and blazing trails that, in many ways, Mulder and Scully still follow. I'm also sneaking in a few Easter Eggs for eagle-eyed readers, which entertains me, at least!
As for visuals: Vic and Greg are doing great work. I've had more contact with Vic, simply because we need to work out all the 1940s stuff, and the give-and-take between us has been exhilarating and fun.
PREVIEWSworld: If you had to reflect on what you thought were some of the most pinnacle moments in The X-Files history, what would make it to the Top Ten list? What has to go on those cards for The X-Files boardgame some day?
Karl Kesel: Well: Flukeman. That goes without saying. I'm also a huge fan of Jose Chung's From Outer Space, partly because it uses a lot of ideas I first encountered through the writings of John Keel, and I love Keel's work. (Keel wrote The Mothman Prophesies which is a great, creepy book). Home— the one with the crippled mom living under the bed— is another episode that gets under your skin and never goes away. Not the scariest episode, but definitely the most disturbing.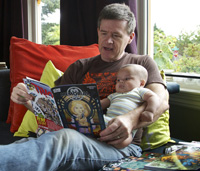 Oddly enough, I think one of the weakest episodes is Shapes — the "werewolf" episode from Season One where they talk about the formation of The X-Files in 1946! It's the one episode of the series that we had to pay close attention to, and I think we got a pretty good story out of it. As Mulder tells Scully: "What you know about this first file? You don't know everything."
PREVIEWSworld: Karl, will you be hitting any conventions this year? If not, is there any way for fans to reach out to you on social media?
Karl Kesel: With two small children at home, both at or below 2 years old, I'm not planning any convention appearances at present. And I'm lousy at social media. So I'm not much help in those departments, am I?