Women In Comics Month: Mimi Cruz
May 08, 2014
Mimi Cruz is the manager of Night Flight Comics in Salt Lake City, Utah. As a woman in the comic book industry, she was able to talk with PREVIEWSworld about her experiences in honor of Women in Comics month.
---
PREVIEWSworld: Does working within the comic book industry change the way you approach your job? How do you think it differs from working at a store that doesn't deal with comics?
Mimi Cruz: My desire is to do the best job I can possibly do, no matter what the task, hence, my work ethics are the same as they have always been.
PREVIEWSworld: How did you become interested in the comic book industry?
Mimi Cruz: The opportunity presented itself while working for a company that decided to move out of state and it seemed like a good time to leave that industry for a much more interesting prospect of working with comic books.
PREVIEWSworld: How has working in the comic book industry changed your perception of the people and culture of comic books?
Mimi Cruz: My initial perception working in a comic book store was that the vast majority of people walking into our shop were not readers and appallingly illiterate to the simplest requirements, like writing a check. As I was asked to fill out customer's checks for them. Meaning, they did not know how to spell words like, "Twenty Dollars and Twenty-Four cents." or "Night Flight Comics" or "April 18, 1987."
That first week, I spoke to an educator in the store that mentioned the difficulties of reaching students when they were not already reading by the 7th and 8th grade. She thought maybe encouraging them to also try reading comic books might help. I immediately scheduled an introduction to comic books session with 120 of her 8th grade students at a local middle school and have never stopped working with teachers since.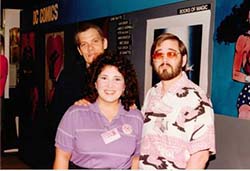 As a female reader of all things, be it comic books, novels, magazine, cereal boxes over breakfast, etc. I had never socialized with other comic readers in discussions about what we were reading. It was fun, interesting, educational, and is still one of my favorite day-to-day duties.
PREVIEWSworld: Do you find that you have to be a fan of comic books to succeed? Why or why not?
Mimi Cruz: Being a fan of great art attracts all sorts of people to our industry and can in fact help to grow the readership and appreciation of the comic book art form.
However, my initial response to your question is that anyone who has a passion for their work will succeed because they will exhaust all avenues to reach their goal. Without a real desire and commitment to do a good job, it is difficult to achieve anything.
PREVIEWSworld: Do you think the target audience for this industry is men? How have you or how do you plan to change the target audience to women?
Mimi Cruz: Initially yes, but despite the best attempts to do that, target men exclusively, women and girls have found their way into our industry and specifically our store(s) from the first day we opened.
Surveys (and I do not have any at the tip of my fingers) have indicated that the majority of readers (in this country at least) are women. Women spend the majority of dollars and control the majority of disposable income for most households.
From day one, I approach what we do at Night Flight Comics with the goal of welcoming anyone interested in reading. Consequently, women and girls have always shopped with us.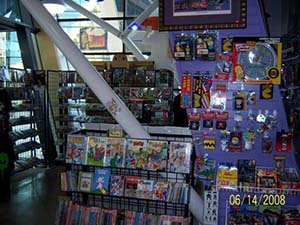 PREVIEWSworld: When promoting a book or product, do you every try to use one campaign for men and one for women? Would you be likely to spend more money on the campaign geared towards men?
Mimi Cruz: Not at all, I try to evaluate a variety of points; if possible, (a) reading a sample(s) of the work; if that is not available, (b) evaluate the artists involved, what is their track record. Do they follow through on their work? Do they bail before a book is finished? Do they half-attempt their work with sub-par art or rushed storylines? Are they continually late with their work? Do they tell our customers one thing and us another? (Which I have personally had happen directly when the artist only thought I was an interested fan and not a comic book store manager ordering their work.)
Artists who have built respectable consistent track records for their work, have earned our respect and support. (Even from those who do not recognize what they owe.) It is my hope we can all recognize those artists and support their new projects.
Let me clarify, I'm not referencing gimmicks like re-numbering or re-naming titles, multiple covers, et al. I'm exclusively talking about great stories, great art. No on cares that Frank Miller's Daredevil or Chris Claremont's Uncanny X-Men run did not start on a #1 issue. Great stories, great art and they are still worth reading today.
No, I don't think it is reasonable to look at spending more money targeting men vs women. The world is too exposed for that anymore.
PREVIEWSworld: Do you feel like you have to "look out" for the other women in comics? Due to the fact that women are a smaller group in the industry, do you feel a sense of community with the others (fans, creators, executives)?
Mimi Cruz: No, however, I do "look out" for my friends be they women or men.
PREVIEWSworld: As a woman, how would you ideally like to see women represented in the comic book industry?
Mimi Cruz: Fairly.