The Goon and Franky Are at It Again in Dark Horse's One for the Road One Shot
Apr 22, 2014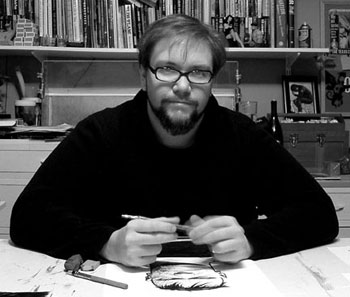 The Goon has been compared to Mike Mignola's Hellboy series (also published by Dark Horse) for its pulp-ish approach to horror, reminiscent of EC Comics and other outrageous comics of the 1950s. That pulpy, noir feeling is enhanced by the general look of the book, which heavily evoke the gritty crime films of the 1930s and 40s. But the series also offers its share of humor, pathos, and tragedy, making it far more than the sum of its influences.
Both The Goon and series creator/writer/artist, Eric Powell, have won a total of five Eisner Awards in the course of its publication, as well as praise from critics and fellow comic creators. According to Bone creator Jeff Smith, "Eric Powell has created a sharp, witty little monster comic with a very interesting mystery at its heart. And Eric can draw as well as anyone in the business".
This June, Powell delivers a one-shot story featuring The Goon and his trusty sidekick, Franky in The Goon: One for the Road (APR140016)! Goon and Franky meet a sailor on the hunt for his buddy... but trouble ensues when the trio go bar to bar in genre-hopping pursuit.

PREVIEWSworld spoke to Eric about this new story and what fans can expect in the future!
---
PREVIEWSworld: What would you tell those folks who have not read any of The Goon stories to get them properly primed?

Eric Powell: Well, I guess I'd say… If you're tired of reading the same story over and over again when you go in your local comic shop, you need to start reading the Goon. Also read it if you like laughing at punching and sadness.
I understand Goon is a hard sell. I have people come up to me all the time at conventions saying how they got their friends hooked and it always starts with, "They asked what it was about and I didn't know how to describe it. I just told them they had to read it to get it. Now they're hooked!" But I think the very reason that makes it a hard sell is the same reason why so many people do love it. At least it's different.
PREVIEWSworld: The Goon's one shot One for the Road arrives in shops in June, but this character has gone through amazing character arcs over the year. What do you feel was the core of the Goon that you understood from page 1 of your work and which parts of him and his world were the most unexpected surprises for you as a creator?

Eric Powell: From the beginning I always had the perception of this character being a little complex. Even if it wasn't stuff I was putting on paper, I knew he reacts a certain way because he had been through some bad times. I'd say the character hasn't surprised me as much as the types of stories I've been able to do and have the characters accepted by the readers. When I started the book, it was pretty silly. I still like doing silly stuff, but when I can get an emotion out of someone, make them have sympathy for a character or make you feel their loss, that's when I really feel like I did something. When those work, I'm still surprised.
PREVIEWSworld: Tell us about Franky. If you had to break him down into a formula, what's he made of? How much of the Franky formula is alcohol-based?

Eric Powell: I wouldn't complain about Franky's alcohol consumption, if I were you. Trust me, people, he's much worse sober.

PREVIEWSworld: The Goon recently celebrated its 15th anniversary, that's quite a milestone. Over the years working with your cast of characters, what was your favorite story arc, the one that means the most to you as a creator?

Eric Powell: Chinatown seems to be the story that really made people view the book in a different way. It's also the book that readers view as my best. So I would say Chinatown, but Goon #38, an issue I dedicated to my grandmother, is probably the most important to me.
PREVIEWSworld: You teamed up with legendary Jack Davis of MAD Magazine fame for the cover art on One for the Road. How'd that come together?

Eric Powell: Begging. Lots and lots of begging. No, my editor set that up by my request. Mr. Davis was kind enough to agree. I'm a HUGE Jack Davis fan. He's one of those guys that are great at mixing realism with cartooning. When people ask me who my influences are, I always mention him.
A few years back he did a cover for Fear Agent and I was so jealous Rick Remender and Tony Moore had gotten him. He is really selective these days. I was always nervous to see if I could get a Goon cover. Finally bit the bullet and asked; I was extremely flattered that he agreed.
PREVIEWSworld: The one-shot (One for the Road) will land in June, but there's also a new mini-series (Occasion of Revenge) landing in July. Are the two linked?

Eric Powell: The two are very separate. One for the Road is on the light hearted humor side of the Goon. Occasion for Revenge is more in line with Chinatown. It's a dark story that is going to affect the character deeply. It's setting up a new gang war in the Goon's nameless town. It deals with a big threat and also small individual stories of characters that I think will give readers a broader understanding of them. It's interesting that I get a little worried about this one mini-series, how everyone is going to like it, and I remember I having the same feeling about Chinatown. I can only hope it is met with as much positive response.