Eric Powell Pays His Dues And Gets Big Trouble From John Carpenter
Apr 10, 2014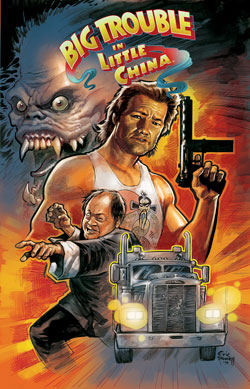 by Vince Brusio
Ah, the 80s. Leg warmers. Olivia Newton John encouraging us to get "physical." Reagan. Videotape. It was the time when movies started making their way to videotape. Then, later, those movies were on DVD. And now, one of those 80s movies that went from VHS to DVD is now on its way to your local comic shop. That movie is Kurt Russell's Big Trouble in Little China. And the man in charge of writing the book, Eric Powell, gave us an exclusive interview to tell us how he turned a cult movie into the Big Trouble in Little China (APR140960) mini-series for BOOM! Studios.
**********
PREVIEWSworld: Big Trouble In Little China — an iconic 1986 film that mixes fantasy, comedy, and martial arts — and you guys just NOW make it into a comic. So what gives? John Carpenter called and said "Hey, guys, my calendar's filled for 28 years. But in 2014, we're doing this book!" How about letting us know how this project got underway.

Eric Powell: I'm not sure exactly how this comic originated at BOOM! I just know when they asked me, somewhat hypothetically, if I would like to work on it, I believe my response was, "Oh, yeah, I think I could write some Jack Burton."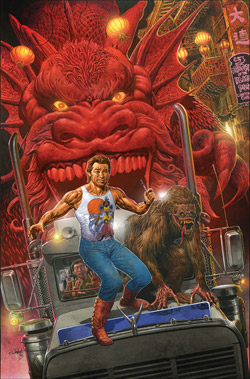 PREVIEWSworld: So who invited who over to said guy's house for a DVD/Blu-Ray marathon? Or was a sit-down with BOOM!'s editorial staff the homework you took on for preparing your page breakdowns? Was there talk about which "shots" from the film would translate best to the pages as iconic imagery?

Eric Powell: Well, it's not an adaptation. It's a sequel. It picks up right where the film ends in 1986. I submitted an outline of what I thought the series should be, then we met with Carpenter to brainstorm. I'm very happy that Carpenter and I were on exactly the same page. It's been an extremely smooth process so far.

PREVIEWSworld: What is it about this film that would have you put it at the top of your Netflix favorites list? Was it the over-the-top gonzo story? Kurt Russell's deftness at doing comedy/action all in one take? Martial arts lack of respect for gravity? Tell us why you think it's one of the ultimate flicks to watch over pizza and soda.

Eric Powell: To put it bluntly, I think the movie has balls. Sure, it's all over the place with action, gunfights, and kung-fu, but it was also really daring to make the action hero inept and pretty much the comic relief.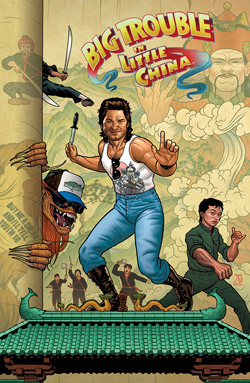 PREVIEWSworld: You're more familiar with creating comics than films. So a movie producer/director like John Carpenter coming over to play in your sandbox must be quite a thrill, yes? How does it make you feel to know that you're working on a book that has its roots in movie history forever streaming on our television sets?
Eric Powell: I have been a HUGE Carpenter fan forever. His version of "The Thing" is one of my all-time favorite movies. It's awesome to get to work with him. I just hope that our comic holds up to the legacy of the film for all the fans out there. Us included.

PREVIEWSworld: If you sat at a panel, and had a minute to speak into a microphone to talk about this book so that people would get pumped up enough to check it out at their comic shop, what could you say that would best light a fire? Tell us how this book radiates pizzazz.
Eric Powell: If you like The Goon, the guy who does that is writing Jack Burton and Brian Churilla is drawing him. If that doesn't make you want to buy it, nothing else I say is gonna do a damn thing.