Press Start: Dark Horse Goes To Hyrule With New Legend of Zelda Figures
Apr 11, 2014
In this month's Press Start, Dark Horse introduces their new Legend of Zelda figures and Angry Birds invade IDW with their very own comic series. Also, be sure to check out some other great video game themed comics and calendars featuring your favorite gaming franchises. And don't miss out on all the great video game toys and collectibles like the Batman: Arkham Origins Play Arts Kai figures, Halo Sprukits, and much more. Plus, don't forget you can pre-order everything you see below now at your local comic shop.
This month Dark Horse Comics is bringing you new comics and collectibles from gaming's biggest franchises. Starting with the Legend of Zelda: Twilight Princess Link and Ganondorf Figures, these 10 to 12 inch non-articulated figures stand on a custom base in their iconic poses. Each figure is meticulously detailed and approved by Nintendo. They're the perfect addition to any Zelda fan's collection.
Dark Horse also continues their line of ongoing video game comics with Mass Effect: Foundation #12 where Thane is given a chance for redemption for to get a new chance at life, Halo: Escalation #7 follows an attack on earth while Spartan Gabriel Thorne investigates what it had to do with Master Chief, Tomb Raider #5 sees Lara hot on the heels of a mystery that's put all her friends in danger, and Witcher #4 finds Geralt within the unrelenting torment of the House of Glass where Jakob's true motivations are revealed.
Horror fans, don't miss out on The Art of The Evil Within. This new entry into the "Art of …" series focuses on the newest horror game from Resident Evil creator Shinji Mikami. Go behind the scenes and witness never-before-seen concept art as this unique art book takes you on a terrifying ride showcasing what went into making this horrific thriller.
The Angry Birds Invade IDW with their New Series
It's Angry Birds Month at IDW Publishing as they feature their newest comic series, Angry Birds #1. The world's bestselling paid app is now a new all ages comic featuring everyone's favorite Angry Birds as they continue their fight against the Pigs. Angry Birds #1 features a fun-filled, action packed story from Eisner-nominated creator Jeff Parker. Check it out this June!
Also, be sure to collect all four Angry Birds Micro-Comic Fun Packs! Each collectible Micro-Comic Fun Pack features a newly designed cover illustrated specially for this format and a full 32-page comic printed on heavy matte stock. Each pack includes a full comic and several pages of fun activites!
But the Angry Birds aren't content with just having their own comic. So, they are invading a couple of IDW's other comics with Angry Birds variant covers for titles like Ghostbusters, Rocky and Bullwinkle, and Star Trek.

Video Game Calendars and other Gaming Comics and Merchandise
Get ready for 2015 with any of these great gaming calendars featuring The Legend of Zelda, Assassin's Creed, World of Warcraft, and Batman: Arkham Origins. Each 16 month calendar features new monthly art work that's perfect for an office or bedroom.
Also be sure to check out the newest entries in Archie's Sonic series with Sonic the Hedgehog #262, Sonic Universe #65, Sonic Super Special Magazine #12, and Sonic the Hedgehog: Genesis. And see the continuation of the Mega Man and Mega Man X crossover event with Mega Man #38!
The battle rages back and forth between the Distortion World and the regular world! Find out if peace will ever be restored to the Sinnoh Region in Pokemon Adventures Platinum Vol. 11 from Perfect Square.
Dynamite Entertainment brings you another comic adaptation of a fan favorite app with Doodle Jump #1. Follow the Doodler as he survives killer penguins and a harsh wintry world in this new series from writer Meredith Gran.
Finally, check out Persona 4: The Animation – Complete Collection on DVD. Journey into the Velvet Room and beyond, as the hit game is adapted into a slick anime series collected here for fans new and old.
Play Arts Kai and Sprukits Lead a Great Month of Gaming Collectibles
Square Enix continues their streak of amazing Play Arts Kai figures with Batman: Arkham Origins. Both Batman and Deathstroke feature a multitude of accessories and high quality sculpts based on their appearance from the game. See more of these two incredible figures here to get a detailed look at what you can expect from the master craftspeople at Square Enix.
Bandai's new series of action figure model kits called Sprukits are getting a big release this summer, and the Halo series is one of the first properties to get a line of Sprukit model kits. Divided into three different skill levels these model kits offer a fun way to build and play with their easy to snap together pieces and high articulation. Beginners will want to choose from Master Chief, Gabirel Thorne, or Sarah Palmer in the Level 2 series. But, if you feel up to the challenge, be sure to get the Level 3 Master Chief Model Kit featuring a more complex build and unpainted pieces. Whatever level you choose, you're bound to have fun building and playing with Sprukits!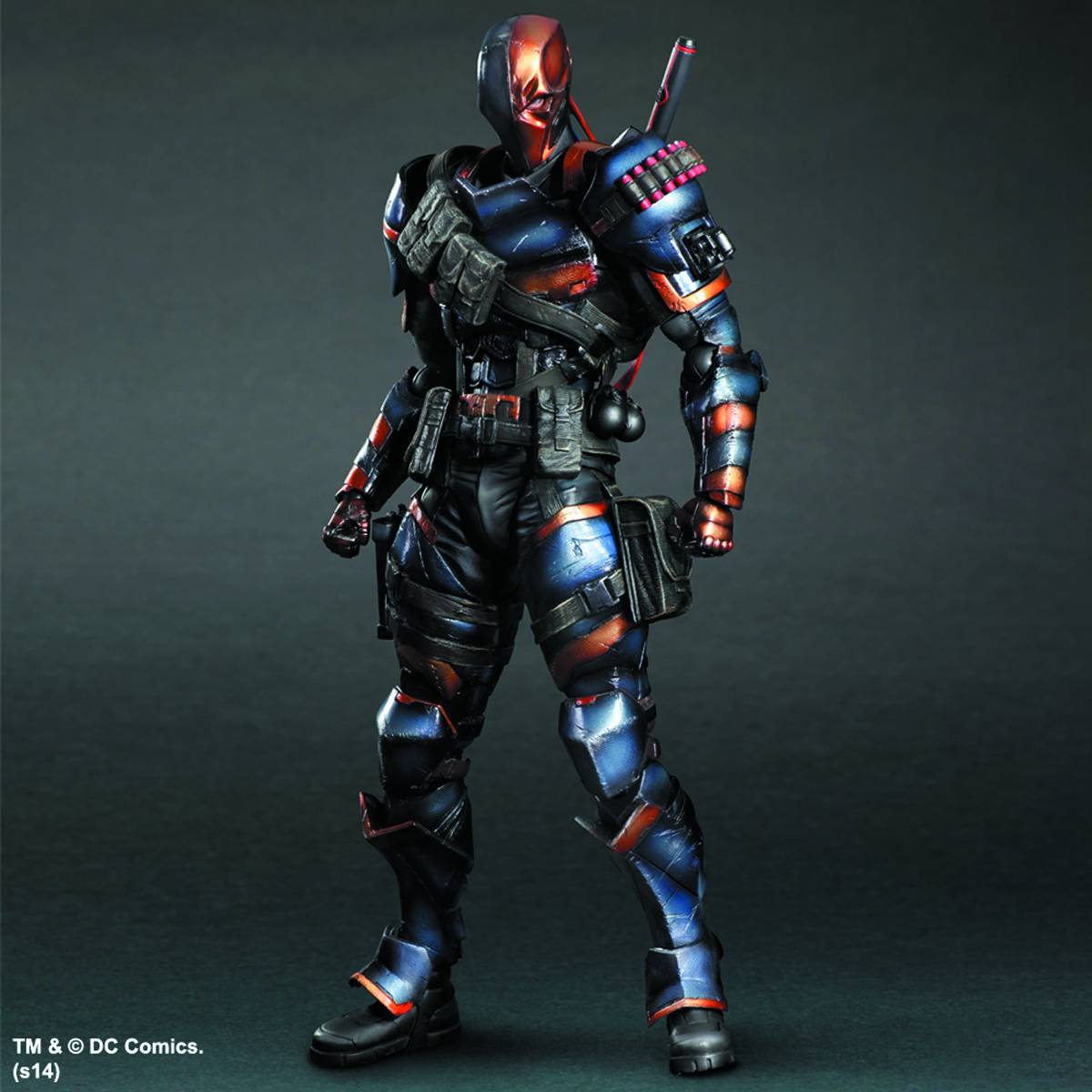 Fans of Valve's Team Fotress 2 should check out the Team Fortress Series 3 action figures from NECA. Series 3 of these detailed action figures are faithful to the animated look of the characters in the game. And new in Series 3 is The Engineer and the Spy, each stand over 6" tall and feature over 20 points of articulation and include signature in game weapons and accessories. Plus, each figure also comes with an in game code to unlock exclusive content in the Team Fortress 2 game!
And finally, from Square Enix comes The Final Fantasy Play Arts Kai line. This new series extends the ethos of Play Arts Kai to the fan-favorite video game series, and Dragoon from Final Fantasy Online XIV is the first to join the line. Featuring rich detail and incredible articulation, this is one figure fans of Final Fantasy won't want to miss out on.
That does it for this month's roundup of all the gaming goodies featured in the April PREVIEWS. All of the products featured here are available to pre-order now at your local comic shop, and be sure to check back each month to see what other gaming comics and collectibles await on PREVIEWSworld.com.