Worlds Collide In Cartoon Network Mini-Series
Apr 07, 2014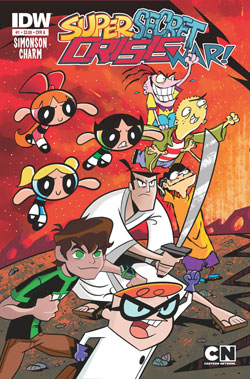 IDW Publishing announced this year at ComicsPRO that they were launching their first six-issue Cartoon Network crossover series, and now that series kicks on in the April issue of PREVIEWS! Cartoon Network titles that were announced to be featured in crossover ranged from "Ed, Edd and Eddy," "Samurai Jack," "Dexter's Laboratory," and "The Powerpuff Girls." The new series title, "Super Secret Crisis War," is, of course, a whimsical tip of the hat to past crossover titles we've seen from both Marvel and DC Comics.
Since IDW was already showing that it was bowing at the knee to those great crossover stories of yesteryear, they decided to go even further with their tribute by bringing on board long-time comics veteran Louise Simonson to write the series. As the former writer of books like Power Pack and New Mutants, Louise's talent is unmatched in how to make young adult titles snap, crackle, and pop.
The backdrop for the story is that malicious miscreants from different cartoon universes have banded together to form the League of Extraordinary Villains. Yes, Alan Moore is probably shaking his head and pouring another pint. But that's what makes this tongue-in-cheek adventure such a blast! It's all for one, and all for fun, and it's also been said that in July five one-shot books will be released to tie into "Super Secret Crisis War."
Look for Cartoon Network: Super Secret Crisis War! #1 (APR140354) from IDW Publishing in the Premier Comics section of PREVIEWS!