Sneak Peek: "Sally of the Wasteland #1" from Titan Comics
Apr 02, 2014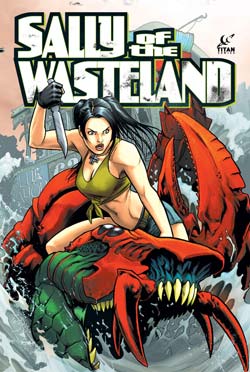 So once the big one hits, then what happens? Well, if you tune into AMC every Sunday night and watch a show about the dead walking around, you've got an idea. But what if there weren't zombies? Just freaks? And Bertha with her shotgun. That's pretty much the bird's eye view of what the landscape looks like through the binoculars. Where we're standing, anyway. See, we're checking out the blood-spattered Sally of the Wasteland over here. It's the new series from Titan Comics which we profiled in this month's Staff Picks. But beyond what Jay Spence wrote about the book, we've got some pages to check out and we thought we'd share them with you, our loyal readers.
If you want to know what happens when the world goes to hell in a hand basket, we urge you to check out Sally of the Wasteland #1 (APR141391) written by Victor Grishler with art by Tazzio Bettin. Gigantic genetic freaks and roving gangs of blood-hungry barbarians? Yeah, buddy. Give us more of that! And Sally's shotgun. Bertha.
Click here to see the preview!