Batman TV Show Creator Lorenzo Semple Jr., Dies
Mar 28, 2014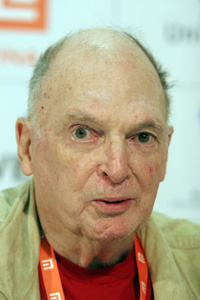 It is with a heavy heart that we announce the passing of Lorenzo Semple Jr., creator of TV's Batman. He was 91 years-old. By his side at his Los Angeles home was his daughter, Maria. The screenwriter had just turned 91 on Thursday, March 27th. Although his name and notoriety was mostly attached to the Batman TV series, Semple was known for a number of later Hollywood screenplays that included The Parallax View, Three Days of the Condor, Papillon, King Kong, and Never Say Never Again.
Hired by producer William Dozier (who went on to become the Batman narrator), Semple created the Batman TV show as a comedy, while the actors played their roles with a straight face. No canned laughter was used, or needed. Although only writing the first four episodes, Semple served as a script or story consultant on every other installment. He is known to have penned the show's laws for other writers, that made rules very clear, and not to be broken: Batman would never break the law. Batman didn't even park in front of a fire hydrant.
For those in fan circles, it was known that Lorenzo Semple was the man who came up with the idea of layering the show's fisticuff scenes with cartoon colorful "Pow!" "Zap!" and "Kapow!" graphics.
Lorenzo Semple will be missed.
Thank you, sir.
You gave us memories we'll never forget.