Larime Taylor Is Your Voice In The Dark
Mar 26, 2014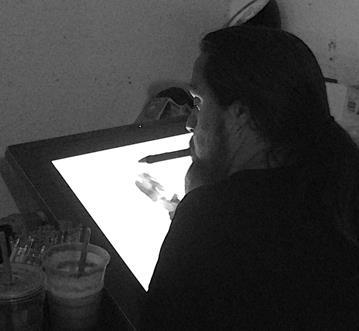 by Emily Testerman
It's time you checked out A Voice in the Dark Volume 1 TP (APR140534) from Top Cow Productions! This ongoing series follows Zoey, a young woman whose urges to kill have only been magnified since she went away to college. Creator, Larime Taylor created this story drawing with his mouth due to Arthrogryposis, a congenital defect that leaves him with little use of his arms and legs. After successfully funding his Kickstarter campaign to create A Voice in the Dark, Taylor has firmly established himself in the comic-book world, and we took a few minutes to speak with him about his new ongoing project.
**********
PREVIEWSworld: How did you come up with the premise for this book?

Larime Taylor: It was originally going to be a campy spoof of the 80s and 90s slasher genre, but took a serious turn early in development. I wanted to create a story that turned all the tropes and stereotypes on their heads. The first rule is that the character of color dies first, so Zoey - my character of color - was going to be the sole survivor. Then I thought about all the movies with the sole female survivor and wondered, what if she lives because she's the killer?

That's when it started becoming more serious, because I realized that I actually had this complex, compelling lead character in a silly, campy story. I decided to tone down the camp factor, though not all of it, there's plenty of surreal/absurd element still in there. The town, Cutter's Circle, being the serial murder capital of the world, the station Zoey does her show at being K.I.L.L., things like that. I kept the trope/stereotype supporting characters, like her roommates, but fleshed them out more.
Krista's the bubbly blonde sorority girl. Mona's the no-nonsense Latina. Ash is the edgy punk/goth. That's just surface, though. They're far more than what they first appear.


Another camp element I kept was the running gag of one character, a basketball player named Brock, being really tall, but instead of panning up I just keep cropping the panels at the female characters' heights, so his head is always off screen. It even turns to blocking his head with a menu, or just showing his torso and hands as he talks. You never see his head. It's silly, but there's kind of a point to it, too. I'm objectifying him the way women get handled in other comics. My book is all about the females, and he's just a headless man-body.
PREVIEWSworld: Who inspired you?
Taylor: Early influences would be Neil Gaiman, J. O'Barr, Terry Moore, and Los Bros Hernandez. I learned a lot about dialogue from novelist Steven Brust.
PREVIEWSworld: The universe you've created is so down-to-earth. It truly hits home. Did you know people like those in the series?
Taylor: Some, yeah. My characters all have pieces of me and bits of friends and family all mixed in. I find it easier to write characters I can relate to on some level, so every character has a little something from somewhere in my life.

PREVIEWSworld: What's your process like in creating the books? Do you come up with the images first then the words, or the other way around?

Taylor: I write the scripts first. I plot an arc, break down the story by issue, outline each issue, then write. After any editing I start shooting reference photos page by page. Most artists learn to draw by drawing themselves in the mirror, but being in a wheelchair I can't really do that. I have friends pose for me. I use them for the basic anatomy and posture, then draw everything by mouth on a Wacom Cintiq. I tone and letter the pages, too. It's a one-man operation, except for the colors on the covers. My wife Sylv colors my covers from #3 on.

PREVIEWSworld: When did you want to create comic books?

Taylor: Art and storytelling is really all I have. This is my only means of having a day job, so I guess that's the big reason. I'm tired of living in poverty on disability. Making comics is all I can really do.
PREVIEWSworld: Any other projects in the works?

Taylor: I'm developing a few as writer-only, but nothing that's been pitched and picked up yet. They're all in the early development stages.


PREVIEWSworld: What does the title mean?

Taylor: It's a play on her show title, Voices in the Dark. It represents that dark killer instinct she has inside her, that part of her she's trying to come to terms with.
PREVIEWSworld: As George RR Martin, said, "You know, I've always considered women to be people," when he was asked about "writing women." A Voice in the Dark has strong feminine tones - were you aware you 'write women well'? I think it can really attract a female demographic - was this your intention?
Taylor: Not so much an intention, but yeah, I'd like to bring more diversity to comics. I'm very humbled when women tell me that I write women well. I agree with Mr. Martin, when I create a character I create a personality first, a person. Then I figure out what gender they are.
When the gender is your starting point, you're taking so many options off the table because we think of men like 'this' and women like 'that'. Make them a person.