Revenge Schizo Style in Dark Horse's New "Dream Thief"
Mar 25, 2014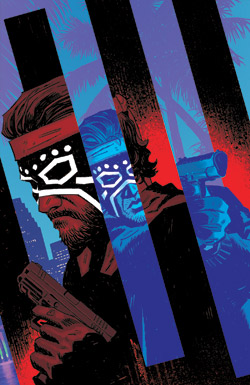 No one wants to get stuck in a nightmare. But imagine if the exit was blocked off by a big guy with arms folded, and there was no way through him unless you were a bullet. Barring your chance at living a Kafka-esque existence, and becoming the bullet, you're not going anywhere, and the big Wall of Doom in front of you gets the pleasure of laughing at you while pointing and shouting "You aren't going anywhere! What's better, I get to make your life even more miserable!"
Such is the situation for John Lincoln, the Dream Thief, who must defend a felon possessed by his father's ghost. It's not exactly a happy-go-lucky "All In The Family" portrait you'd point out on the wall during your next open house party. John doesn't exactly have an easy job on his hands, as he's torn between being a professional and getting revenge for his father's killer.
For a good time in the darkest recesses of the mind, you'll want to check out Dream Thief: Escape #1 (APR140050) the first installment of a 4-issue mini-series brought to you by writer Jai Nitz and artist Greg Smallwood. Check it out from Dark Horse Comics in the Premier Comics section of the April PREVIEWS catalog!
Click here to see the prevue!
Check out these other Dream Thief titles available to order from your local comic shop!