Harlan Ellison's Script Collected In IDW's Star Trek Hardcover
Mar 21, 2014
A drug epidemic sweeps the U.S.S. Enterprise, and Lieutenant Richard Beckwith is at the center of the epidemic. Sentenced to death by a court-martial, he is taken to a dead planet for execution, and there Kirk and his landing party discover the Guardian of Forever, enormously tall aliens who send Beckwith back in time where he disrupts the flow of time. Kirk and Spock travel back to the 1930s to set things right, and there they meet Edith Koestler, a kind-hearted woman, and Trooper, a legless World War I veteran. Somehow, these two natives of the 1930s are the key, and to restore time Edith Koestler must die.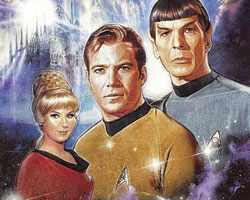 Harlan Ellison, one of science-fiction's legendary writers, wrote the first draft script of Star Trek's "City on the Edge of Forever," which went on to win the Hugo and Writer's Guild Awards. The rewrites of his script were legendary, and Ellison and Star Trek creator Gene Roddenberry engaged in a war of words over the decades over who was responsible and why the script was unsuitable. But the original script was published, and IDW Publishing adapted it in the five-issue mini-series, Star Trek: Harlan Ellison's The City on the Edge of Forever: The Original Teleplay.
The creative team from the best-selling Star Trek: The Next Generation/Doctor Who: Assimilation 2 re-teamed for this adaptation. Scott and David Tipton adapted the script, and J.K. Woodward provided the painted artwork. Readers will meet Beckwith, the dealer of the "Jewels of Light," as well as Ellison's original conception of Edith Koestler and Trooper, a character that Ellison considered one of the most important in his script.
Now fans can rediscover a real slice of Star Trek history with the mini-series collected in Star Trek: The City on the Edge of Forever HC (APR140345) in comic shops February 4th!