Mark Waid Has The Doctor Make House Calls
Mar 20, 2014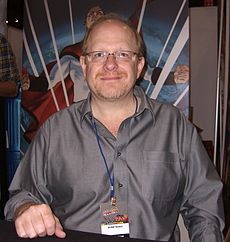 by Vince Brusio
Mark Waid has taken on the job of polishing a Gold Key. In other words, one of the old school Gold Key comic book characters — Doctor Spektor — is about to go under the knife from one of this industry's most prolific writers! Put down the waiting room magazine. Here's an early diagnosis on the new Doctor Spektor (MAR141040) series from Dynamite Entertainment!
**********

PREVIEWSworld: To what do you owe your fondness for this Gold Key character? What's your earliest impression of Doctor Spektor, and how did he leave his mark on your soul?
Mark Waid: Like all kids of my generation, I was a hardcore Kolchak the Night Stalker fan, and hence I've always been a fan of monster-hunters. That's a big part of what I always appreciated about Doctor Spektor, as well.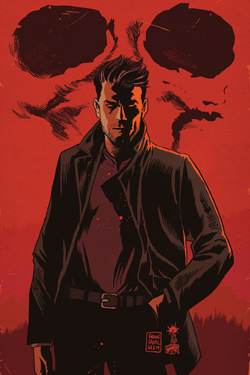 PREVIEWSworld: There are probably more than a handful of readers who aren't familiar with the character. How would you give a background synopsis to those who don't know Doctor Spektor? Is he to be trusted given the company he keeps?
Mark Waid: To be honest, I'm not sure how much cachet there is in sticking TOO closely to the original incarnation of the character from the early 1970s, as there aren't that many fans who even remember the Doctor. But I'm a big believer in respecting the spirit of characters if not the letter of continuity, so the best way to describe him is to say — in this update — he's part ghostbuster, part Criss Angel.
Doctor Spektor lives in a world where vampires and werewolves and all other creatures of myth are as real as serial killers are to us, and his crusade is to combat them — but if he can build a celebrity empire out of doing so on Pay-Per-View, so much the better.
PREVIEWSworld: If you were to compare/contrast Doctor Spektor to another player in the world of the occult, like John Constantine, how would you say the two would square off in a street fight?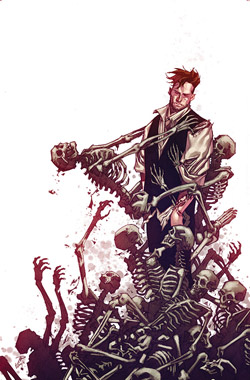 Mark Waid: Constantine deals in old-world magic. Spektor's specialty — given his vast fortune and the army of resarchers and scientists at his command — is in using cutting-edge technology to approximate old-world magic. What's the chemical equivalent of "eye of newt"? How do you create a witch's cauldron out of an electromagnetic plasma field?
PREVIEWSworld: This book is being listed as an ongoing series. So what can you tell us about your vision for this book? How do you see 2014 unfolding for Doctor Spektor?
Mark Waid: As a world of discovery and shock. As I said, the monsters we consider to be fiction are fact to him — and, frankly, are a little old-hat to him. So when he comes across something in issue one that genuinely surprises and terrifies him, you can only imagine how shocking that has to be.
PREVIEWSworld: If you had to point out Spektor's weakness, what would it be? Or has he yet to discover that himself, and that's what makes for a fun read that you're not about to spoil for fear of retaliation from Dynamite publisher, Nick Barrucci?
Mark Waid: Yes to the second! Well-said!
Click here to see a preview of issue #1!
| | | |
| --- | --- | --- |
| ITEM CODE | TITLE | PRICE |
| MAR141040 | DOCTOR SPEKTOR #1 | $3.99 |
| MAR141041 | DOCTOR SPEKTOR #1 FRANCAVILLA EXC SUBSCRIPTION VAR | $3.99 |
| MAR141042 | DOCTOR SPEKTOR #1 BLANK AUTHENTIX VAR | $3.99 |
| APR141116 | DOCTOR SPEKTOR #2 | $3.99 |
| APR141117 | DOCTOR SPEKTOR #2 FRANCAVILLA EXC SUBSCRIPTION VAR | $3.99 |