Matthew Sutton Sharpens His Pencils for DC's Epic Battles
Mar 14, 2014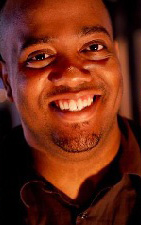 Cryptozoic Entertainment has the DC Comics Epic Battles Trading Cards (MAR141632) featured in the March issue of PREVIEWS, and if you check out the listing on page 432 you'll see that it boasts an abundance of iconic crossover storylines from Zero Hour to Crisis on Infinite Earths. One of the artists featured to contribute hand-drawn sketch cards is Matthew Sutton, and in this PREVIEWSworld Exclusive interview he takes a moment to tell us who moved him to stick with this line of work.
**********
PREVIEWSworld: So how did you get set out as an artist, Matthew? When did you throw your hat into the ring?
Matthew Sutton: Well, I've been drawing since I was two years-old (as my Mom tells it) and I've been a professional artist since I was 17 years old. I consider myself to be a self-taught artist. I'm originally from Ohio. I live in Orlando, Florida now, and I consider myself a penciler. My ultimate goal is to tell stories full-time with my comic book artwork. I'm left handed. I'm 28 years old, and my birthday is the 30th of October. One day before Halloween. Oh, yeah, and I went to art school for 2 semesters and dropped out because I wasn't getting anything out if it.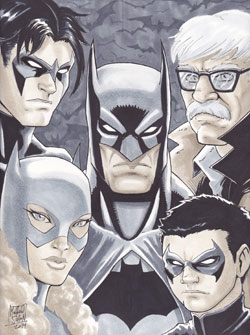 PREVIEWSworld: If you had to cite a personal anecdote that related to your job, what would it be?

Matthew Sutton: This may be interesting to you. I stumbled upon Darwyn Cooke (I had no idea who he was at the time) at Megacon about 3 years ago, back when my passion for drawing professionally and drawing in general were at an all-time low.
Mr. Cooke gave me a combination of a reality check, a honest and fair critique of my sparse portfolio, and words of wisdom that lit my drive and love of art again. I return each year to Megacon to show him my progress. It's sort of my annual pilgrimage to visit the master at his temple.
PREVIEWSworld: Which DC characters would you cite as your favorites?
Matthew Sutton: My favorite comic hero is Batman… or Rorschach… or Judge Dredd depending on when you ask. I like drawing Batman the best, though. My favorite villains are Galactus and Darkseid.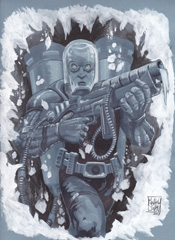 PREVIEWSworld: And your favorite artists would be….?
Matthew Sutton: My artist inspirations are many, but to name a few I'd say Darwyn Cooke, Adam Hughes, Jack Kirby, Ethan Van Sciver, J Scott Campbell, Dave Gibbons, and Alex Ross.
PREVIEWSworld: So now that you've found your muse, and you're putting your creative energies towards things like Sketch Cards, how could people touch base with you regularly to see what future projects are on your plate?

Matthew Sutton: I have an Instagram account (username Sketchbooks) that I update almost daily with new artwork. It helps keeps me moving in the right direction, and also lets me rant on random stuff from time to time.
**********
Look for the DC Comics Epic Battles Trading Cards (MAR141632) listed in the March issue of PREVIEWS!