Press Start: DST Brings You Plants vs. Zombies Garden Warfare Action Figures
Mar 18, 2014
In this month's Press Start, take the battle between Plants and Zombies into the real world with the all new Plants vs. Zombies: Garden Warfare Action Figures and Minimates from Diamond Select Toys. Also, be sure to check out the newest video game comics from Dark Horse, as well as a few new collections of classic video game comics. Finally, don't miss out on all the other great video game collectibles like the Super Mario S.H.Figurarts and much more. Don't forget, you can pre-order everything you see below now at your local comic shop.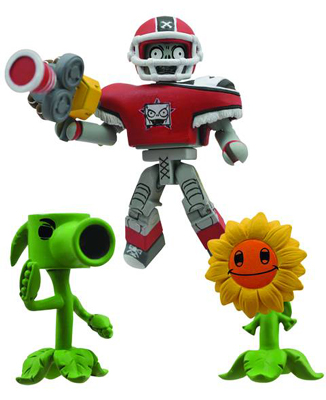 No longer relegated to the ground, the Plants from Plants vs. Zombies have taken up arms to defend the garden against plant hungry zombies in the newly released Plants vs. Zombies Garden Warfare. This online-only multiplayer game exclusive to Xbox platforms (for now at least) was just released to great reviews and positive fanfare from players. And there's no better way to express your love for the game than with the new Plants vs. Zombies: Garden Warfare Select Action Figures from Diamond Select Toys.
These highly detailed figures are arriving in stores this July. Each 2-pack comes included with a Zombie and Plant counterpart with special accessories available only at your local comic shop.
And more importantly you'll be able to unlock exclusive new items and characters with a unique DLC code that comes packaged in each figure 2-pack. The first available figure 2-packs will be the Scientist Zombie and Gatling Pea Shooter, Soldier Zombie and Ghillie Cactus, Engineer Zombie and Chomper, and the All-Star Football Zombie and Dark Sunflower.
Of course, Diamond Select Toys didn't forget to give the Plants and Zombies the minimate treatment. Also coming this July is the Plants vs. Zombies: Garden Warfare Minimates Box Set. It includes the Cactus, Peashooter, All-Star Zombie, Engineer Zombie, and Sunflower. Plus, when you buy the minimate box set you'll receive an exclusive DLC code.
Noteworthy Video Game Comics and a Book for All Types of Fans

Dark Horse continues to bring out new entries in their line of ongoing video game comics with Mass Effect: Foundation #11 where Rasa uncovers the escapades of the galaxy's most notorious mercenary-the universally feared Zaeed Massani, Halo: Escalation #6 pits the Halo universe on the brink of a new galactic war, Tomb Raider #4 finds Lara Croft in the streets of London as she gets dangerously close to the truth, and Witcher #3 discovers the true origins of the tenants
inside the House of Glass.
Also, the entire Metal Gear saga comes alive in the Metal Gear Solid Omnibus TP from IDW! Follow Solid Snake as he fights to save the world from destruction at the hands of Dead Cell. Featuring brilliant, high-energy artwork from Ashley Wood, this is one collection Metal Gear fans won't want to miss out on.
Kingdom Hearts fans will be happy to know about the release of the Kingdom Hearts 358/2 Days Vol. 4 Graphic Novel. In this riveting entry, Roxas has been ordered to go to Wonderland with Organization XIII's No. 10 - the Gambler of Fate, Luxord. Will Roxas be able to keep up with the old man's games? Find out when it's released in comic shops in May 2014.
Finally, take a trip back to the early 90s when things were simpler and two companies were battling it out for living room domination. Brush up on your Video Game history and read all about the now infamous Nintendo and Sega console war in Blake J. Harris' Console Wars. The underdog tale of how Tom Kalinske miraculously turned Sega from an industry punchline into a market leader. It's funny, thrilling, and soon to be a major motion picture from actor Seth Rogen and producer Evan Goldberg.
Super Mario Action Figure and Other Great Video Game Collectibles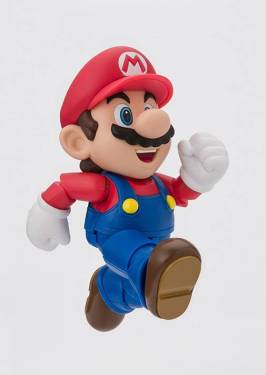 It's about time Mario finally gets his own highly detailed and articulated action figure with the Super Mario S.H.Figuarts from Tamashii Nations. This is the definitive Super Mario collectible thanks to the timeless design and respect to the source material. And when he's properly posed with all the included accessories and optional additional playsets (A and B), the diorama display looks as if the game has come to life on your shelf. Click here to see more images from Toy Fair 2014.

The new Final Fantasy Static Art Minis from Square Enix feature chibi character designs based off the portable Final Fantasy rhythm game, Theatrhythm Final Fantasy. This new series of cute variations on your favorite Final Fantasy characters starts with iconic characters from Final Fantasy VII like Cloud Strife, Tifa Lockhart, and Sephiroth. These Static Arts Minis are a great way to build up your Final Fantasy collection and there's even more coming soon.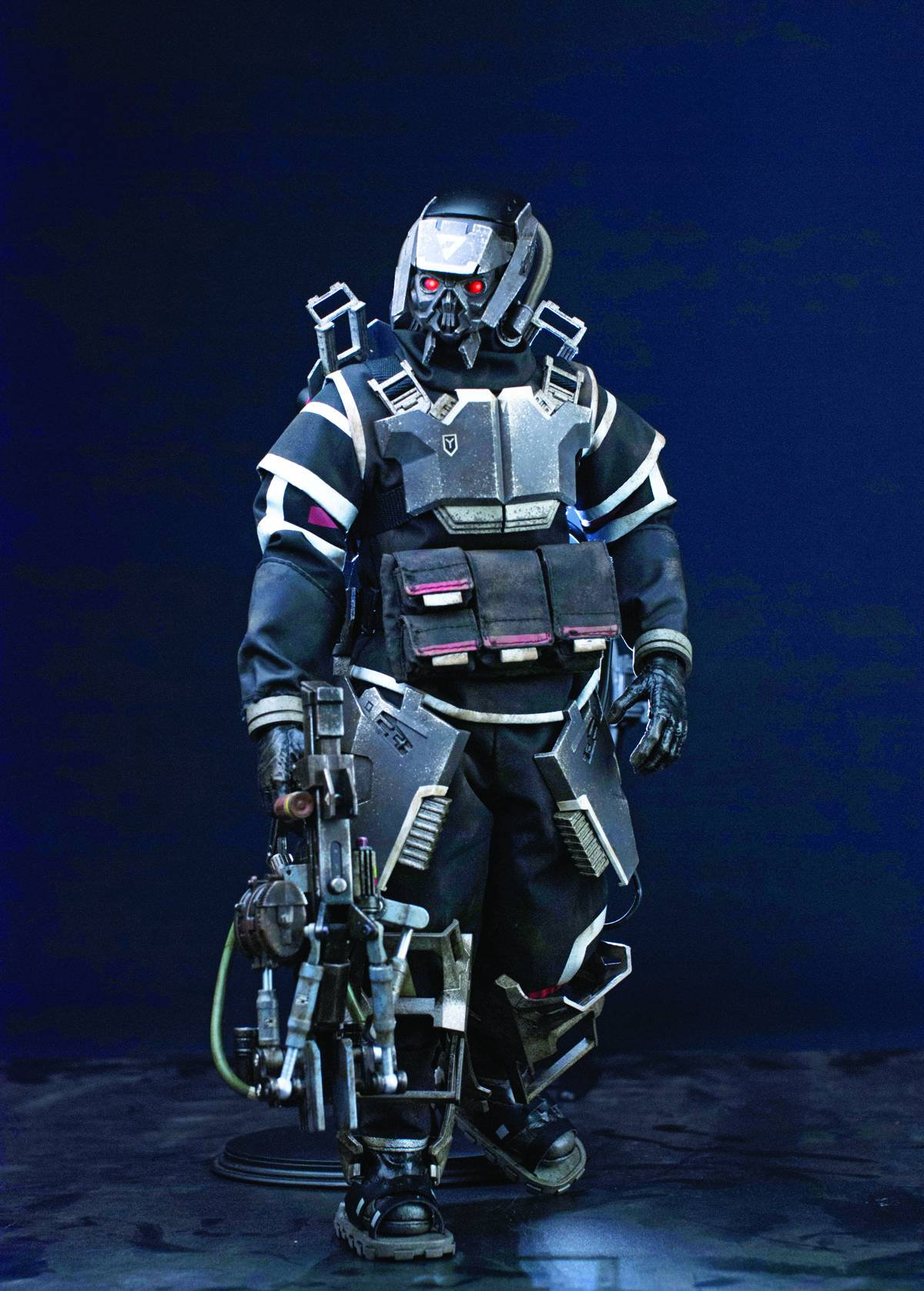 ThreeA is known for their incredibly detailed and high quality action figures from franchises like Metal Gear Solid and The Walking Dead. And now the Sony exclusive shooter Killzone is getting the threeA treatment with the Killzone Hazmat Trooper 1/6 Scale Figure. Standing 12.5 inches tall, this incredibly high quality figure features: a fully poseable action body; a detailed costume with both fabric, PVC and plastic material, plus pouches; realistic soft rubber hoses, cables & metal springs; a Sta-5X Arc Cannon with 4 pistons that move when pulled back; interchangeable hands; and light-up eyes. For fans of the franchise, this is the definitive Killzone collectible.
Mortal Kombat's Sub Zero is one of the franchise's most popular characters. With his cool design and brutal ice moves, he's everyone's favorite blue ninja. And he's getting his own statue from Pop Culture Shock Collectibles with the Mortal Kombat 9 Sub-Zero 1/4 Scale Statue. This amazingly detailed statue features a stunning translucent ice base and Ice Sword. Standing 17 1/2" tall, the statue boasts meticulous detail and also comes complete with a certificate of authenticity.
Finally, join the UNSC with the Halo Warthog Messenger Bag. This functional hardshell accordion-style messenger bag was inspired by the equipment packs carried onboard the UNSC Warthog vehicle! Wear it to school, work, or as a cosplay accessory!
That does it for this month's roundup of all the gaming goodies featured in the March PREVIEWS. All of the products featured here are available to pre-order now at your local comic shop, and be sure to check back each month to see what other gaming comics and collectibles await on PREVIEWSworld.com.