David Lapham Does A Drive-By Shooting With Stray Bullets
Mar 08, 2014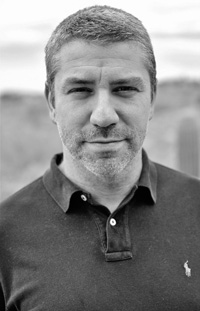 by Vince Brusio

Stray Bullets hit the mark back in the 90s when crime comics weren't as common, and social media was limited to Myspace. Today we have Thief of Thieves and Velvet…and…hey. That's interesting. Stray Bullets is being published by the same company that gives us those same 'Thieves and Velvet books. Yep. Image Comics has added to its roster the mother of all blood n' bullets books done in black-and-white, with David Lapham himself giving us an exclusive interview here on why his flagship title is now flying under the big "I" — and how he's not responsible for collateral damage.
**********
PREVIEWSworld: What's the story behind the Stray Bullets resurrection? How and why do you go back to this book? What moved you to make Image Comics the new home for Stray Bullets?
David Lapham: Stray Bullets is home to me. Maria and I put SB and El Capitán on hold because we started our family and couldn't bring the same level of commitment to the book that made it work so perfectly. I got to go work on a ton of other books, live out some childhood fantasies of writing and drawing my favorite superheroes and got to collaborate with some of the best artists in comics. But it was always part of the plan to find our way back to Stray Bullets.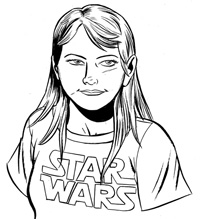 Image provided us a way to have incredibly strong and committed support behind us and take just enough off our plate so we could produce Stray Bullets the right way — which means controlling the book creatively, editorially, and design-wise from cover to cover — exactly what our fans expect from an El Capitán production.
PREVIEWSworld: What do you hope to accomplish with this new series? What new road needs to be travelled? Is it that there are untold stories begging to be brought out of the basement? Were their characters whose closets full of skeletons needed to be opened?
David Lapham: Stray Bullets is a series of interconnected short stories. It was designed to be open to almost any kind of story we wanted to tell in a given month. Specifically, though, Stray Bullets: Killers is the new arc, and it picks up right where Hijinks and Derring-Do left off. In this arc we meet a new character Eli, who undergoes a somewhat similar life-altering event to Virginia Applejack, only Eli is a different person than Virginia and has an entirely different reaction to the events he goes through. I'm writing the story now where the two of them meet and we'll see what the results are.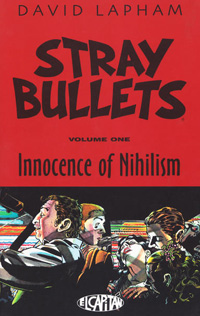 Overall the theme of Killers is just that, it's about people who kill...kill lives, souls, spirits, hearts, and dreams. The traditional noir "hit man" is just the tip of the iceberg.
PREVIEWSworld: With such a full schedule of commitments (including books like Ferals), how do you shift gears in between projects? Is it just a matter of picking a day to work on one book? Or do you work on several projects throughout the day?
David Lapham: A little over a year ago, I made a commitment to myself to focus on the work that's closest to me; the work that I create, write and draw. Juice Squeezers and the relaunch of Stray Bullets are the result. Most of the work coming out from other publishers was completed by me over a year ago.
PREVIEWSworld: If you had to give a classroom lecture on the history of Stray Bullets, and you only had time to discuss 3 story arcs that best represent the "face" of the series, which arcs immediately spring to your mind?
David Lapham: The first arc, Innocence of Nihilism, would be the clear number one. All the elements of Stray Bullets are there. Every story is complete on its own, I shift characters, time periods, and genres, yet they all have connective threads. I was very raw, yet every story is honest, personal, and packs a gut punch — even the ones with no actual guts or punching in them. Those seven stories are where I found my voice creatively. There's a lot of personal stuff in there about my and Maria's life which makes those stories particularly emotional and special. Not that I'm telling what.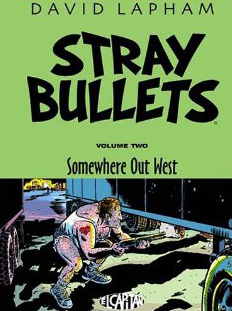 Secondly, I'd pick the arc Somewhere Out West. This is where all the divergent characters of the first arc of individual stories came together into a longer tale. I 'd pick it because I cared about those characters so much and getting to play with them on a more ongoing way was a joy. One of my all-time favorite SB stories, "28 Guys Named Nick" is in this arc, where I took a "loveable loser" character named Nick and designed the story so that each page showed a different aspect of his personality within the context of the larger tale. There was a lot of experimenting going on in that arc, just trying different ideas and different approaches to tell one larger story in smaller pieces. Lots of events and histories happen between the comics or off panel, which gave the universe of characters a much more expansive feel than just the seven issues the story takes place over. Maria calls it our version of a sitcom.
Lastly, I love how the most recently completed arc — HiJinks and Derring-Do — came together as a whole. Each one still stands on its own but they add up to one whole story seamlessly. I think every element of it worked like I wanted it to. It was tough because it's an extremely violent story taking place in a high school, so the characters had to be built very carefully to be believable in their roles. I had so much fun with all the characters and the way they played off each other, AND I got to show my love for the great Akira Kurosawa as well!
PREVIEWSworld: What books are you reading? And why are you reading those books? What makes the cut to get under David Lapham's reading lamp?
David Lapham: I hate this one because I always know I'm forgetting a ton of great creators! But if I was stranded on a deserted island and they could air drop me books from only one creator, send me Gilbert Hernandez's books all day and night and call off the search party.
**********
Check out these Stray Bullets titles arriving in comic shops March 12th!
| | | |
| --- | --- | --- |
| ITEM CODE | TITLE | PRICE |
| JAN140528 | STRAY BULLETS #41 (MR) | $3.50 |
| JAN140529 | STRAY BULLETS THE KILLERS #1 (MR) | $3.50 |
| JAN140530 | STRAY BULLETS UBER ALLES ED TP (MR) | $59.99 |
Click here to see a preview of Stray Bullets: The Killers #1.