Tom Cruise Film Ties Into Viz Graphic Novel
Mar 02, 2014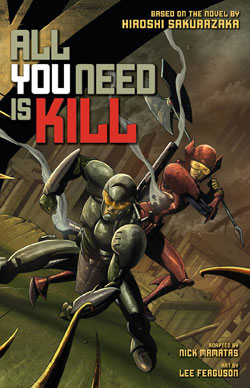 All You Need Is Kill (MAR141430) is the graphic novel adaptation from Viz LLC that ties into the upcoming Edge of Tomorrow film starring Tom Cruise.
The graphic novel from Hiroshi Sakurazaka tells the story of Keiji Kiriya, who is just one of many recruits shoved into a "Jacket" battle suit so that he can be sent out to kill the enemy. But when Keiji dies on the battlefield, he is reborn each morning to fight and die again.
And again.
And again.
On his 158th iteration, he gets a message from a fellow soldier known as the "Full Metal Bitch." Is she the key to Keiji's escape...or his final death?
Check out this over-the-top graphic novel now available for pre-order from your local comic shop!
All You Need Is Kill
Publisher: Viz LLC
Item Code: MAR141430
Price: $14.99
PREVIEWS Page #400
In Shops 05/07/14